Inside the beauty routine of Maria Tash, celebrity piercer and jewellery designer
---
She brought us the 'curated ear' and has pierced a long list of celebrities including Beyonce, Rihanna, Adwoa Aboah, Scarlett Johansson and Gwenyth Paltrow. Now, Maria Tash has invented two new piercings. Here she talks finding inspiration, her first piercings and the beauty products she can't be without
---
What's your first memory of piercings?
When I was young, I was very scared to get my ears pierced but I loved the way it looked. When I was 14 years old my mom brought me to the jewellery store at the local Long Island mall and I got them done. The woman who pierced me said, 'You'll be back for your next piercing', and I thought to myself, 'No way'. And of course, the irony, look where I am today. I grew up in suburban Long Island in New York, and when I was young, travelling into Manhattan's West Village in the 1980s was exciting and inspiring. I would see crosses hanging off Helix piercings as well as some fun and extreme looks from the punk and goth music scenes that I loved. My first non-earlobe piercing was my Helix and then eventually my double Nostril piercings were done in Kensington Market in London. I remember having fun coordinating my nostril jewellery to my experimental hair colours. While in college in London and Manhattan, I started spending time researching historical Indian and African piercing references. The liberating mix of asymmetric fashion looks in the punk and goth scene mixed with the best of historical jewellery references started me on my journey of developing my own style and creating something new in the piercing world.
View this post on Instagram
Why did you set up Maria Tash and what was your vision for the brand?
I sketched jewellery since I was a teenager, and always fantasized about becoming a designer. I set up Maria Tash because I wanted to get the ideas out of my head, onto and in people, and see what other people thought of them. I worked for many years as a designer and piercer in my first company, Venus Modern Body Arts, and I eventually got up the nerve to put my own name on the door. I was and still am drawn to stones and beautiful construction of jewellery and clothing. I see jewellery components, like stones and mechanisms, admire them, think of how I could put them together, improve them, and make new wearable concepts for different parts of the body. Maria Tash is a new type of business that lies at the intersection of jewellery, fashion, and beauty and I am thrilled about it. It is very satisfying to see the ideas living in my brain come to life. I love the fun, joy, and empowerment that emanates from clients after being styled or pierced with my jewellery and curated concepts. Since its inception in the early 1990s, my vision for the brand has always been to grow, but back then I was trying to figure out how to get into the largest department stores. I did not imagine what has been accomplished today, both domestically and internationally. It is beyond exciting to expand into new cities, meet the people in these new cities, and work with my team to design stores with now our iconic jewellery brand themes reflected in the interior designs in these new countries and regions. I'm proud of my team, their agility, their resilience during the current climate, and excited for our expansion plans of the near future.
View this post on Instagram
Which piercings have been the biggest challenge to create?
It is not easy or frequent to come up with a new Tash piercing. Creating new jewellery designs is much easier than figuring out a new piercing location. The new piercing placements I recently introduced, the Tash Helix and the Tash Hidden Rook, were challenging to create. It was several years of thought. To achieve them, I hid the wearable components and mechanisms of the jewellery in under-utilized anatomical features and developed customized designs to fit in these new ear locations: under the curl of the Helix and under the curvature of the Rook. The new piercings are achieved through one point of entry and the final look is created by installing the new customized designs from my F/W 2020 collection to create a 'floating' effect on the ear. The new placements involve jewellery I invented specifically for those locations to evoke a sense of mystery, emergence, motion, and beauty. I wanted people to see the effect and think "Wow, that's beautiful – how does that work?". I was inspired by hidden interior lighting techniques where light emerges out of gaps between moulding and the wall. The Helix curl/flap of the ear is akin to the moulding, the flat expansive planes of cartilage are like the wall, and the diamonds and chains are the light. I looked at the ear and thought about places that are underutilized and underappreciated, and how I could play with emergence and movement. The Tash Helix and Tash Hidden Rook were born out of these thoughts and inspirations.
The Tash Helix and Tash Hidden Rook
Where do you find inspiration for your jewellery?
Sometimes I am inspired by a new innovation in the jewellery industry, like laser diamond drilling or a new alloy of gold resulting in a new metal colour. I want to innovate new ways to hold diamonds/gemstones or to think of how to cut a diamond in a way you have not seen before. I also like to think in reverse: 'How can I treat metal like a diamond?' Additionally, I want to find ways to wear or embed the new pieces I create in the body for an effect you have not seen before, and that can be worn continuously. I value the importance of comfort and continuous wear to my pieces, and also to the overall weight of a piece. They can't be too heavy. I am drawn to minimalism in modern architecture specifically with respect to flush set and recessed lighting techniques. I see diamonds as akin to light, moulding to curls of cartilage, and walls analogous to wider planes of ear tissue and cartilage. This inspiration has the effect of diamonds shining out of planes of tissue in unexpected ways like lighting emerges out of gaps between moulding, floors, and walls.
How do you take time for yourself?
During quarantine, I got very devoted to intermittent fasting/time-restricted eating. I eat for 8 hours and then just drink liquids with no calories for 16 hours. During those 8 hours I thought about what I was eating and ingested mostly fruit and protein. I highly recommend it. I started to walk in the park and look at the beauty of the flowers, their colours, and how one colour poured and melded so easily into complementary hues. All of which contributed to me losing 18 pounds and being a bit calmer. Work has stepped up in pace and I am still trying to find the balance of what I gleaned during quarantine with the social and stressful times of my work life. I am still meshing the best of both.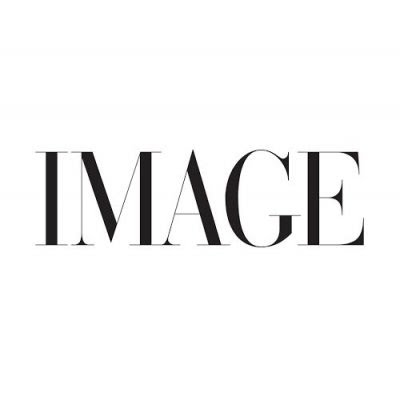 La Mer Neck and Decollete Concentrate, €250
What are your five desert island beauty products?
Can I say six, please? My baby brush for my long hair. Everyone who sees my brush laughs, but it is so gentle on my very long hair, and it helps to keep it long. My favourite hair mask conditioner, the utilitarian Neutrogena Triple Deep Recovery Hair Mask that keeps my 33-inch length hair from binding up into a matte. I love La Mer Neck and Decollete Concentrate, Hourglass Black Mascara, Giorgio Armani Matte Rouge D'Armani Lipstick in 503 and moisturizing lip balm is a desert island essential!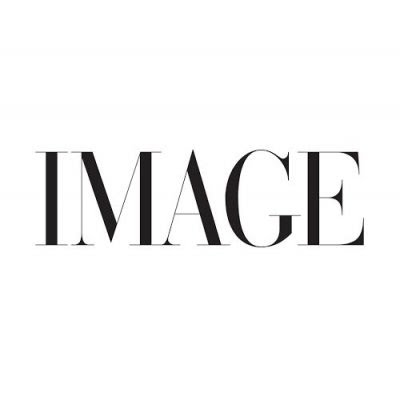 Hourglass Caution Extreme Lash Mascara, €31.48
What's the best beauty advice you ever received?
A plastic surgeon once relayed the importance of not gaining and losing large amounts of weight to keep facial skin stretch relatively static and not induce premature sagging. They also stressed the importance of not sleeping on your sides or getting a pillow with a U shaped hole so that you don't train eye wrinkles in place. I would also add the value of sleeping with silk or satin pillowcases for hair frizz control and ease on facial skin.
Is there anything beauty related you've ever wanted to try?
I've had a mohawk, dark green hair, rose red hair, purple hair mixed with dark blue in sections, and dreadlocks. I loved experimenting with hair height, colours, textures (like crimping coloured very long hair), and my favourite, wrapping my hair over and around self-made doughnut-like structures to give myself a Victorian pomp. I recently purchased some clip-in bangs, which I would like to try and cut the extension into more of a vamp V-shaped bang and wear with my long straightened hair for a new effect.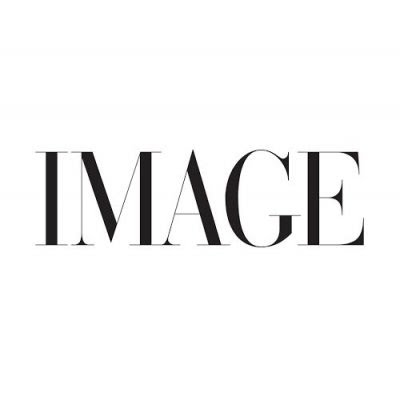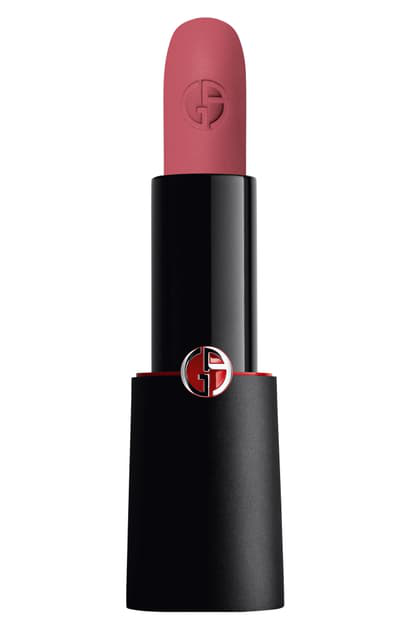 Giorgio Armani Rouge D'Armani Matte Lipstick in 503, €35.41
You have ten minutes to get ready – what do you use?
Hair pins and a baby brush to wrap my hair into a neat nape chignon. Black mascara or royal blue mascara (depending on the apparel choice of the day), no eyeshadow and matte, slightly-darker-than-lip-colour lipstick.
Do you have a signature scent?
For many years during my teenage to mid-twenties, I wore Guerlain's Jardins De Bagatelle. Then I started to experiment with scents given to me as gifts, like Bulgari's. Recently I spent time purchasing and getting fitted at the New York Elie Saab store and the manager plied me with their latest scents which I am trying out.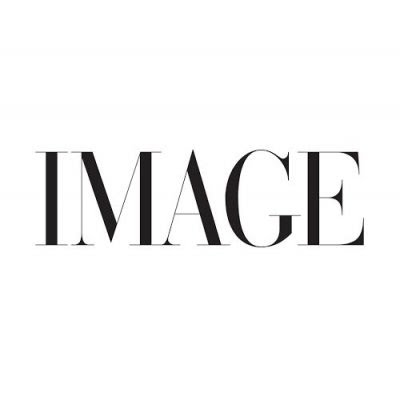 Elie Saab Le Parfum Essentiel, €57
Do you have any skincare secrets?
I think I have good skin because I worked for many years inside buildings in Manhattan and out of the sun. I also cannot stress enough about how diet can affect skin, radiance, and shininess. I drink many types of tea, but mostly green, brown, and golden oolong and I think it helps along with silk pillowcases. I don't like rubbing makeup remover over my eyes and much prefer soap and water removals because I hate chemical residues even if they are supposed to be moisturizing. I used to be a social smoker, but stopped a couple of years ago, and don't drink alcohol much. We work with what we can control and make the best of our genetics!
Maria Tash is available at Brown Thomas Dublin.
Photography by Maria Tash.
Read more: Inside the beauty routine of Keilidh Cashell, Ireland's biggest influencer
Read more: Inside the beauty routine of Trinny Woodall
Read more: Inside the beauty routine of Nicola Kilner, CEO of Deciem