'There is no perfect manager': Cork-born warehouse manager Jacqui Clohessy on instilling confidence in your role and fostering a dynamic team
Sponsored By
---
Sponsored By
Jacqui Clohessy is one of the few female warehouse managers in Ireland. Here, she shares what it's like working in a male-dominated environment, how she remains confident in her leadership role and the best tips for managing your team.
On paper, Kuehne+Nagel Ireland warehouse manager Jacqui Clohessy is one of the most confident women I've ever encountered. Not only does she work in a space typically dominated by men, but she has risen through the ranks to manage two fully staffed warehouses.
So, when we sit down to chat, I'm a bit surprised to find that she's quite humble when speaking about her role. She credits her team, insisting that the best managers treat their employees with respect and are never afraid to seek help when needed.
And when it comes to this stereotype of a warehouse being a 'tougher' environment…
"That is a fallacy," she says. "This role is less about having 'male traits' and more about developing the 'best traits'."
Needless to say, she's hooked me into a riveting discussion on gender balance in the workplace, instilling confidence in your role (especially as a woman in a leadership position) and fostering a dynamic and successful team.
Can you tell us a bit about yourself and why you pursued a career in warehouse managing?
"My background is in manufacturing, 'light pharma', specifically surrounding packaging. I rose through the ranks and became a shift manager, where I was managing 100 people at one time. Then, when the opportunity arose to join Kuehne+Nagel Ireland as an administrator, I decided to have a go! It was a challenge, yet some of my skill set was useful, especially my understanding of manufacturing processes in relation to customer service."
As a typically male-dominated space, were there any obstacles you faced (or still face) as a female warehouse manager?
"Thankfully, no. Kuehne+Nagel Ireland is a progressive employer. Progression within the company is about being the best person for the job. Women hold key positions within Kuehne+Nagel Ireland, and they are there because they are the best people for the job. Once I sold myself to management, I was given the opportunity to do the job."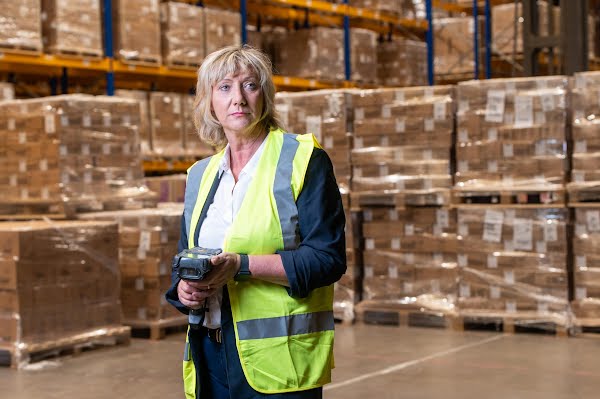 Many people think you need typically 'male traits' to succeed in a male-dominated environment, but this isn't true. What strengths have led you to succeed in your role? 
"The traits required to manage a busy pharma warehouse are less about 'male traits' and more about possessing or developing the 'best traits'. I am very much a people person, so when dealing with people, I make sure, first and foremost, that I listen to them. I'm also a forward-thinker. I don't always know what's coming but I can look ahead to see what's coming next. 
"Treat people with respect and learn the processes. We pride ourselves on our Customer Care ethos. Understanding the customers' needs is paramount. Understanding the people that work in your department is very important. Managing is really about getting the best result for the company and customer by having a great team working towards the shared goals."
People management is a huge aspect of your role. Do you have any advice for women in a similar position? Specifically on coaching, motivating and developing staff?
"As I have said before, the team in any busy warehouse is the most important factor in achieving high performance. I like to treat people with respect and let them do their jobs. It is important that people are given support and given the ability to develop the skills to "do the job best". I run two warehouses, so I can't micromanage. I depend on my people to do the job and by doing so, I empower them and encourage them to get things done.
"Where people have promise and a desire for progression within the company, they need to be nurtured and encouraged. Kuehne+Nagel Ireland does this well. Promotion is as much from within as outside recruitment. Carrying passengers is not an option but these things must be handled firmly and fairly. Everybody understands the goals. Don't be afraid to have a giggle!"
You often have to juggle a packed schedule, how do you stay on top of everything? 
"Time management is always a challenge. It is an area I find I have to work on constantly. I have to prioritise things in terms of the importance to the success of the department. We are customer care driven so these things come first. After that it is like triage; I always try to get to the 'real' problem rather than just dealing with the problem that has been caused by the real issue. I try to take a systematic approach utilising techniques like the 5 Whys. Most important, is that we change our behaviour and procedures to eliminate a repeat of the issue."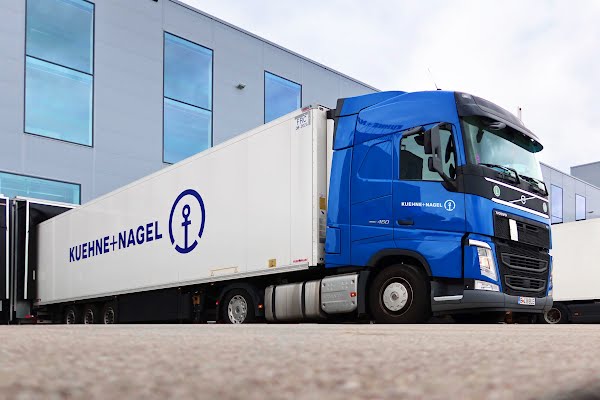 A lot of our readers suffer from imposter syndrome or low confidence in their role. Do you have any advice on instilling confidence in the workplace?
"There is no perfect manager. Be prepared to admit you are wrong (occasionally!) and be prepared to get help in areas that you need help in. Don't accept things as 'that's the way it is'. Delegate. Not just within your department but to other departments within the company. If your department and people are performing well, you need to take the praise if it is given and make sure to share that praise with your people. It will help when times are tough." 
What is your favourite part about your job?
"I love to be out on the warehouse floor keeping an eye on proceedings. A busy, well-performing warehouse is a joy to behold but it takes work to have it running well!"
Any advice for women considering pursuing a career in any male-dominated space?
"Most warehouse managers come into the job with a degree of experience within the industry. The idea of a warehouse being on the tougher side of the business is a fallacy. The modern pharma warehouse is a fabulous environment with so many varied roles. I would advise women to check out the company and see that women are given a fair chance to progress. Ask those questions at your interview."
"At Kuehne+Nagel Ireland, future managers can come from administrator positions, stock controllers and even the team leads on the warehouse floor. I would encourage any woman to have a look at the positions available within warehousing. Young starters can forge a career just as well as career-changers like myself and it's all done in a really diverse environment where the work can be rewarding, enjoyable and even fun!"
---
At Kuehne+Nagel Ireland we Inspire through people, Empower bold promises and Deliver progress to society. This powers our ability to go above and beyond for our customers, our colleagues and our communities. Recognised as a Best Workplace for Women in 2021, Logistics is the Career that you didn't know you wanted until you decided to explore the opportunities within. Learn more here.