Sponsored By
This popular suncare stalwart has just received a major upgrade. Here's why it's our go-to daily SPF.
"SPF is the most important part of any skincare routine," says Professor Niki Ralph, consultant dermatologist. "It is the best anti-ageing product you will ever use."
You might be asking how exactly an SPF is a must-have anti-ageing product. Well, in a nutshell, SPF is crucial as it can protect against UV-induced skin damage, the effects of which can dramatically accelerate skin ageing.
The sun's invisible rays, also known as ultraviolet rays (UV), differ in how they affect the skin. There are two types of ultraviolet rays: UVB (responsible for sunburn) and UVA (responsible for ageing).
While UVB is only present when the sun shines, UVA is present throughout the year, which is why wearing SPF daily is so important.
"UVA rays are present all year round and, unlike UVB rays which cause the skin to redden, you don't get a signal to let you know that they're causing damage," explains Dr Justine Hextall, consultant dermatologist.
"So, by the time you see the results of that damage in the form of wrinkles and pigmentation, it's too late. That's why, as dermatologists, we encourage year-round use of a broad spectrum product that protects against UVB and UVA rays."
Knowing the importance of daily SPF, it's essential to put it into practice. But still, it can be tricky to find an everyday SPF, especially one that isn't thick or greasy. And let's be honest, if you don't enjoy applying SPF, the chances are you won't reach for it every morning.
This is where La Roche-Posay's Anthelios Invisible Fluid SPF50+ comes in. The cult favourite provides ultra-high sun protection, while its invisible, lightweight texture glides onto skin and sits perfectly under make-up.
Even better, the SPF has just received a major upgrade. Anthelios UVMune 400 Invisible Fluid SPF50+ has been in the making for more than 10 years, and after extensive research and 60+ scientific studies, it is finally on shelves. 
The upgraded SPF comes in the same recognisable bottle, with all the much-loved benefits, but now with an all-new UV filter (Mexoryl 400) that offers UVB, UVA and ultra-long UVA protection.
This patented UV filter targets a longer wavelength of UVA rays. UV rays are measured in nanometres on a spectrum, and ultra-long UVA rays make up the 380-400 nm range, which represents 30% of the total UV spectrum.
Traditionally, sunscreens do not protect against this longer wavelength, despite the fact it can be the most penetrative.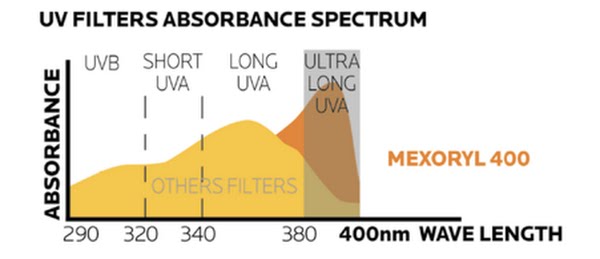 Research shows that long UVA rays can penetrate deep into the dermis, even further than both UVB rays and shorter UVA rays. This can damage the collagen structures, which can lead to a loss of elasticity, wrinkles and sagging, while creating abnormal pigmentation patterns, which can result in dark spots known as age spots or sunspots.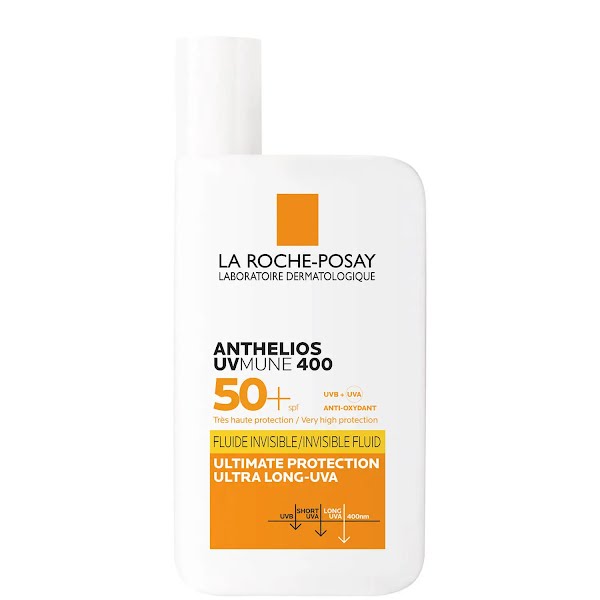 "Anthelios UVMune 400 Invisible Fluid SPF50+ offers an unprecedented level of protection across the whole UV spectrum," says Dr Hextall. "It's great to see a product that is keeping up with the latest science in this area."
La Roche-Posay — official sun safety partner of IMAGE this Skin Cancer Awareness Month
---
You can shop La Roche-Posay Anthelios UVMune 400 Invisible Fluid 50+ at Meagher's Pharmacy.