'I'm not just blind, I'm Lucy': Pantene ambassador and disability activist Lucy Edwards is making waves in the beauty industry
Sponsored By
---
Sponsored By
The well-known social media influencer opens up about losing her sight at a young age, how we can make beauty more inclusive, the power of hair and her upcoming wedding.
Pantene's newest ambassador Lucy Edwards is a force to be reckoned with, not just in the beauty industry but in the wider world as well. A wearer of many hats, her most impressive accolades to date include BBC presenter, social media influencer and disability activist.
You might have seen her on TikTok, where she's often using her platform to spread awareness about life as a blind person and also as a joyfully authentic 27-year-old. 
Her latest collaboration has been with Pantene, joining the team as a brand ambassador, and she's already made strides ensuring their products are more accessible for all, especially those who are visually impaired.
Here, she opens up about her journey, including her sight loss, what beauty means to her, how the industry is changing, and her unique wedding plans for next August.
New beginnings
Never in one place for too long, Lucy is calling me all the way from Reno, Nevada, where she has sun-soaked days and long hikes planned with her friend Gina and fiancé Ollie. 
"I'm an English girl and I'm absolutely melting in this heat," she laughs. But you couldn't tell. She's fresh-faced with a contagious smile and lustrous red hair. 
Lucy launches into her background, how she lost her eyesight completely at age of just 17 and how that prompted her to rediscover herself and what she wanted for her future.
"Going blind was a massive, earth-shattering thing that happened to me; it was such a loss at such a young age. I had to learn how to be myself again, how to walk with a guide dog, how to cook — I had to learn it all again a second time. When you're a teenager, you never know what you want to do and where to place yourself in the world, but I found my career at the same time that I found who I was."
Lucy went to law school before training to be a BBC journalist through a programme called Extending Digital News, where disabled journalists from around the UK are offered positions in the BBC newsroom. 
"For the first time, I experienced blind people in fabulous roles: my managers, producers and presenters within the news team were showing me the ropes and rocking it. I was 21 then and I did not have a lot of self-confidence. I had just moved to London from my town in Birmingham.
"It's been such a journey working with disabled professionals who are blind, even Gina who I'm staying with now in Reno. She's such a massive, massive role model to me. It really does mean a lot to know people like me who are really thriving. When I lost my vision, I truly didn't believe that I would ever be okay, let alone successful.
"I remember having a conversation with my boss, Damon, who's been blind since he was 15. I said that I didn't really feel like I could go on holiday because I couldn't see anymore, and he told me not to be silly. 'There are so many more things that you can experience,' he said. 'It's the way you feel when you're there.' That really struck me. That's where I finally found my confidence." 
Making an impact
After the BBC, Lucy spent time as a freelance presenter before deciding to try out social media as a platform for activism. This was during the start of the pandemic when TikTok had really taken off. Her vulnerability and authenticity were well received, and she now has her own community of followers as well as her own business.
"It's the best job in the world. I get to meet so many different people, and that's what I really love because I know that my videos go into schools and they educate young people. I get messages all the time from children saying 'I learned how you pour a drink' or 'I learned how to guide a blind person'. I would've loved to know that when I was younger because at the end of the day, if we don't have education in schools at the grassroots, we're not going to change perceptions and that's what this is all about."
Lucy was also named a brand ambassador for Pantene almost a year ago, and she's already used her role to not only raise awareness, but to make tangible change in the beauty industry. 
"I still have to pinch myself that a global brand is not only putting a blind person as a face to their campaign but for what they've actually done too. It's not tokenism, which we see a lot in the media industry. Pantene has really stood behind my community, so I could get behind a project that I truly love."
I'm not only a model, Pantene and I are actually changing the way we see blindness.
One of these changes has been adding a NaviLens code to every Pantene bottle. Made up of a unique pattern of colourful, geometric shapes, a NaviLens code can be easily scanned with a smartphone via the NaviLens app and reveal a wealth of information about a product, like ingredients and how far the bottle is away from you — an especially helpful tool for those who are visually impaired. 
"I shout from the rooftops about these codes because it truly means that I can have an independent shopping experience after nearly ten years of being blind. After years of having to label everything for hours, of really truly struggling to know what bottles are in your shower, there's finally a solution for it.
"My colleague is also blind, and I remember the first time that I picked up one of the Pantene bottles in the early stages of adding NaviLens codes and she told me to download this app. I didn't want to get my hopes up that something could actually be accessible. 
"But when it worked, I just burst into tears. I felt so emotional. I could actually understand how much something is on my own. And for me, that is true activism. I'm not only a model, Pantene and I are actually changing the way we see blindness."
Redefining beauty to be more inclusive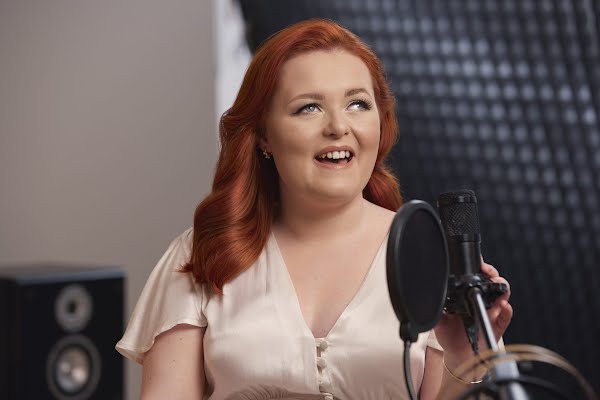 While many strides have been made, Lucy recognises that beauty still has a long way to go when it comes to inclusivity — something she hopes to further along in her central role.
"Redefining beauty is going to take a long time. We're seeing a lot of different shapes and sizes on catwalks and that really warms my heart. I think that is true inclusivity. I want to see people like myself, curvy girls and just normal, average girls being represented.
"Beauty is about authenticity. My community comes to my TikTok channel to learn stuff about my life and they want to know the good, the bad, the ups, the downs; it's not about shiny packaging or shiny hair all of the time. And that's okay because I'm many things. That's what I love to say: I'm not just blind. I'm Lucy, and that's what Pantene has enabled me to be."
On what beauty means to her…
"Beauty means that I feel amazing. It means that I wake up in the morning and can touch the world around me and interact with everything independently. Beauty is the way I feel inside, and I do feel wonderful when I smell lovely things. Beauty is a sense of self too, isn't it? You can lose your identity if you feel like you're not included in society."
On the power of hair…
"I've always loved my hair. Before I actually went blind, we always thought that I might lose my vision, so I dyed my hair every colour under the sun. I've actually never seen myself with red hair, but I feel like my most authentic self being a redhead. My hair is my brand now. Ollie says I stand out in a crowd and I love that.
We have such a long way to go with accessibility, and I would love to be able to change perceptions even more
"I used to hate, with a passion, my long white cane or being the one that was sticking out like a sore thumb; I just wanted to merge in and be like everybody else. Now, my hair means that I've truly embraced my blindness and I dye it this amazing red colour because it's not like everyone else. I'm proud to be who I am now. If you want to look at my guide dog or my hair, those are the two things that stand out and I love that. To me, the power of hair means independence and true freedom." 
4 beauty tips from Lucy
Prep with hairspray – "I spray a little bit of hairspray on to the ends of my hair before I curl it in the morning. I absolutely love that, and it stays all day, no joke. I can go hiking in Reno, which is what I'm about to do, and it will stay." 
Weekly hair masks –

"I've been doing a hair mask every single week for about five years and my hair is definitely way smoother now. If you don't inject your hair with moisture, it's going to split off a lot more."

Use a thermal protector –

"Also, make sure that before you put any heat on your hair, you use a thermal protector. Healthy hair is the key to shiny locks."

Try a beauty blender –

 "I absolutely adore my beauty blender. I used to have tons of brush strokes on my face that I couldn't see, but since I've started using a beauty blender for my foundation, I don't have to worry about that."

Find a happy scent – 

"It's all about the smell for me. I use divine-smelling products to create an aroma in my room and make the day happy. I used to wake up all the time and dread another 'blind day', and while, yeah, I'm having a day that I'm not going to see things again, it's going to be a day full of other things that I can comprehend like lovely scents."
On must-have hair products…
"It's obviously Pantene's Silky and Glowing range, especially the conditioner. I've got everyone on it, including my sister-in-law. I got her some Pantene products for her 21st birthday and she couldn't believe how silky it made her hair. She finally understands why I always twizzle my hair; it feels so soft between my fingers. So, yeah, I can't live without that conditioner. 
"I also love the Pantene hair mask. It's beautiful. To be honest, I can't not smell that smell now when I come into my room; I have two on my desk — one for me and one for Ollie. He's been dyeing his hair blonde and he can feel the difference. So, we each do the hair mask once a week."
On her upcoming wedding…
"I am getting married next year in August, and I actually had someone audio describe the whole venue to me. (Shout out to Mary who was amazing!). My wedding is going to be all about sensory experiences. In fact, we are blindfolding my sighted fiancé and all our guests while I go down the aisle and we're having an audio describer detail my dress to him audibly before he sees it visually. I'm so excited; I think we're all gonna cry. 
"And in terms of bridal beauty tips, I don't feel like myself when I change my routine, so I'll be using all of the products I already use on my skin and hair. I'll be washing my hair that morning with Pantene too. I think that if you change your routine on your wedding day and then you don't feel like you, it's gonna be sad. But I do think I'm going to go for a red lip!"
What's next?
Lucy recently did a swimwear shoot, which she found extremely liberating, and she has a few other exciting collaborations in the works.
"We have such a long way to go with accessibility, and I would love to be able to change perceptions even more. Recently, Pantene has worked on their website, so with my screen reader I am able to look at every product in their line. 
"But we don't want this to be the only campaign. We want this to be the start. We want other people who are blind to be seen and heard. We want to show the brands that have that purple pound.
"Right now, I am working so hard to make this beauty industry accessible to every single blind person on the planet and I'm not going to stop until that happens. I've just got so many exciting things planned that I'm almost bursting with everything. For now, I'll just say —  watch this space."
---
The Pantene Pro-V Miracles collections are available online and in Tesco, Dunnes Stores, Supervalu and Boots stores.