Digital strategist and journalist Idalia Salsamendi shares a week in her wardrobe at Copenhagen Fashion Week.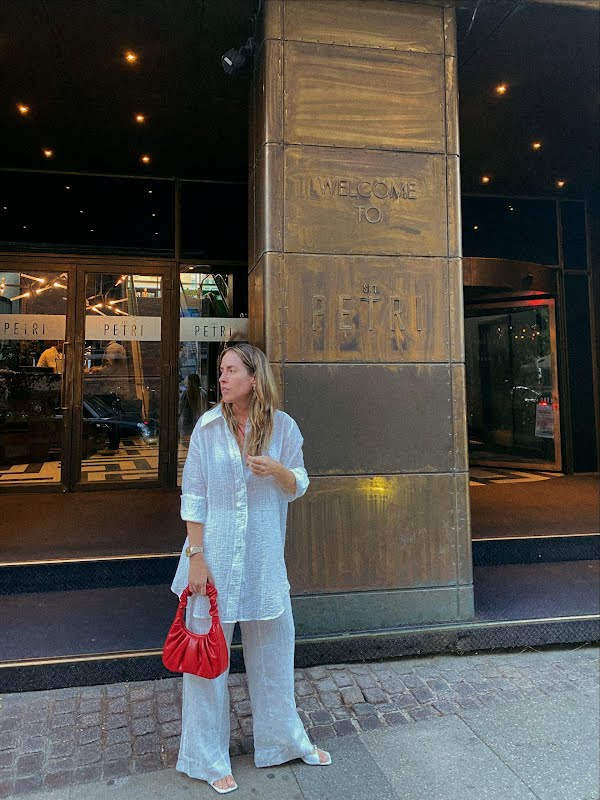 MONDAY
This week is rather special as it's Copenhagen Fashion Week, and could not be more excited to bring you along on my outfit journey. Although it starts tomorrow, I always like getting into town a day early to sort out my dressing for the week, get settled in, and plan for the week ahead. Here I am checking into my favourite hotel in town, Skt. Petri with this heavenly white set from Holzweiler. The white sandals are from By Far (via The Outnet), and my purse is JW Pei. You'll see throughout the coming week that I like re-wearing my accessories – I feel it's like a safety net of mine when I travel. Knowing what shoes are comfortable and stylish, knowing what purses can easily transition from outfit to outfit, and knowing what jewellery makes a statement time and time again are valuable style tips especially when you're on the go and travelling.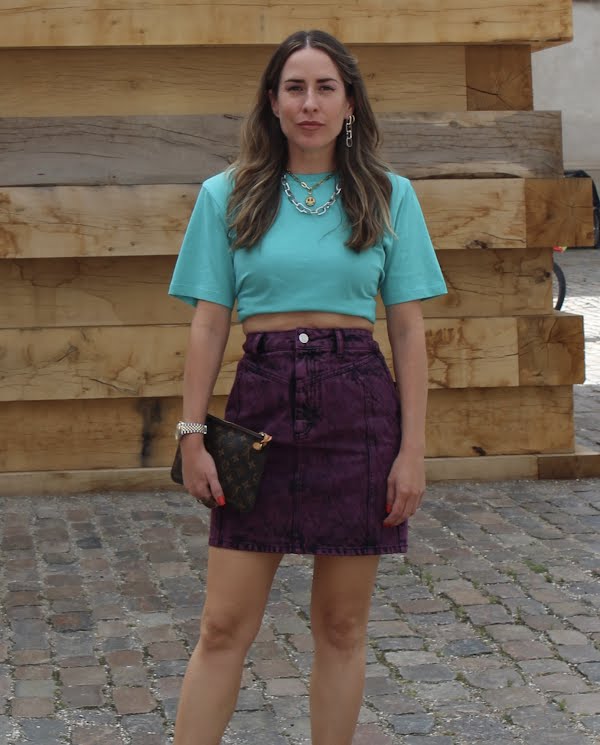 TUESDAY
Being a child of the 80s, I have a thing for denim, especially when it's in a non-traditional wash like this skirt from Gestuz. I paired it with a turquoise Gestuz shirt that I actually rolled up so that it could be a crop top. This simple style trick is one that I do quite often to jazz up any outfit, plus, who doesn't love showing a bit of belly in these hot summer months? For jewellery, I mixed and matched silver and gold with my PD Paola earrings and necklace, and my Annoushka happy face necklace. Since the whole outfit is kind of loud, I kept my purse (Louis Vuitton) a neutral brown colour so that my clothes could do all the talking.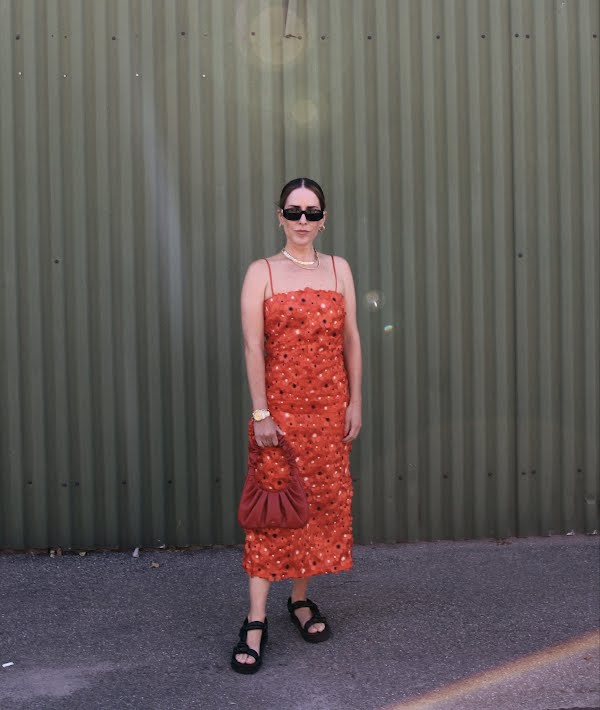 WEDNESDAY
What better way to showcase summer than with a flowery dress? The details in this Stine Goya dress were out of this world, and really goes to show that the devil is in the details. Originally I wanted to wear heels with this dress but then decided to give it a "Copenhagen twist" by actually wearing sandals instead. This is one fashion trend that you can see throughout the Scandinavian countries – chunky sandals with any outfit. And guess what? It works. I threw on my Versace sunglasses, my JW Pei bag and off I went.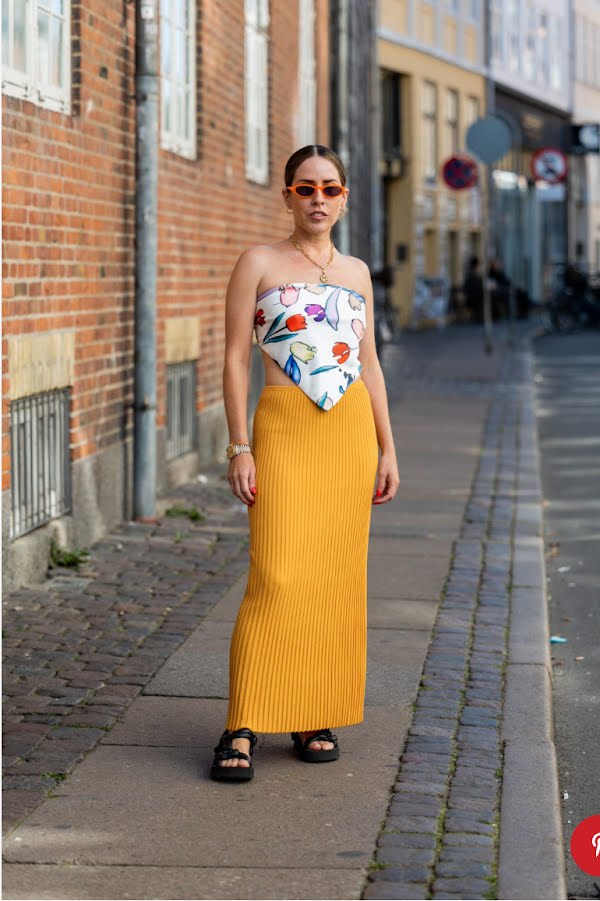 THURSDAY
We're experiencing a bit of a heat wave in Copenhagen this week, so today I aimed to stay as fresh and cool as possible when going to shows. I paired this gorgeous silk bandeau top from Rotate with a mustard-coloured skirt from Malene Birger. For shoes, I kept on with the summer vibe wearing my Prada sandals. And then for accessories, I added my happy face Annoushka necklace which has become somewhat of a lucky charm for me, and my Jimmy Fairly sunglasses which are my favourite pair right now. What I love about these separates is that they are so incredibly easy to mix and match with other things in my closet. Each piece, respectively, can transfer from a day-time-look to a night-time-look so easily, which is really important for me as I'm always on the go.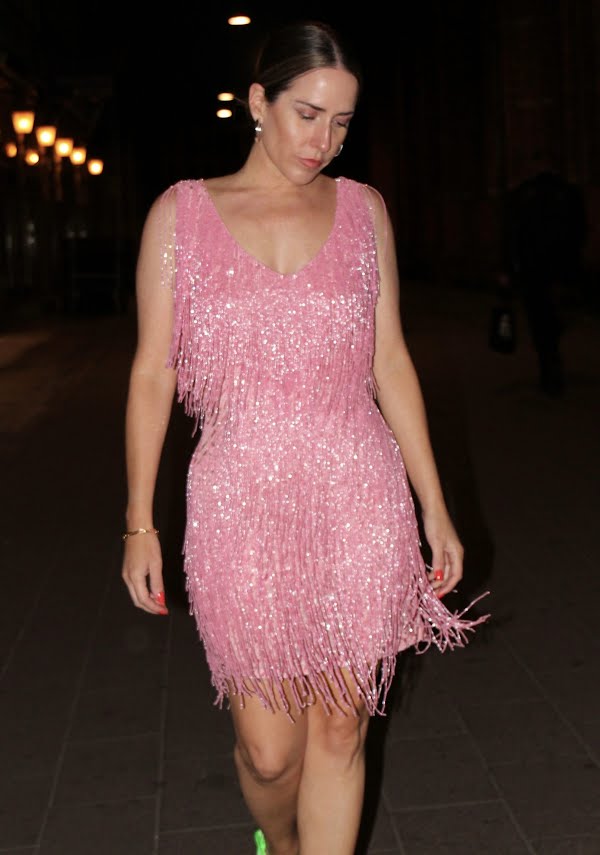 FRIDAY
This week has been so incredible and now it's time to celebrate – what better way to do so than with a flirty Nadine Merabi dress. I discovered them during London Fashion Week in February and later wore them on the red carpet during The Cannes Film Festival in May. Their fit is truly on point, and they never fail to bring the va-va-voom to any party. To all my ladies reading this – if you want a dress that will turn heads no matter where you are, Nadine Merabi is where you go. One of the big things for me in getting a dress for a more formal event is really to step out of my comfort zone and not stick to something so traditional. Think colour, material, length, and design. Play around with what feels good and looks good.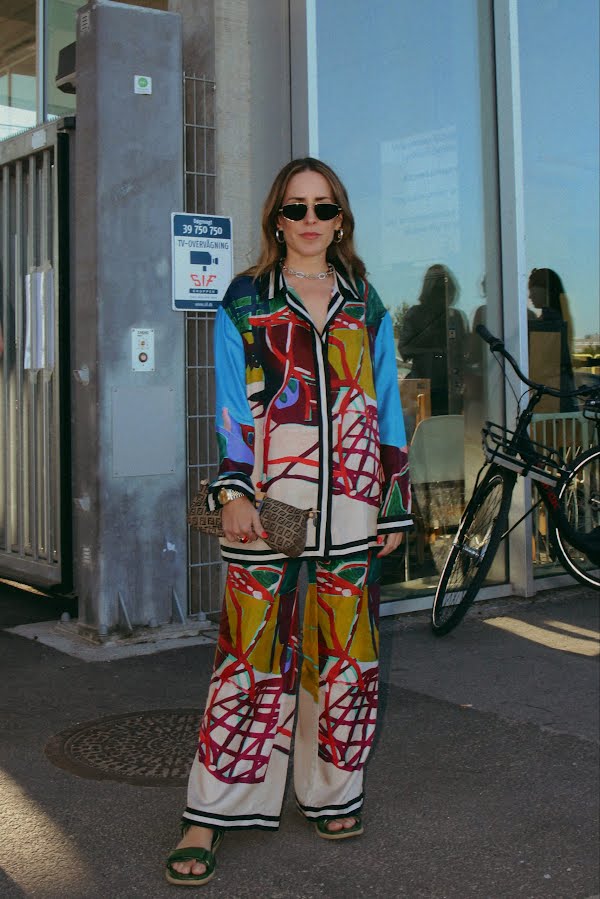 SATURDAY
Back home to London I go. This stunning print set is from one of my favourite Danish brands, Munthe. I originally picked this out to wear for their show this week, but when I saw how smooth and soft the silk was, I instantly knew this would be one of those outfits that would keep on giving. You can jazz it up with heels and go to a nice dinner or event, or throw on some sandals and do your errands in them. Today I wore it to the airport and even had a couple of people stop me to ask what I was wearing. I paired the outfit with these green Dear Frances sandals, then added my Fendi Baguette bag. I love mixing gold and silver and you can see just that when I paired my gold Bottega Veneta sunglasses with my silver PD Paola necklace. This is one outfit that goes to show you can mix and match different prints, colours, and materials fearlessly.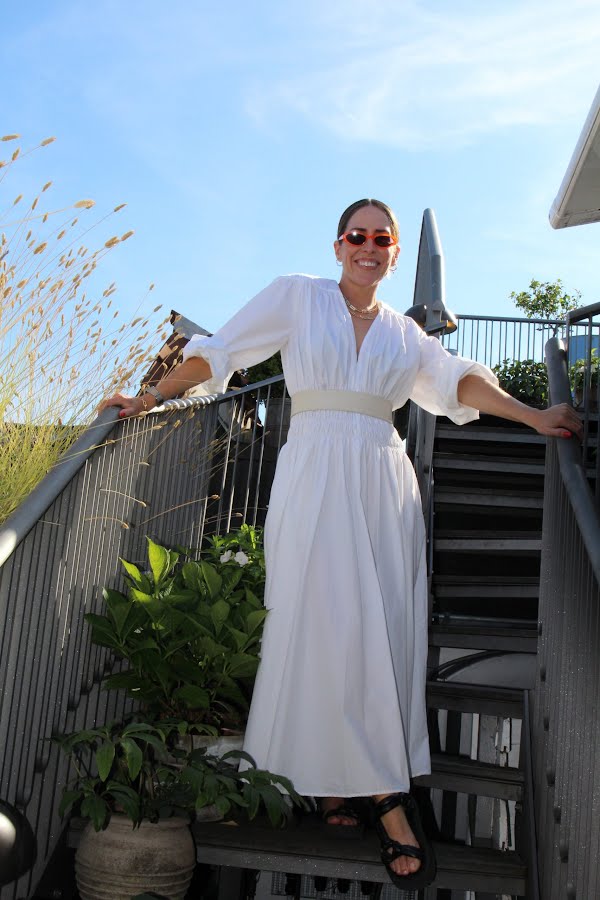 SUNDAY
There's nothing I love more than a good Sunday brunch, and with that should always come an even better Sunday brunch outfit. This white dress from Nynne is so ideal for that. I absolutely love the structure around the shoulders, as well as the ruching around the waist. This is one dress that I find is universally flattering. Because we're in a bit of a heatwave in London, I rolled up my sleeves. Once again I paired this outfit with my Jimmy Fairly sunnies (if you haven't noticed by now, they're my go-to this summer) just to add a pop of colour. We always hear about every girl having to have a LBD (little black dress) in their closet, but it's equally as stylish to have a universally chic white dress as well.
Photography by Idalia Salsamendi, @idaliasalsamendi. We may earn a commission if you buy something from any affiliate links on our site.
This piece was originally published in August 2022 during Copenhagen Fashion Week.