How to apply an even, natural-looking tan without streaks or blotches
Sponsored By
---
Sponsored By
Vogue Williams shares her top tips for applying a streak-free tan. And, to get you started, we're giving away the entire Bare by Vogue tanning range; enter for your chance to win below.
Spending the majority of our time indoors has left many of us paler folk longing for a fresh, summer glow.
So, naturally, we're finding solace in our summer go-to – self-tan. Because no matter how much time we spend in the sun, it is Ireland after all, and a little fake tan goes a long way.
This time, avoid the mess and stress by following our top tanning tips, so you can apply an even, natural-looking tan without streaks or blotches. 
And don't forget, aftercare is just as important as application, so make sure to follow our post-tan steps to keep your bronzed glow for up to seven days.
*For your chance to win the ultimate Bare by Vogue tanning kit, enter our competition here.*
The day before you apply tan
– Prep your skin and exfoliate 
Just like make-up, it is so important to remove old tan first before applying a new one. Otherwise, the build up can cause patches and blotches. If you have tan on, apply a gentle tan eraser all over your body and let it sit for five to ten minutes. Then hop in a warm shower, exfoliate your skin in small, circular motions and rinse the remaining remover. 
We recommend Bare by Vogue's Tan Eraser and Luxury Exfoliating Mitt for an effective removal. The eraser is infused with soothing and hydrating botanicals like goji berry, oatmeal, chamomile, helping to promote natural skin health, and the exfoliating mitt is double sided, gently buffing the skin and removing dead skin cells for a smooth tan application. 
– Moisturise everywhere
The next step is crucial to achieving an even tan. Make sure to moisturise your skin everywhere you can reach. It's vital to carry out these first two steps at least 24 hours before application, otherwise the moisturiser doesn't have enough time to be properly absorbed and it creates a barrier that the tan can't penetrate.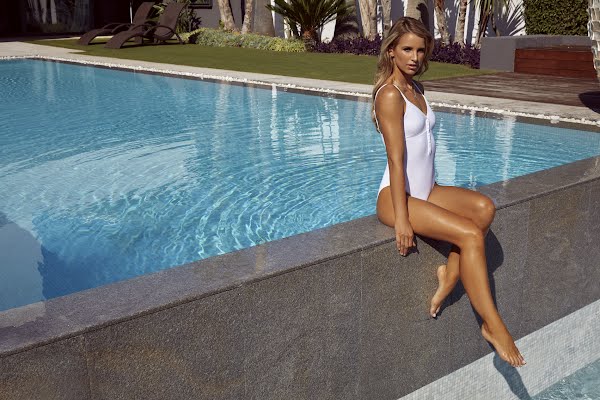 When applying lotion, don't use anything highly oiled or perfumed as this can react with tan ingredients. Also, pay extra attention to your hands, feet, ankles and elbows. These drier areas are prone to streaks and stains when applying tan, so they may need more hydration than other areas to keep things even.
Applying your tan 
– Choose the right self-tan for your skin
There are a wide range of sunless tanning options for your skin, from gradual tanning lotions to longer lasting self-tan solutions. For those with dry skin, a lotion works better and helps ensure a more consistent tan, while those with oily or combination skin would benefit from using a mousse or foam.
If you have sensitive skin or acne-prone skin, definitely be sure to use a subtle, lightweight formula on your face to avoid clogged pores and residual oil. The Bare by Vogue Face Tanning Mist is made with a diverse range of antioxidants and anti-inflammatories that combat harmful free-radicals (such as pollution and UV), while soothing redness, blemishes and irritability. 
If you're looking for coverage as well as tan, Bare by Vogue's Self Tan Lotion and Self Tan Foam come in three shades and are both enriched with organic botanicals and Super Peptides, which help smooth, plump, firm and improve skin elasticity. Their light, easy-to-apply formula works quickly to develop a perfect, rich natural-looking colour in four to eight hours.
– Apply your tan 
Contrary to natural instinct, the best way to apply tan is from toe to head. It's also important to have the right tools. We recommend using a tanning mitt because it has the flexibility to cover hard to reach areas. Apply the tan to your mitt, start at your feet and work your way up your body, using gentle sweeping and circular motions. 
Try not to apply too much tan to those drier areas that absorb it quite quickly (the hands, feet, ankles and elbows). To make sure you don't miss any spots, make sure to stand in front of a mirror with good lighting, then you can fill in any areas that you've missed. Finally, end with applying the tan or face tanning mist to your face.
*Don't forget to wash your hands straight away after application, then blend remaining tan with a make-up brush – unless you want oompa loompa palms!
WATCH: Vogue Williams' expert method for applying tan
https://www.instagram.com/reel/CO-qAngjmQm/
– Wait for it to develop and rinse
The tan will take between four to eight hours to develop, so be sure to wear loose dark clothing while you let it sit. If you're going out, opt for flip flops (if weather allows it) or if you're staying in, why not make a day of it and start a new Netflix binge.
Then be sure to rinse after eight hours or the following morning, though be aware that your tan may end up on your sheets if you choose this option. Be careful NOT to exfoliate when rinsing off your tan.
Maintaining your tan 
To maintain your lovely, bronzed tan, moisturise your skin daily with oil-free and AHA-free products so that they don't strip your skin. And if you must shave, press lightly when doing so. Also, try and avoid sweaty workouts and take showers rather than baths.
To avoid patches, lightly exfoliate on the fifth day, use a bit more pressure on the sixth and remove your tan completely on the seventh – self-tan typically lasts up to seven days. 
---
The Bare by Vogue range is vegan-friendly, paraben-free and formulas are enriched with goji berry, oatmeal, chamomile, pomegranate and grapefruit, which help to promote natural skin health and a gorgeous glow. It's also safe to use during pregnancy and while breastfeeding. To shop the Bare by Vogue sunless tanning range, see here.