'I suffered in silence': Lorraine Keane opens up about experiencing perimenopause in her late thirties
Sponsored By
---
Sponsored By
When she was in her late thirties, Lorraine Keane started experiencing insomnia, anxiety and mood swings. She was trying to grow her family and perimenopause was the last thing on her mind.
"Menopause is a taboo subject. There's been a stigma attached to it from past generations and it's been swept under the carpet so long."
Lorraine Keane, host of "Let's Talk Hormone Health" podcast and brand ambassador for Cleanmarine, is passionately speaking to me about the lack of information available to women concerning hormone health. 
This has been an issue she's been tackling for over six years now, before which there was little resources available to women on the symptoms and effects of perimenopause and menopause.
"I think Cleanmarine, Dr Mary Ryan and myself were among the first ones to start the conversation here, that's when we decided to tour around the country and start the podcast," Lorraine says.
Dr Mary Ryan is Ireland's leading endocrinologist and she, along with other health experts like menopause coach Catherine O'Keefe and mental health expert Fiona Brennan, appear on Lorraine's Let's Talk Hormone Health podcast to help raise awareness.
Lorraine calls on their expertise, while also sharing stories from her own experience. Like many women, she associated menopause with those in their late forties or fifties. So, when she started experiencing perimenopausal symptoms in her thirties, she had no idea what was happening to her body.
Perimenopause can happen in your 30s
"Going through perimenopause wasn't easy because it was very personal," Lorraine says. "It's got the word 'menopause' attached to it, with ageing connotations. So when I was in my late-thirties and I'd see an article online or in a magazine about it, I just skipped through. I thought it didn't concern me because I wasn't at that stage of my life yet. 
"Whereas if I had taken the time to read about it, I would have recognised some of the symptoms that I had and maybe I would have done something about it. So that's why I want to raise awareness, so that women are educated with the information they need to take action."
By having this information available, young women can be aware of the widespread effects of hormonal imbalance and understand how perimenopause and menopause may be causing issues they are facing. 
Hormonal changes and fertility
Sadly, this was the case for Lorraine, who had been trying to grow her family when her perimenopausal symptoms started. "At the time, my partner Peter and I had two children and we were trying to have more," she said.
"And if I'd known then what I know now, we wouldn't have gone through the experience of IVF three times. We learned the hard way that neither of us had any issues with fertility, it was that my body was experiencing hormone imbalance from perimenopause.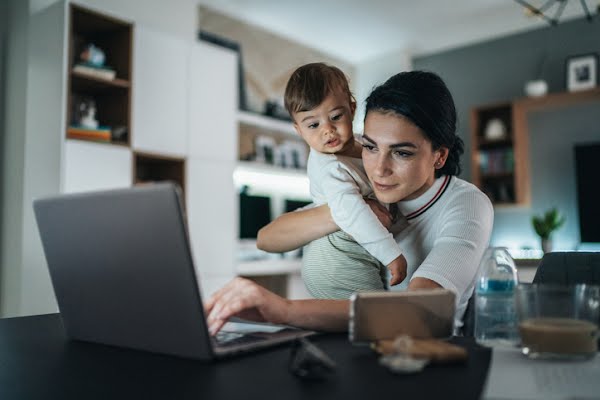 "If we were aware of that, it would have saved us a lot of heartache, emotional pain and, for me, the physical pain that comes with it. It puts a lot of pressure on the both of you, financially too. 
"So I wanted to share this story to hopefully prevent other women and couples from going through what myself and Peter went through."
Perimenopause is a unique experience
Bringing awareness to the lesser-known symptoms of perimenopause and menopause is one of Lorraine's main goals. Along with fertility issues, hormonal imbalance can cause different symptoms in every woman (a total of 34 to be exact), which is why many don't realise they've started this transitional stage.
"For me, I was very irritable; I had really low energy; and I was very low in my mood," Lorraine explained. "I knew it wasn't depression because I know what depression looks like because of our family and friends, but I still felt very, very low at times. I also felt anxious and nervous – like I was going mad. 
I'd be so tired and irritable… I just wasn't me
"I wasn't that happy, chirpy person that I would normally be. I felt very negative, and I was tired all day because I wasn't sleeping. I'd wake up three to five times during the night, and it would take me ages to get back asleep. 
"At the time, I blamed myself for being too busy or overthinking too much. I couldn't switch off at night and then I'd wake up the next day and be tired and irritable all over again. And, it affected my libido as well. I just wasn't me."
You don't have to suffer in silence
"I didn't even realise that I was in perimenopause for such a long time and I suffered in silence," Lorraine said.
It wasn't until Cleanmarine, the natural supplement brand, contacted Lorraine about being a brand ambassador that she realised what was happening to her. She started researching their MenoMin supplement created for perimenopausal and menopausal symptoms, when she realised she had so many of them.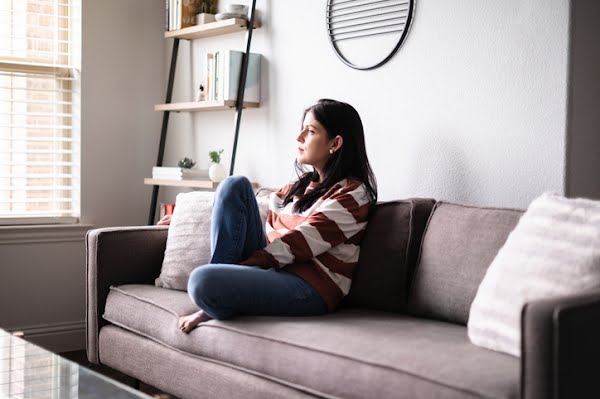 "I never had any of the obvious symptoms, to this day I've never had a hot flush," she explained. "So when I realised I had the lesser-known symptoms, I tried the supplement and a couple of weeks later, I started to sleep properly again. 
"Two months later, I accepted the offer from Cleanmarine MenoMin, and five years later, we are continuing the conversation and have joined forces to launch my podcast. I wanted other women to know that they're not alone and that there are options out there that can help." 
How to help hormonal changes
There are things you can do for yourself as a woman during these perimenopausal years of hormonal imbalance. During our forties, our bodies change, our metabolism slows down, and everything feels like it's going sideways. Here's what worked for Lorraine: 
"What has worked for me is exercise and fresh air. It can just be going out. I have two small dogs and I bring them on a walk every day, so I know I'm going to get fresh air and that's really good for my mental health."
"For me, I noticed that the same foods I was eating in my early thirties were causing me to gain weight now. So I reduced my portion size to the recommended amount. However, I never deny myself anything and that's really helped. I also wait ten minutes after I've eaten before I decide if I need more. This gives my body time to process and tell me if I'm full."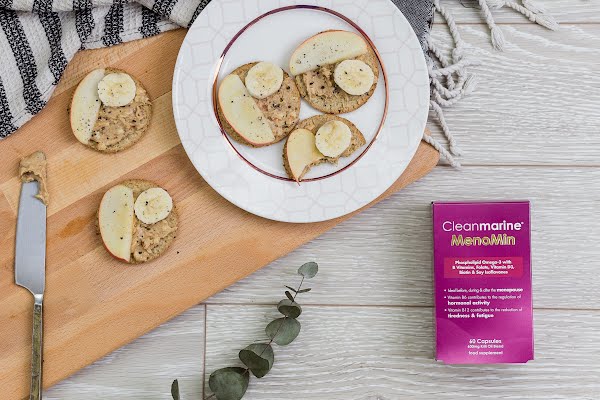 Exercise in a way you enjoy
"I've started to throw myself into the freezing cold Irish sea on a daily basis during lockdown, and that's something that really helps my metabolism. I also started doing more pilates on Zoom. Different things work for different people. It's just about finding something that works for you, that you enjoy, and that fits into your lifestyle." 
"All of the ingredients in Cleanmarine MenoMin help to manage symptoms of perimenopause and menopause, including omega-3, vitamin B3, vitamin B12 and biotin. These help regulate hormones, support bone health, maintain energy levels and support your hair, skin and nails too!
Resources available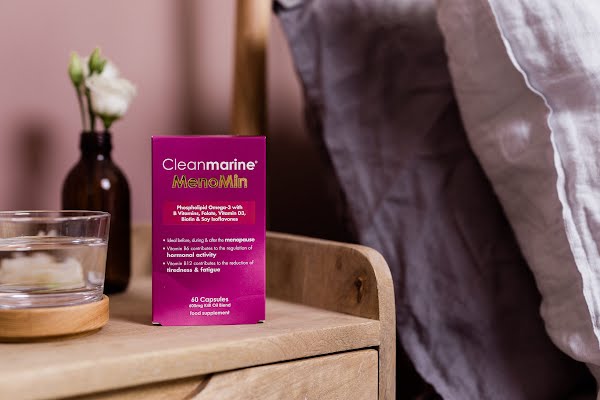 If you want to know more about hormone health, there are more resources available now, many of which are free and easy to access online. Here are a few:
The Essential Guide to Female Hormones

– This is a 70-page guide that covers female hormonal changes from puberty to post-menopause. It includes expert-led advice, information on nutrition and wellbeing, and steps you can take to help your body through life's stages. 

Let's Talk Hormone Health podcast

– Hosted by Lorraine, she covers a range of hormone health topics, consulting experts along the way. A great way to start the conversation, find support and hear stories from other women with similar experiences.
Starting your 'second spring'
Lorraine brings our conversation to a close on a positive note, revealing that she is looking forward to emerging from perimenopause and focusing on the benefits she'll experience. 
"I'm looking forward to coming out the other side of menopause because, if anything, my life is going to be easier. There won't be the pain and hassle of periods every month and I won't have to plan my outfits around them or deal with the mood swings they cause.
"In Asia, they call this your 'second spring', and they embrace it. So, I think this is my time now, after 50. This is my time to not have those kinds of burdens anymore."
---
Cleanmarine MenoMin is formulated specifically to give extra nutritional support for peri-menopausal and menopausal women. This unique Omega 3, phytonutrient and vitamin blend is rich in Omega-3 with Phospholipids, B Vitamins and D3, as well as Rosemary Extract, Soy Isoflavones, Folate and Biotin. With Vitamin B6 to help regulate hormonal activity, biotin to help maintain normal mucous membranes, as well as Vitamin B2 to reduce tiredness and fatigue and Vitamin D to help maintain healthy normal bones. Find Cleanmarine MenoMin at your local Pharmacy or Health Store. Learn more at Cleanmarine.ie.