These charming Irish cottages are the perfect weekend getaway
Sponsored By
---
Sponsored By
Looking to plan a relaxing staycation for the mid-term break? These cosy and quaint cottages in Tipperary are just the ticket.
Tucked away in Tipperary, Coolbawn Quay is a tranquil wellness retreat that offers city dwellers and travellers a breath of fresh air. 
Located on the lush banks of Lough Derg, its unique property boasts idyllic views of its unfettered surroundings —  shimmering water, grassy fields, swaying cattails and cows gathered across the shore.
With such scenery, it's easy to see why Coolbawn Quay has been a popular wedding destination, but during my stay, I couldn't help but imagine how nice a weekend away with friends or family would be there.
Charming village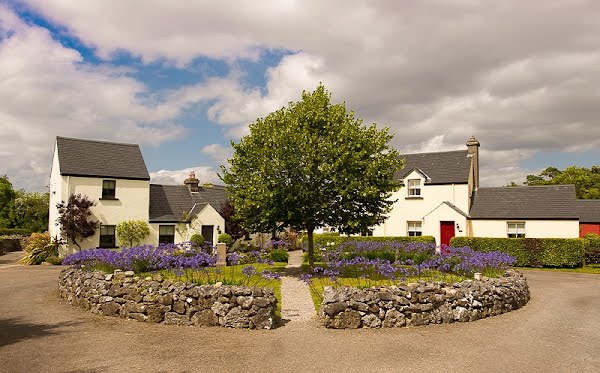 The property is centered around a quaint and charming village, made up of a hotel restaurant, traditional pub, luxury spa and traditional cottages that are each available as accommodation. 
Coolbawn was built in the 1980s, when a green field was transformed into the traditional Irish village style resort. But it's history lives way beyond a few decades. In the 1800s, the harbour was one of the final boarding points for economic emigrants and the marina is made from stone that was originally gathered from local farms.
From the marina, a stone path winds its way through the village, lined with lovely, old-world cottages. Each house is unique, with names like 'Fox's Den' and 'Bramble Cottage' and can sleep anywhere from two to eight people. 
Thankfully, though, the accommodations' interiors are far from traditional, featuring modern amenities such as nespresso machines, down feather pillows and central heating. Each is decorated with a cosy, contemporary design too, with abstract prints, flannel curtains and Scandi touches like light wood and fur throws.
Gourmet food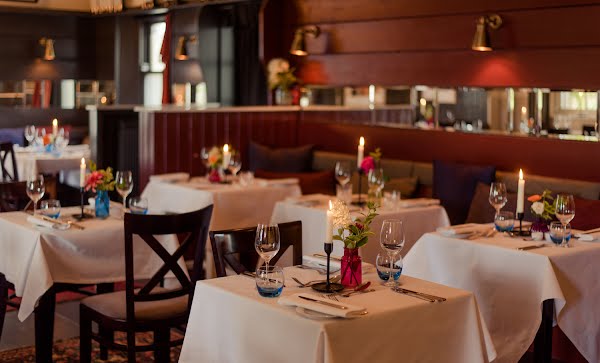 There are two main places for food and drink in the village —  The Red Room restaurant and the village pub. Both have a gorgeous view of the harbour and the lake beyond.
The Red Room continues Coolbawn's balance of comfortability and sophistication, adorned with Irish art, red paneling and Persian rugs. My favourite part of the room was the homely, tweed cushions that lined the dining room's benches. I felt as if I could tuck in and spend the whole night nestled in my seat. 
My goat's cheese spring rolls, buttery soft steak and warm bread pudding topped with Bailey's ice cream was a stark contrast to my guest's vegan, gluten-free dinner, but she enjoyed her savoury risotto and vegan ice cream just as much. In fact, we were quite impressed with the vegan options available at Coolbawn (they have a massive, vegan Full Irish breakfast on offer as well).
The pub is just next door and as soon as we stepped into it, I was reminded of the snug atmosphere of my local. There, we spent the rest of the night amidst the cheerful buzz of a wedding party, chatting, catching up and eventually wandering outdoors to enjoy a glass of red beside the moonlit lake.
Things to do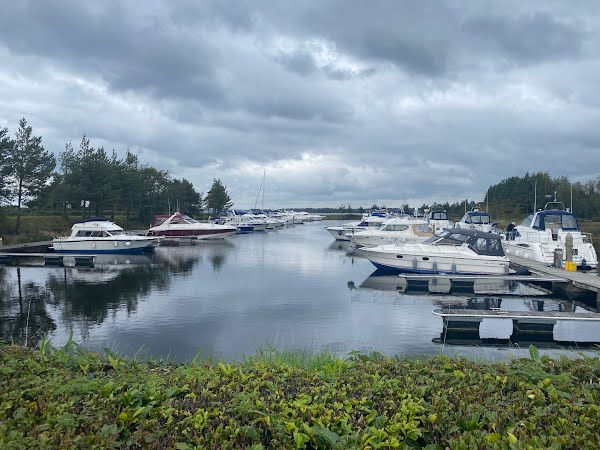 Whether you're a nature enthusiast or a lover of modern luxury, there is plenty to do at Coolbawn Quay. 
Locals dock sailing boats in the marina and guests can book a lake cruise from there or dip in for a wild winter swim. After which, they can hop into the onsite sauna for a quick warm up. 
There's also a hammock hideaway where you can spend the day suspended amidst the trees with a good book and nearby nature trails to explore by foot or bicycle (available to rent on site).
For those looking to recharge, I recommend booking a treatment at the pampering spa. They offer everything from bespoke facials to deep tissue massages. I booked the latter and it felt like a well deserved treat after WFH, hunched over my desk the week before.
My trip to Coolbawn Quay gave me a much needed rest and recharge for the week ahead. The staff were helpful and friendly, the accommodation was cosy and comfortable, the food was top-notch and the views were unbeatable. I can't wait to return and, with upcoming retreats and themed weekends planned for the winter months, I know it won't be soon enough.
---
A unique waterside hideaway, Coolbawn Quay ideal for nature lovers and those in pursuit of peaceful time and serenity. Great food, attentive service and blissful therapies completes the picture. Book your stay today.