The Writing Shed: Poet Victoria Kennefick on her most-read books, Kennys Bookshop and her godfather's blue cardigan
---
Just completing her debut, 'Eat or We Both Starve', poet Victoria Kennefick on her creative space, her writing routine and everything in between.
Victoria Kennefick is a poet, writer and teacher from Shanagarry, Co Cork. She has made some large literary waves over the last number of years, starting with her debut poetry pamphlet, White Whale (2015, Southword Editions), which won the Munster Literature Fool For Poetry Chapbook Competition and the Saboteur Award for Best Poetry Pamphlet. Her work has been featured widely in such publications as Poetry (Chicago), The Poetry Review, PN Review, Poetry Ireland Review, The Stinging Fly, Prelude, Copper Nickel, The Irish Times, Ambit, and Banshee. She holds a doctorate in English from University College Cork and studied at Emory University and Georgia College and State University as part of a Fulbright Scholarship. 
Kennefick's first book of poetry, Eat or We Both Starve, is a visual feast. Out of common themes such as family, religion, ritual and desire comes a wild, immersive experience. She has boldly carved out scenes exploring bereavement, vegetarianism, flesh, sex and the female body, their detail so crystal clear and almost uncomfortably lifelike at times. Rebecca Goss has said of Kennefick's work, "Her identity as a young Irish woman is hugely important to her, something she explores with intelligence and candour. I have always felt there is nothing Victoria could not tackle. The scope in her work is exhilarating."
The award-winning poet tells me about life in Tralee, Co Kerry, her love for Anne of Green Gables, her time working for Kennys Bookshop in Galway, and her retreat to Greywood Arts in Killeagh, Co Cork.
On Home
I have a tenuous grasp on my surroundings at best. I'm often in danger of floating off into the ether, like a vapour dissolving into my environment, a Clarissa Dalloway wannabe. But even the most cloud-like person requires a base, a mountain around which to accumulate. I live in a tall, narrow house with my person, our small person and our cat, Jasper Buttons. He is a new addition, and we are all besotted. We are very fortunate to live in Tralee, a town that is colourful, kind and bustling. We have many favourite haunts – the Wetlands Centre with its outrageous waffles best enjoyed while swan watching. Yummy Cafe Market in town is another favourite, along with Madden's, The Rose Hotel, Polymath Books, O'Mahony's Booksellers, Kerry County Museum and our brilliant local library. These and the cinema, Blennerville Windmill and Cockleshell Beach are all within walking distance. 
On beginnings
I grew up in a small village by the sea in County Cork, and its salt, unpredictability and intensity has infiltrated my imagination and my writing. As a child, I tried to analyse its tides so that we'd arrive at the beach when the waves were licking the storm barrier. I wanted to be as close to it as possible, but then also loved the long trek out in the slimy sand to wade into its shallow waters that never seemed to get deep enough. I am so grateful to the ocean for its stimulation and inspiration, for the relief I feel that it exists at all. I am very lucky to still live by the sea. To be honest, I don't know how I'd cope without it. It is a great source of comfort to me; I like being on the edge of things, then as now. 
On early readings
I was blessed to be read to regularly by my mother and my two older sisters. The Witches and Matilda by Roald Dahl were favourites, partly because they horrified me. I also loved the poetry of Allan Ahlberg. I particularly liked Please Mrs Butler – it's very funny. I loved to listen to the poetry of Walter de La Mare. I enjoyed The Faraway Tree by Enid Blyton, and The Worst Witch series by Jill Murphy too. But I think it was Anne of Green Gables by L. M. Montgomery that really grabbed me. I recognised Anne immediately, her earnestness, her daydreams, her passion and vulnerability, "For Anne to take things calmly would have been to change her nature. All 'spirit and fire and dew,' as she was, the pleasures and pains of life came to her with trebled intensity." I felt, as they say in common online parlance, "seen."
On familial roots
My maternal grandfather was a teacher and a voracious reader, he used to cycle all over Ireland for first editions. My maternal grandmother could recite huge chunks of Shakespeare and many poems off by heart. My mother can do likewise, as could many of her siblings. That had a huge influence on me, the readiness with which they could access these beautiful and strange words. My father loved the poems of Robert Service – their rhyme and rhythm. My paternal grandfather was a farmer, publican, and blacksmith. I really connect with that last occupation and think about it often as I write in the comfort of my study. I only met one of my grandparents, my paternal grandmother who wore widow's black every day since her husband died. That had an effect. Who'd have a poet in the family, though? They are saints to put up with me, honestly.
On her creative space
I work at a desk in a corner of the study I share with my spouse. I like when we're in there together, tap-tapping away. The study is on the first floor and looks over the green at the centre of the crescent where children like to play. I have my back to that, otherwise I'd just stare at the oak tree that branches out like a throat stem beyond our garden that is lately quiet after a summer of butterflies, goldfinches, hoverflies, and bees. When I am working on something a little difficult though, where I want to avoid it or hide, I must pounce, take myself by surprise, so I might crack open the laptop at the kitchen table, in the back of the car, a café, or sometimes in bed, though I try and avoid that. I often have to trick myself into working!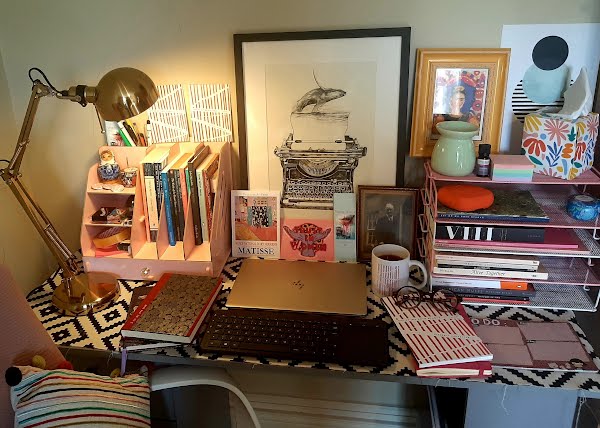 On writer's block
I wouldn't necessarily describe it as writer's block per se, rather I hid away from creative writing focusing instead on academic study. I think I was a little frightened of taking the risk, of putting myself out there creatively, though many academics do this very successfully and academic endeavour is by its very definition, creative. It was safer for me though to hide behind the achievements of others. Perhaps it was an apprenticeship of sorts. It was only when my father was ill and subsequently died that I returned to writing, or rather started to share my writing and send it to journals and magazines. The Stinging Fly and Southword were the first to publish my writing and I remain very grateful for those first encouraging acceptances. 
On her routine
I'm not good with routines. It's a curse but it's just how my brain works so I've learned how to grab moments where possible. I can usually hyperfocus for hours on end for a period of days, then suddenly my attention switches to avoidance and procrastination. The cycle is entirely unpredictable, so deadlines are a necessity! I'm a night owl but the modern working lifestyle isn't very conducive to this sensibility, so I struggle. I like to wear my late godfather's old blue woollen cardigan to write. He thought I could do anything; I try to channel that feeling. I drink Twinings Cherry & Cinnamon tea and eat tiny squares of 90% chocolate. I don't often use a playlist, but I like listening to French café sounds or the sound of rain, especially if I am alone. I feel somewhat anchored in this way. 
On travel
With the support of a bursary from Kerry County Council, which I am very grateful for, I had the opportunity to spend a week writing in Greywood Arts in Killeagh, County Cork recently. It is a beautiful period house right at the edge of the village, next to the river. I stayed in a lovely room and had a magnificent study all to myself. The house is situated right next to Glenbower Woods where I walked every day, and beside The Old Thatch which has on its menu the most delicious halloumi burger I have ever tasted. It has a small coffee nook around the corner to get takeaway coffee and a treat so you can sit out in the sun and enjoy the peace and quiet of the forest. I highly recommend visiting this gem to anyone looking for a creative getaway that isn't too remote.
On independent bookshops
I had the good fortune to work for Kennys of Galway for a summer many moons ago cataloguing Irish books. They were wonderful, patient and encouraging employers who facilitated my learning how to touch type, which is one of the greatest gifts I have ever been given. I owe them so much, not to mention that I made friends with Tomás Kenny back then when we were both ridiculously young. He's still outrageously young of course and we are still great buddies. It's such an excellent bookshop. I order from them regularly and am always impressed by how they champion Irish writers and writing, and the Irish language too, not to mention artists in the gallery. They have a super selection of children's books and are the go-to place to find a very special or unusual gift. Long may they reign!
On her most-read book
Surely, I can't pick just one! The Bell Jar and Ariel by Sylvia Plath, Collected Poems of Patrick Kavanagh, Emily Berry's Dear Boy, The Poems of Dorothy Molloy. I re-read them all regularly because I recognise something in them that compels me to remember something about myself. I love poetry books for this reason, you can read and revisit them in so many ways – chronologically, from the last poem, beginning in the middle, dipping in and out. I am fond of anthologies because of these possibilities too. Otherwise, I do not tend to re-read books. My attention span doesn't allow it!
On Eat Or We Both Starve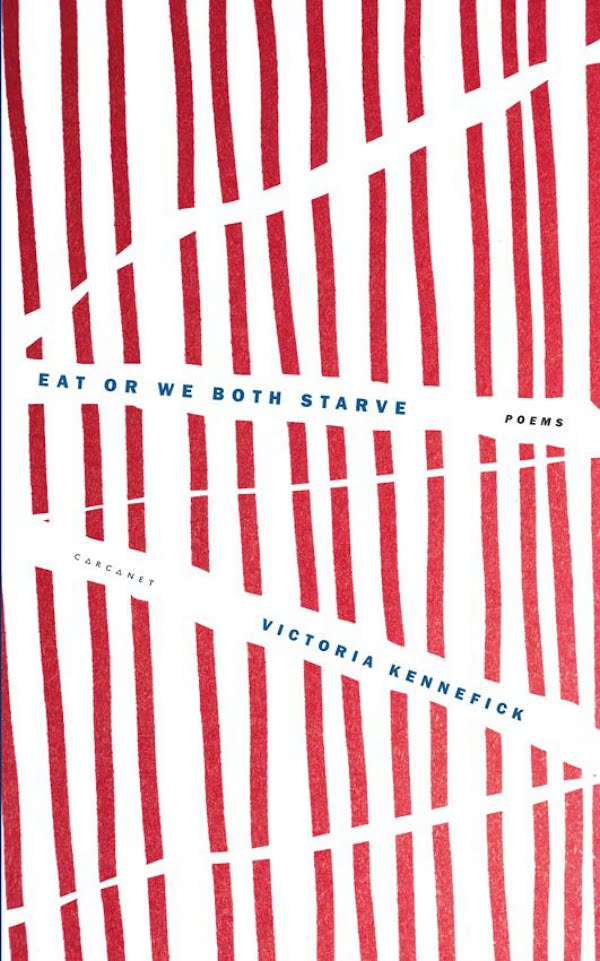 Eat or We Both Starve has its origins in the first poems I ever wrote and particularly in those that I began at university. It took me some time to realise that I was writing around ideas relating to consumption, sexuality, identity, and Catholicism, but when I did, I was able to draw on those themes to write more poems specifically for the collection. The most rewarding part of the enterprise was writing the poems. It is the greatest joy. That and sharing them with an audience, even if over the pandemic that tended to be on Zoom. The most challenging part was the road to publication and then, once Carcanet bought the book, the perspective required to put the poems in the best order. I am very grateful to my editor, John McAuliffe, for showing me the way with this, as well as mentors Colette Bryce and Rebecca Goss. 
On what's next
Often, I feel like a ship during the Age of Exploration with eyes painted on either side of my prow watching out for the horizon in case I fall off the edge of the world, all the while dreaming about plummeting too. As much as I like living on the precipice, as much as it is where I spend my time, it is a rather high-octane and intense space. In this state and in this place, I am writing some new poems about some dark places. There is lightness too, I hope, and some humour. If we don't laugh, what's left? So yes, I hope there's humour on the other side of that horizon. And dancing.