'A man stood in front of me… Women were going, 'Jesus Christ, what is this all about?' I felt everyone was ignorant'
---
To mark #IWD2021, A Girl From Mogadishu has been released online. It recounts the remarkable story of Somali-born Irish citizen Ifrah Ahmed, one of the world's leading activists against gender-based violence, and we're re-sharing her remarkable story to honour it.
A Girl from Mogadishu details her remarkable journey as she lobbies to eradicate female genital mutilation. Prior to its release in Irish Cinemas, Jennifer McShane spoke to the film's writer/ director Mary McGuckian about the making of the film and the power of female testimony.
Sitting down with Irish director Mary McGuckian shortly after post-production on A Girl from Mogadishu was completed, she says she was instantly fascinated once she met Somali-Irish activist Ifrah Ahmed, despite the harrowing elements of her story. "Ifrah is, as we know, an awe-inspiring person who has dedicated her very young life so far to campaigning against gender-based violence and, in particular, for the abandonment of female genital mutilation (FGM). And throughout the whole process we had, everyone kept asking, how do you make a film about FGM? Because as well, this was all pre-#MeToo."
"From the point-of-view of a drama, you approach it from, first, character and then from the point of a cinematic thesis. Ifrah herself is so compelling – charismatic, funny, beautiful – and talking to her and understanding her story, it became clear that was the thesis – she uses her personal experience and testimony as her campaign tool. "So ultimately, the film's story is a simple one: It's about what happens when women stand up and speak their truth," she explains.
For Ifrah, the speaking of her truth began when she was trafficked from war-torn Somalia in 2006 and arrived as a refugee in Ireland. Aged just 17, she spoke no English and was frightened and confused. It was during what was meant to be a routine gynaecological exam that she had the revelation that was to form the basis of her crusade – the knowledge that what had happened to her at just eight years old was not necessary, and did not happen to all girls. The doctors were horrified, immediately questioning the violence that occurred. She was confused. Violence? It "just happens".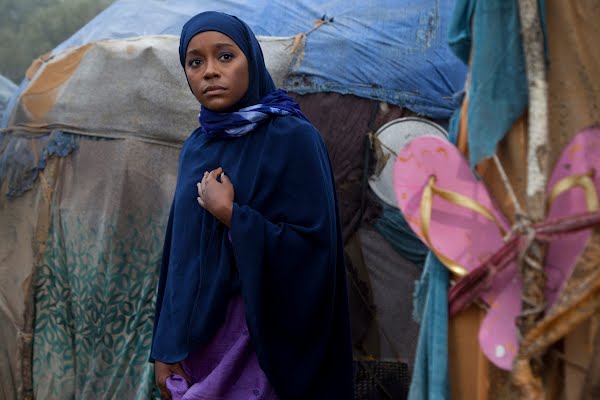 Aja Naomi King as Ifrah Ahmed. A Girl from Mogadishu (c) Pembridge Pictures. Still by Seamus Murphy.
This is a pivotal, raw and wrenching moment in the film. Actress Aja Naomi King (who is mesmerising to watch), playing Ahmed, sobs, re-traumatised as a result. "The doctors and nurses didn't know anything about FGM," says Ahmed of the incident. "A man stood in front of me, asking how I got injured in my private area. Women were going, 'Jesus Christ, what is this all about?' I felt everyone was ignorant." And yet, this was her epiphany.
"Living in Ireland helped me realise I should protect young girls." This resounding determination and strength of will paid off; Ifrah was instrumental in bringing about the 2012 legislation banning the practice of FGM in Ireland, and is gender adviser to the Somali government, with the intention of bringing about an end to FGM in a country where 98 per cent of girls are cut. "It's a huge responsibility to tell a story about someone, especially when that person is only 25. There was a lot of press about her – a great deal in the public domain, but all that is the public pitch of Ifrah's campaign – there was no biography to draw on," says McGuckian.
However, even at that, McGuckian knew Ifrah's extraordinary story alone would prove a challenge to bring to the big screen. "I knew that trying to finance a film about FGM, with an Irish lead female character who is also from Africa, would be difficult." But then McGuckian had a lightbulb moment. She asked Ahmed if she would give the director her testimony on camera. This became, in effect, the basis for the script and ultimately, an extraordinarily powerful movie. "She has never done it before, and I would never ask her to do it again," says McGuckian. "She went beyond statistics and was able to tell her story in a way that would touch people and in doing this, she was able to feel it with them. In a way, this became part of the healing of her own trauma, which seemed a really important thing to explore.
For me, it was time to raise my voice, speak out, and say, 'This is our culture. It happened to every woman. We knew it was bad in Somalia, but nobody discussed it.'
"I think what was very unusual was that Ifrah participated in the dramatisation of her life story very much in collaboration with an actress who was honouring that story for all women, and making it an everywoman story. It was a wonder to witness."
McGuckian uses a deft, emphatic and sensitive hand throughout – especially evident during the film's more distressing moments. It begins with triumph, an impassioned speech to the United Nations and slowly, through flashbacks, we see just how much Ifrah has had to endure and overcome to get to that moment. "It was all about getting the tone of the film right," the director explains. "It was important to get a sense of the trauma of it, the terror of her early life, and in the telling of it, neither overdramatise nor in any way underestimate or be dismissive of what FGM is and feels like."
Ahead of its Irish release, A Girl from Mogadishu has been screened at various international festivals, and McGuckian says the reaction in Nairobi especially was unforgettable – "the whole room was in tears" – but to her, it still feels very much an Irish story. "To me, this was the face of modern Ireland, that this new Irish citizen achieved what she has. Fundamentally, I hoped it would be an inspiring story, one to empower other women as well as highlighting the cause. It's an incredible time to be a woman in Ireland, and to make a film here, and one of this nature, was a great symbol of positive change."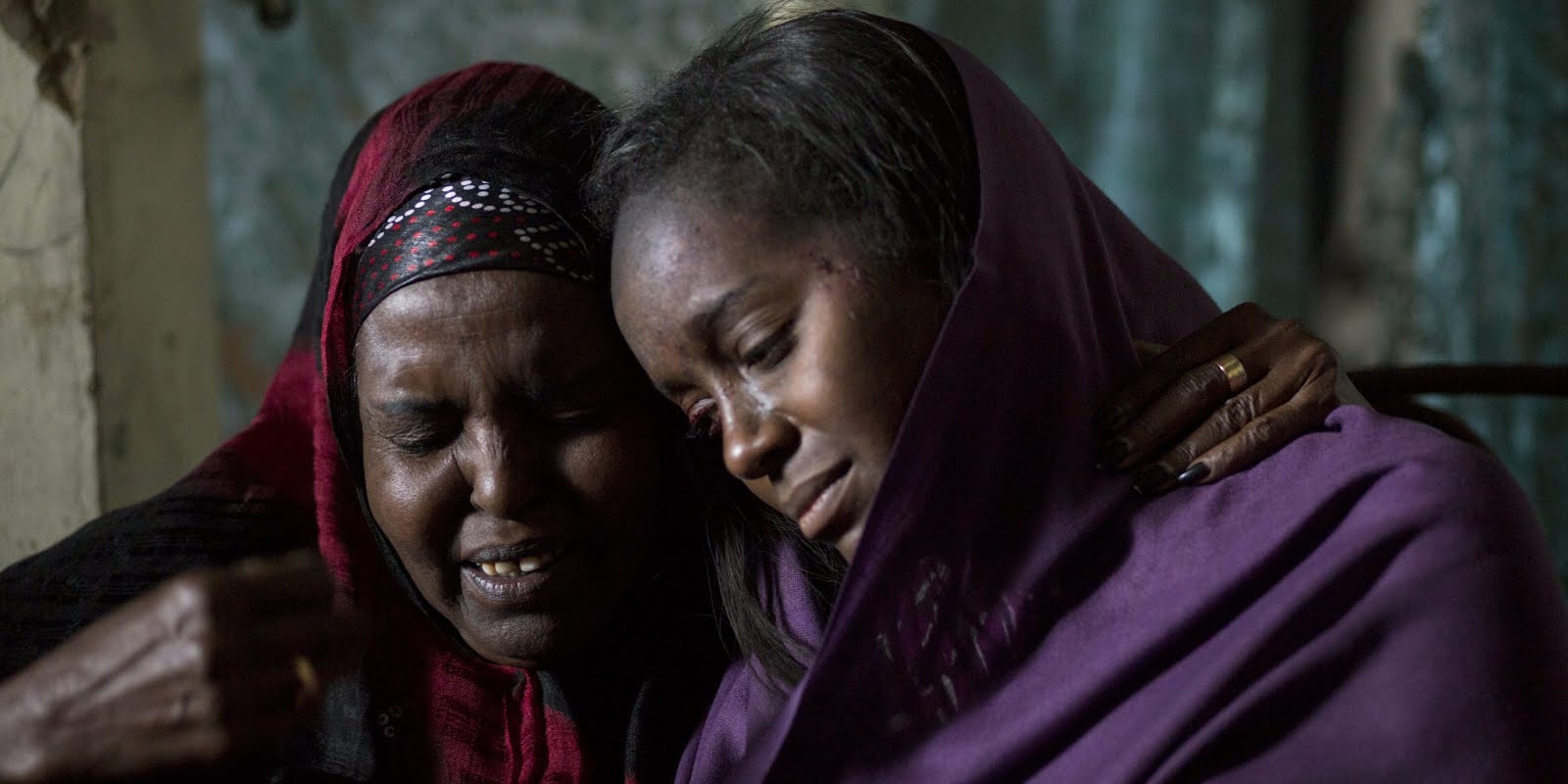 Aja Naomi King as Ifrah Ahmed and Maryam Mursal as Grandma in A Girl from Mogadishu (c) Pembridge Pictures. Still by Seamus Murphy.
An Irish fashion connection
To recount all the events as authentically as possible, Ahmed was heavily involved in much of the filmmaking process. "I made the decision that if I was going to tell Ifrah's story, it had to be in her voice, in her world, and she, therefore, had to be very involved," says McGuckian. "She was on set, she helped with all the translation of Somalian. I read the script to her so she'd know it inside-out." Much of the film takes place in Ireland, and we get a real sense of the vibrant woman Ahmed blossomed into during her time here – much of this reflected in her eye-catching sense of style.
"I've never seen Ifrah in the same outfit twice – it's one of the things that is unique about her, and we see this particularly in her costumes," McGuckian says. "For many years, she ran the Miss Ethnic Ireland beauty pageant in The Westin Hotel, and for the sake of the movie, we made it a fashion show. It was all about the headscarf; we wanted to recreate hijab chic, normalising it as a fashion statement, and we wanted to use an Irish designer to do it."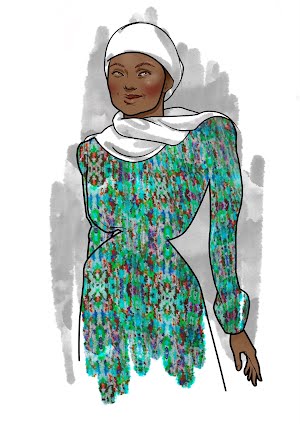 That designer was Helen Steele, with the styling by Judy Gilroy. The collection, a luminous mix of colour, pattern and texture, is a work of beauty. Steele was, she says, honoured to be involved. "It was an opportunity for me to create a collection of diverse, modest clothing to match [Ifrah's] energy and vivaciousness. I think there's a huge misconception about the hijab, which can be tricky to navigate around, but certainly, from my travels to the Middle East for work over the past two decades, I do think I have an understanding of Arabian women and their love for fashion, colour and print."
"And, for me, it was amazing to be involved in that whole aspect, because I so admire Muslim women for their strength and power. I think Ifrah is the most perfect example of this." Steele also dressed Ifrah herself for the fashion show segment (sketched above).
"I gifted her the clothing she wore in the show. We chose a green/purple print with lots of threads of fabric all knitted and knotted together, with all the threads of colours representing Ireland at the moment – all the different nationalities and cultures, held together by the green background. Ifrah guided us the whole way through, and even the way the jewellery was used was modern; eclectic and really different."
Did You Know?
THE NUMBERS AkiDwA, Ireland's network for migrant women (akidwa.ie), estimates that there are at least 6,000 women affected by FGM/gender-based violence living in Ireland.
THE IRISH LAW Thanks to the advocacy of Ifrah Ahmed and tireless campaigning of AkiDwA, the Criminal Justice (Female Genital Mutilation) Act 2012 makes it a criminal offence for someone resident in Ireland to perform FGM or to take a girl to another country to perform it.
SUPPORT SERVICES It is estimated that around 500,000 girls and women in the EU are living with the lifelong consequences of FGM (physical and mental), and that every year a further 180,000 children are put at risk from this harmful practice. "Migrant women still suffer in silence," explains AkiDwA's head of operations Salome Mbugua. "As a society, we're all responsible, and we need more support, particularly outside Dublin, where services can be inaccessible."
NATIONAL ACTION PLAN AkiDwA is continuing to work towards a national action plan to combat FGM. "A national, State-led action plan is needed to guide State agencies like Tusla, the HSE, and Gardaí on how to build partnerships with communities to eradicate FGM," says Mbugua. "We can't achieve as we would like without support from the State going forward."
If you are affected by this article, support and help are available at akidwa.ie
You can rent A Girl From Mogadishu HERE