Comfort is the new cool: Why curved silhouettes and exaggerated textures are taking over our living rooms
Sponsored By
---
Sponsored By
Lockdown has made us rethink our living rooms, bridging the gap between sleek curves and cosy textures.
Living rooms often hold the weight of the home's design on their shoulders. Usually the first room one sees after walking through the door, they mould guests' first impression of the house and those who live there. 
It's a lot to ask of one space, which is why we put so much effort into making it look warm and welcoming. It's where we entertain friends, where we relax after a long day, where we set up our makeshift offices and, most importantly, where the family comes together to spend quality time (even if it is just a night of telly and takeaway).
And now that we're spending more time at home than ever before, our living rooms have had to adapt to this multi-functionality, forcing us to fill them with comfortable sofas and cosy textiles, while maintaining their voguish aesthetic.
But the emerging trend hardly looks like a compromise – sleek lines and curved silhouettes pair with rich, earthy tones and warm, wooden surfaces. These are our favourite living room looks right now.
Cool and comfortable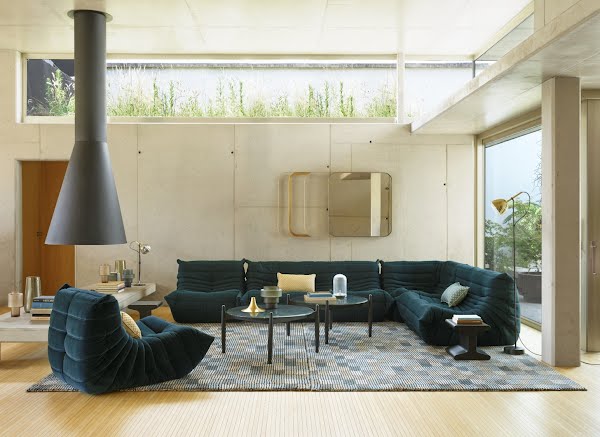 Making clever use of an open floor plan, this living room is framed by a curved, L-shaped sofa, a matching corner chair and a long table that blends into the surrounding stone walls. The industrial look created by the exposed stone, funnelled light and gold accents contrasts with the deep colours of the indigo sofa, made with plush polyether foam.
The blue, square-patterned rug pulls both looks into one cohesive style, providing a cool and comfortable design.
Bright and trim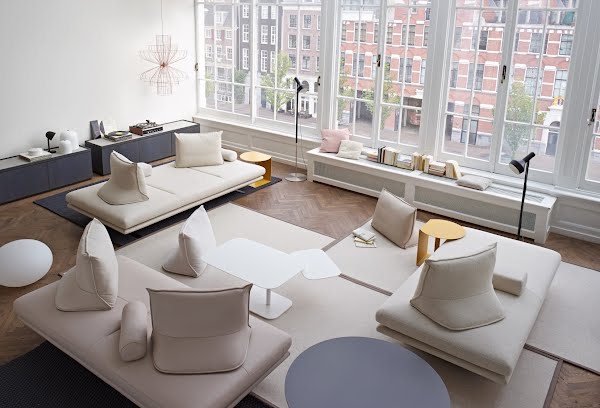 Perfect for a multi-purpose space, this living room uses natural light and creamy tones to create a bright and airy space. Sofa seats are decorated with weighted back cushions, allowing you the freedom to move throughout the day, without compromising comfort.
The room is grounded with dark wood floors, a jigsaw of rectangular rugs and a medley of side tables – all various shades and shapes.
Rich and earthy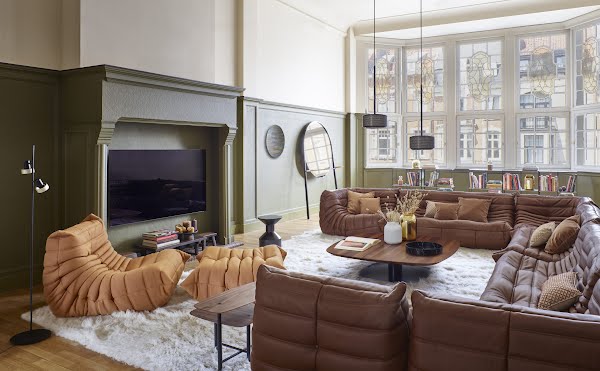 This space uses rich and earthy tones to emulate a warm and homely atmosphere. The massive, mauve sofa is dappled with with different textured, tan cushions and paired with a mustard chair, adding depth and comfort.
The white, faux fur rug and minimalist, wooden tables add to the natural design, creating a cosy and colourful space without being too overwhelming.
Sleek and simple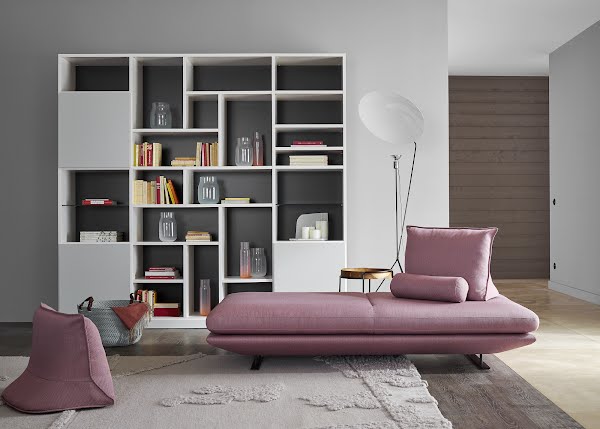 For smaller homes, it's best to keep things simple and avoid a cluttered look. This living area makes the most of its limited space by choosing a vivid sofa with sleek lines as a focal point.
It's then finished with modern details – a white, textured rug, sloping lamp, brass side table and shelving with dark backboards and colourful display – to form an elegant and blissful space.
---
Arena Kitchens + Interiors, based in Dublin for 33 years, is proud to be exclusive agents for SieMatic Kitchens in Ireland. The high-end kitchens are manufactured in Germany and shipped directly to our warehouse. Our Sandyford showroom is one of the finest in the country and we have just completed installation of the new SieMatic Pure range kitchen; the SLX. We welcome showarounds by appointment. Arena Kitchens + Interiors are also exclusive agents for Ligne Roset Furniture, as well as many other world leading home and kitchen brands.