Faff-free lotions, convenient carry-on kits, sun-bleached nail shades and humidity-proof hairstyles – consider this your ten-step guide to what to buy and try in summer travel essentials.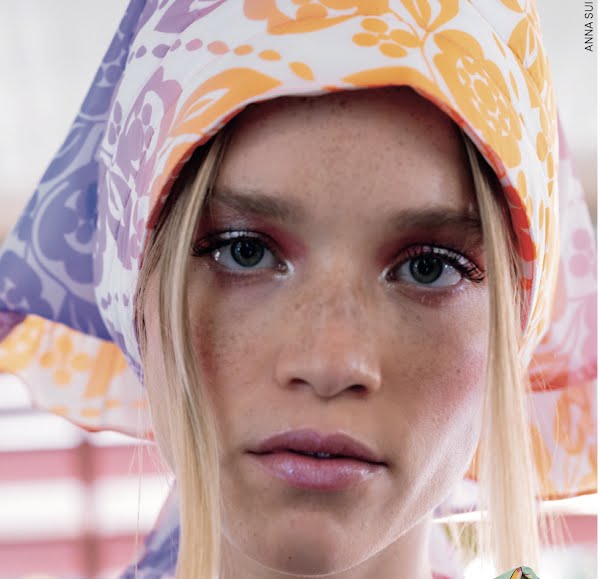 1. HEAT-PROTECTING HEADSCARVES
Heads up: headscarves have made their return for SS22. Less Balmoral, more Balenciaga (and Versace, The Row, Giorgio Armani and more), they'll stop your hair from frying; or spritz Nuxe Sun Moisturising Protective Milky Oil for Hair, €16.90, a non- greasy, hydrating mist that'll safeguard tresses from sun, salt and swimming.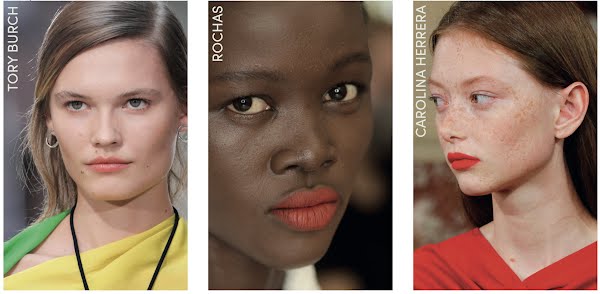 2. ICE LOLLY LIPS
Think of it as the smudged eyeliner of lipstick: diffused, blurred and soft-focus. The aim is a fuzzy electric inner colour finished with high-shine gloss. Use a ring finger to dab an air kiss of fruity shades, from glossy blood orange to sheer, jammy berry, to the centre of the lips and buff outwards for a bitten, stained effect, like you've just finished an ice pop.
3. SUNSET BLUSH
Sunburn blush continues to dominate TikTok beauty trends – blend warm, sunset shades in a "W" across the face, high on the cheeks and bridge of the nose where the sun naturally hits. Creamy textures like Laura Mercier Tinted Moisturiser Blush in Corsica, €29.50, and Charlotte Tilbury Pillow Talk Lip & Cheek Glow in Colour of Dreams, €39, sink in and leave skin fresh and sun flushed, where a super-fine powder like Nars Summer Unrated Blush Bronzer Duo in Orgasm/Laguna, €40, delivers a sheen like you're always in golden hour.
4. CARRY-ON KITS
If you find the airport's tiny clear plastic bag for your liquids oppressive – soon to be a thing of the past, just the no taxis, passport delays, endless queues and extortionate costs to rent a car, park a car or eat breakfast to deal with – meet your new travel companion: Charlotte Tilbury's portable, handbag- sized Quick & Easy Make-up Kits, €69, have a massive mirror and contain wands for eyeshadow, lips, cheeks and highlighter for on-the- go make-up in five minutes.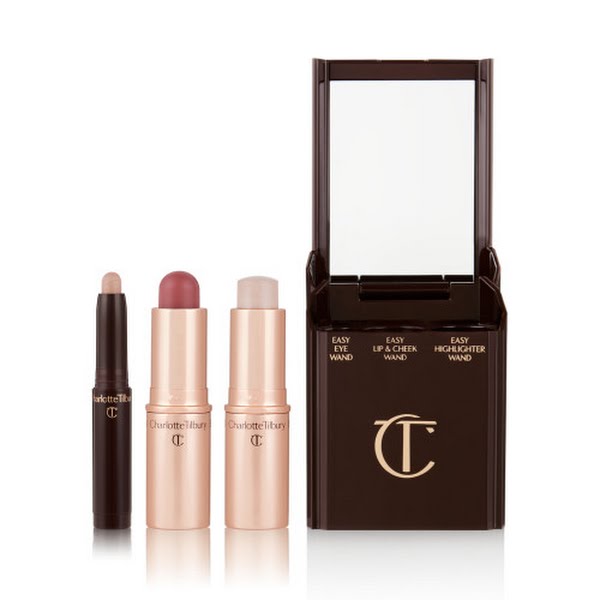 Charlotte Tilbury Quick & Easy Make-up Kits, €69
5. GLOWY OILS
We now know better than to tan with oil, but nothing beats its glow on sun-warmed skin. The best of the new oils on the market are multi-purpose and have nothing to do with tanning, combining lingering subtle or heady scents, luxurious texture, gilded glow and incredible skin benefits, repairing sun-scorched hair and nourishing skin and lips. For a hit of sun- kissed shimmer at sundowners, slick the golden liquid bronzer oils from Nars or Tom Ford down your arms, legs, collarbones, shoulders and chest to add a silky, scented gleam.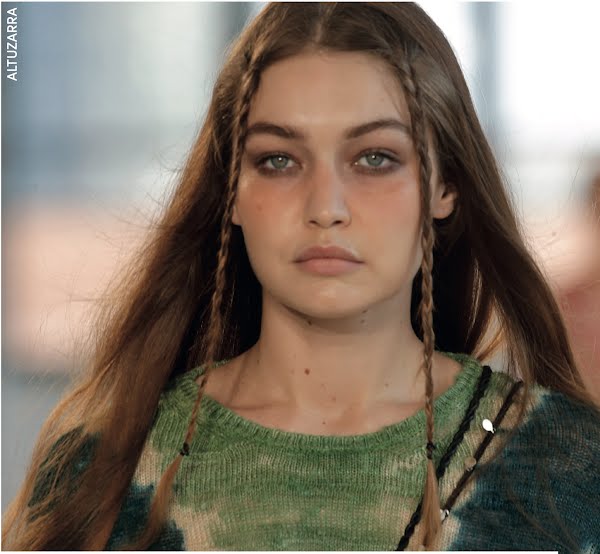 6. FACE-FRAMING PLAITS
The latest Y2K hair comeback joining zig-zag partings, flicked-out ends, hair claws and spiky updos are face-framing braids, the dainty plaits once worn by Britney, adopting a new generation via Margot Robbie, Hailey Bieber, Bella and Gigi Hadid, Dua Lipa and more. Leave 8 the rest of your hair beach textured, as per Altuzarra SS22, above,and save yourself the trouble of styling hair that'll be ruined by humidity anyway with summery tendril braids.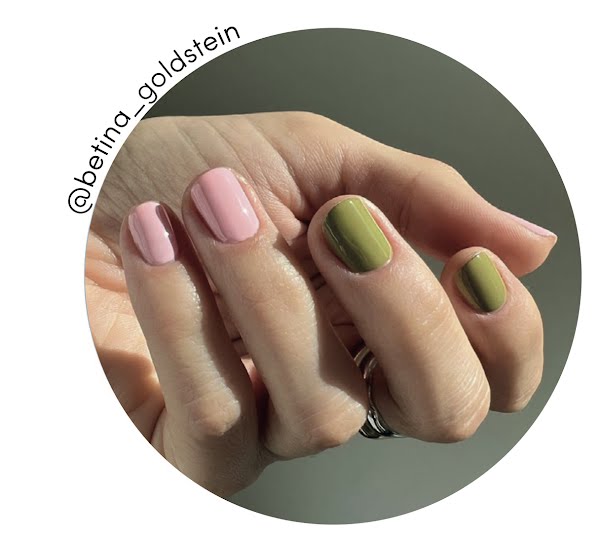 7. PASTEL PLAY NAILS
Keep your nails pastel sweet in summer's heat with a light wash of soft sun-bleached shades, from sunset pinks and muted lilacs that work with everything to soothing spa retreat-inspired tranquil greens.
8. POOL-PROOF MASCARA
For swim-, sun-, sweat- and splash-proof mascara, the new Rimmel London Kind & Free Mascara, €12.99, and BareMinerals Maximist Phyto-Fiber Volumizing Mascara, €23, do a lot of work. Both are vegan, infused with nourishing ingredients to improve your lashes over time, feature packaging comprised of post-consumer recycled plastic, and deliver volume and length that lasts all day, no matter the heat.
9. SKINCARE SPF
Welcome to the golden age of sun protection, 9 where chalky-white cast is a thing of the past and the formulas come with next-level skincare benefits. Sunscreen meets skincare in three clever new launches: La Roche-Posay Anthelios Oil Correct SPF 50+, €26, contains salicylic acid, niacinamide and zinc to clear pores and reduce excess sebum; Glow Recipe Watermelon Glow Niacinamide Sunscreen SPF 50, €36, has watermelon extracts, niacinamide and hyaluronic acid to reduce hyperpigmentation and brighten skin; while Shiseido Urban Environment Age Defense SPF 30, €40, includes spirulina, hyaluronic acid and anti-sebum damage complex for decongested, hydrated skin protected from environmental aggressors.
10. SUN- SOOTHED SKIN
For rehydrated skin in a flash after a day of sun, sea salt and spritzes, spray Aveeno Daily Moisturising After- Shower Mist with Oat Extract, €7, all over immediately post-shower – it dries in fast so you won't feel sweaty and slick, and it locks in non-greasy moisture, protecting dry skin for 48 hours and leaving it balanced, soft and supple.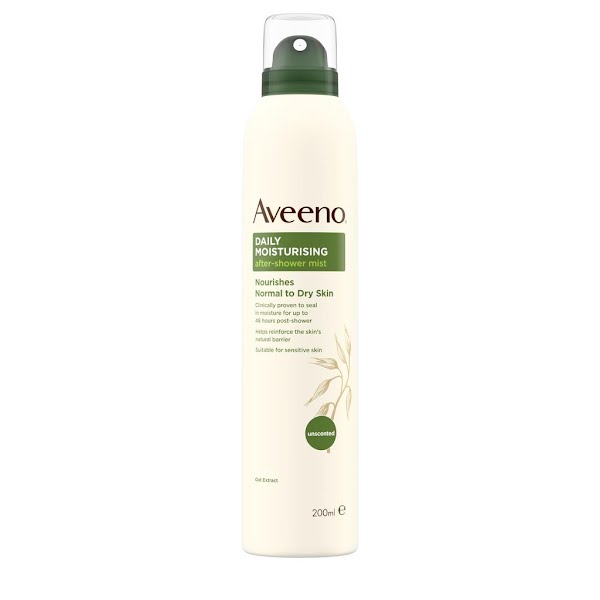 Aveeno Daily Moisturising After- Shower Mist with Oat Extract, €7
Featured photography by @pernilleteisbaek. Catwalk and Backstage Photography by Stefan Knauer. This article originally appeared in the Summer issue of IMAGE Magazine, on sale now.. We may earn a commission if you buy something from any affiliate links on our site.
Other highlights in the issue include:
Daytripping: Discover a dreamy wild flower and food-focused oasis in Wicklow
Discovering your money blocks – Katie Byrne digs deep into the dysfunctional financial psychology holding too many women back
Not sure if you want kids? Join the club writes Sarah Macken
Author Aingeala Flannery on finally finding her groove
High drama: Meet songstress of the moment LYRA
EXCLUSIVE: Take a tour of designer Zoë Jordan's home in Palma
Shore thing: four fabulous Irish retreats where you'll find reprieve by the water
Take me to the island: A languid, long weekend in Paphos
Indulgent Reading
Subscribe to IMAGE for perfect indulgence reading at just €99 per year.
As well as being the first to receive our magazines and having the latest issue delivered to your door, IMAGE Print & Premium subscribers have first-look digital access to the issue, exactly as it appears in print, which you can revisit at any time.
Four issues of IMAGE Magazine and two issues of Image Interiors delivered to your door.
Access to all daily premium articles from Ireland's leading contributors
Digital versions of all magazines. Read IMAGE and Image Interiors exactly as they appear in print.
Bespoke weekly email, rounding up the best content exclusive to subscribers.
A luxury gift from The Handmade Soap Company, worth €60*.
If you cannot find the latest issue in your local shop, make sure to visit image.ie/magazine to buy your copy and have it delivered to your door, anywhere in the world.
---
*Terms and conditions apply. Offer available only while stocks last on gift advertised (ANAM Candle and ANAM Body Oil). The gift is only valid on postal addresses to the Republic of Ireland. Please allow 28 days after you subscribe to receive your gift. IMAGE Media reserves the right to vary their prices from time to time and any price adjustments will be advised.