---
Like all good fashion icons, Cruella has a signature hairstyle so recognisable it makes even the monochrome packaging and black and white brushes of the new MAC collection instantly discernable as hers, even if her name wasn't etched on them in spiky, blood red ink. Her violently sharp silhouette is present in the eight-pan eyeshadow palette, which itself is something of a work of genius. It has magnetic sections so you can split the palette up. Crack off the two eyeshadows you might need to top up your eyes later on, or latch them on another section. "I want my whole kit to do what this palette does," says Terry Barber, MAC's Director of make-up artistry. "It's like a Rubik's Cube." There is, of course, nefarious shades of vinaceous red lips in the collection, and horribly chic nudes. Even if you had no interest in Cruella, you'll want the black and white dual-ended eyeliner. The blush duo is, however, all Seventies. "It's got a hint of disco and Jerry Hall," says Terry Barber.
Cruella is set in the 1970s in the punk rock era in London and focuses on the rebellious early days of Cruella de Vil.
"For this collection, we really wanted to throw all the rules out and try something very exciting and spectacular," says Drew Elliott, MAC's Global Creative Director. "These looks that were once seen as a fashionable faux pas are now hitting the runways; perfectly polished make-up is replaced with this lived-in look. Mismatched eyeshadows, contrasting patterns and tie-dyed looks that were once a symbol of rebellion are new. Anti-fashion is now in vogue, we've gone from subculture to pop culture. Our goal with this collection is to celebrate the rebels and all the outcasts, the misfits, the icons, and the true rule-breakers as MAC always does."
Disney chose Nadia Stacey as the lead make-up artist for the film to bring Cruella to life. Nadia leveraged the MAC products on set and has been the hair and make-up designer for a host of incredible films, including The Favourite, also starring Emma Stone, which won a BIFA, a BAFTA, and a European Film Award for Best Hair and Make-up.
"It's set in the 1970's which had this really rich cultural movement and inspired by that, for me, it meant that there were no rules," says Nadia Stacey over Zoom. "I was really inspired by the era, that kind of punk movement of throwing the rulebook out the window. That gave me a blank canvas to start and have no barriers.
"Because we're an origin story and we are creating Cruella, she's finding herself, she's finding her look. She's collecting bits here and there of things that she's seen as a young girl, and inspired by music and art and fashion, so I did the same. My references were crazy, from 18th century to the 20s to 40s, 50s, 60s, all the way through avant garde and obviously, punk itself. Drag was definitely a good reference as well because I feel like we're creating a persona. Every time we see her during the movie, she makes these big, impactful moments, she turns up to fashion events and she's the one that wants to be on the papers the next day, she is gatecrashing all these events, and she wants the cameras on her. Cruella is the type of person that turns up to a black and white ball head to toe in red, so what she has on her face has got to be impactful as well."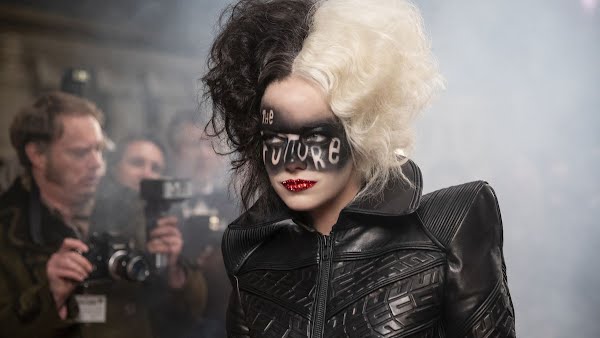 "It's about believing that this girl who lives in London in the 70s  is creating this kind of look for herself, it's believable that she could do that with one pencil or one lipstick or a couple of eyeshadows rather than that she's been sat in a make-up chair for an hour. So I feel like it really fits perfectly with this collection because it makes it so accessible to anyone to create these looks themselves. If you want to go really big and bold or you just want to go for a signature red lip, it's all there and it all works. When I first moved to London, I remember walking into a MAC store and there was a girl with a shaved head and bright green eyeshadow and it was really unapologetic and that just fits this collection perfectly."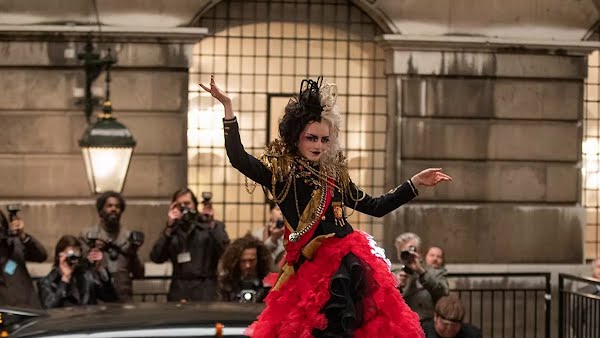 "On a practical level as well, I needed products that would deliver the colour and the boldness and the longevity. We've got moments where she takes off a crash helmet and I've spray painted 'The Future' across her face and that needs to last. The looks are so different, the colour palette is so all over the place, the textures – it doesn't limit anyone, they can do whatever they want to do. That's really exciting, especially coming out of lockdown when we've all been in our sweat pants with no make-up on, maybe we come out and suddenly have lots of eye make-up or metallics or something fun. That's the whole message behind it, is just have fun and break the rules and be yourself, and that feels very captured within this collaboration."
"There's the white and the black, which is the basis of the collection," says Terry Barber, "and then it's just a bit about adding these little flashes of electric colour and these little flashes of metallic, which to me just give it a bit of a modern touch. I think people are a bit fed up with beauty which is based on one set of rules or one template. I think people want to be eclectic again, they want to take their inspirations from all over the place."
So what would Cruella's favourite product from the collection be? "I don't want to pin it down to one because I don't feel like she would," says Nadia. "I don't think she would ever tie herself down to one thing."
Check out the collection in full below.
The Disney Cruella Collection by MAC is out now from Lookfantastic.
Photography by MAC and Disney.
We may earn a commission if you buy something from any affiliate links on our site.