Whether it's a special occasion or you just want to show your appreciation for a loved one, these Irish gifts feel a little out of the ordinary.
Gift-giving should be a lovely experience for everyone involved, but it can be stressful trying to find the perfect present. Perhaps you worry that your recipient won't like what you've chosen, or that they'll have something similar already.
However, it's hard to go wrong with a gorgeous Irish gift. Not only are they guaranteed not to feel generic and samey, your purchase will also support a local business, a win-win situation. Here are some great Irish gifts that we love.
Lovingly Box
Designed with gifting in mind, Lovingly Box, currently a pop-up in Arnotts, has a range of curated boxes to show loved ones how much you care. Full of things like scented candles, pretty prints and skincare, it's a wonderful selection of treats.
Lovingly Boxes are available in Arnotts, and on their website, with 15 per cent of profits go to support the Irish Cancer Society.
Ground essential oils
Irish spa consultant Peigín Crowley, has worked with some of the spas in the country's most renowned hotels, including Adare Manor, Mount Juliet, and Cliff at Lyons, so she definitely knows a thing or two about relaxation.
She has launched her own range, GROUND Wellbeing, and its new essential oils collection is a great gift for someone who needs some calm in their life. There are four blends, Comfort, Uplift, Sleep and Grounding, and can be used for everything from diffusing in the home or adding to a warm bath. €22 each.
April and the Bear x Rachel Joy Price print
One of our favourite Irish interiors stores, April and the Bear, has teamed up with lettering artist Rachel Joy Price to create two exclusive prints.
They promise, "It'll be grand", an ideal message for someone who needs a pick-me-up, or anyone who would just love a positive reminder on their wall.
Available in two colours, the prints are available from April and the Bear, and start from €50.
The Handmade Soap Company workshops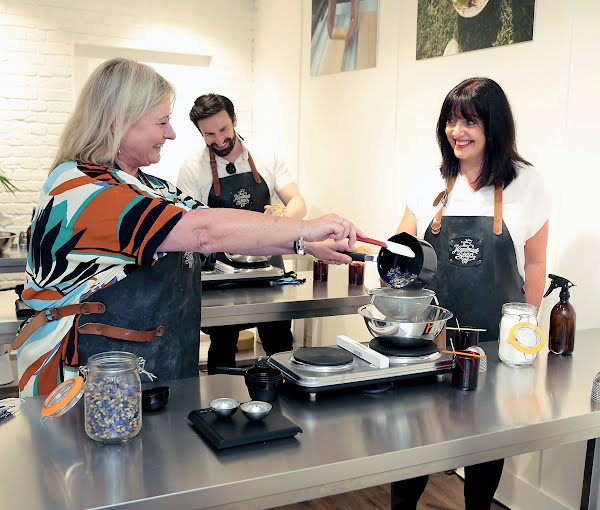 If you want a gift for someone who prefers experiences to material presents, your options are more limited than usual at the moment, but The Handmade Soap Company have just launched workshops where you can try your hand at candle making or bath bomb making.
Not only will you learn more about these interesting processes, you'll also have your own natural, vegan, cruelty-free and sustainable product to take home at the end.
The workshops take place at the company's Wicklow street store in Dublin, each with a limit of six people, and social distancing in line with Covid regulations. They cost €50 per person, and can be booked online.