The worlds of sportswear and luxury combine in this latest high-low collaboration.
In promo shots for his new single "As It Was", Harry Styles is wearing all his signature brands – seaside Eliou jewellery, JW Anderson and of course, Gucci – or to be more specific, a purple pair of the still unreleased Adidas x Gucci Gazelles.
While it was A$AP Rocky and Rihanna and her latex-laden bump that captured most of the attention at the Gucci fashion show in Milan in February, a long-rumoured collaboration was also confirmed and revealed – an amalgamation of the worlds of luxury and sportswear in Gucci x Adidas. Both have a recent track record in collaborations, from Adidas' duet with Prada and Grace Wales Bonner to last year's Gucci and Balenciaga 'hacking.'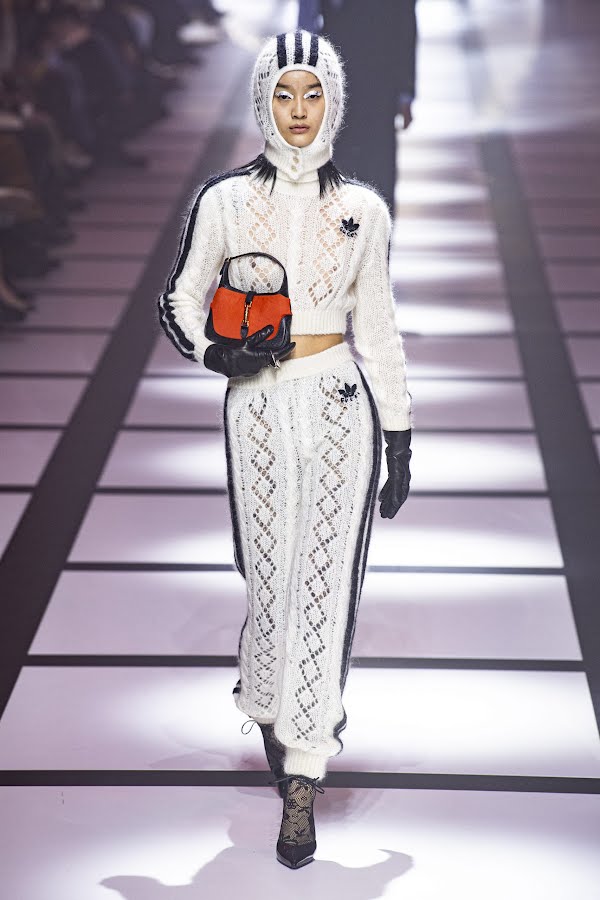 Gucci x Adidas
Gucci x Adidas is more of a high-low remix, and the collection turns both brands inside out, with Gucci suits, bags and dresses adorned in the signature three stripes to GG-monogram sportswear we're sure to see Rihanna pushing a buggy in.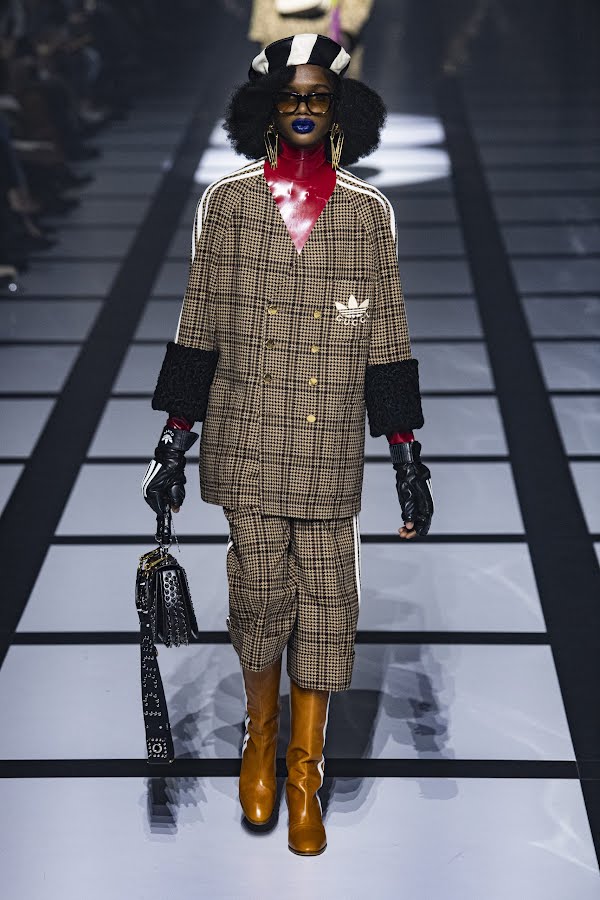 Gucci x Adidas
The show, called Exquisite Gucci, had notes from Alessandro Michele stating: "I use the metaphor of the magical mirror to approach the phantasmagorical power of fashion. A sacred power that radiates from the surface of the fabrics. And there I work, on this tactile surface, through cross references, alterations, loopholes and grafts. Juxtaposing worlds and meanings. Altering the stability of perception. Manipulating and magnifying the existing."
The collection includes a Gucci reimagining of the Adidas Gazelle sneakers in multiple colourways of velvet, snakeskin, suede, leather and G-monogram iterations, with Gucci lace tips and Gucci type alongside the adidas Trefoil logo.
Stay tuned for further details on the launch date for the collection, rumoured to be summer.
Photography by Catwalkpix.