Dublin has been named Europe's most sustainable fashion capital
---
Irish shoppers have been keeping Mother Earth in mind when shopping over the past year, with recent research revealing Dublin to be Europe's most sustainably-minded fashion capital.
With more and more people cottoning on (excuse the pun) to the unsustainable practices often employed within the fashion and textile industry, consumers have been making conscious efforts to try and change their shopping habits. And Irish shoppers apparently come out tops as online research has revealed Dublin to be Europe's most sustainable fashion capital, beating out competition from the likes of Paris, Milan and London to secure the gold. 
Just after launching its pre-owned womenswear line, fashion retailer Zalando was curious to see just how big a demand for sustainable fashion there was. Analysing online search volumes for "sustainable fashion" across all of the major European countries and cities, researchers compared the data to the size of the local population in each area. 
Determining there to be the greatest interest in sustainable fashion this side of the water, Dublin had twice the number of searches than Cologne, the next city on the list. Bilbao took third on the list (Dublin had nearly three times its number of online searches), with Dusseldorf and Munich completing the top five.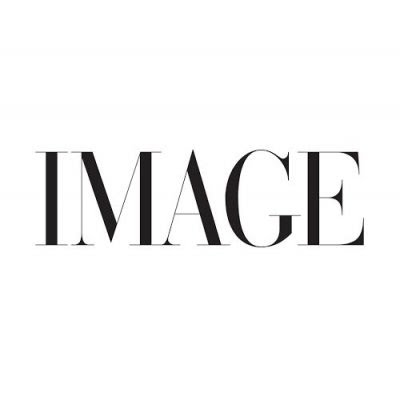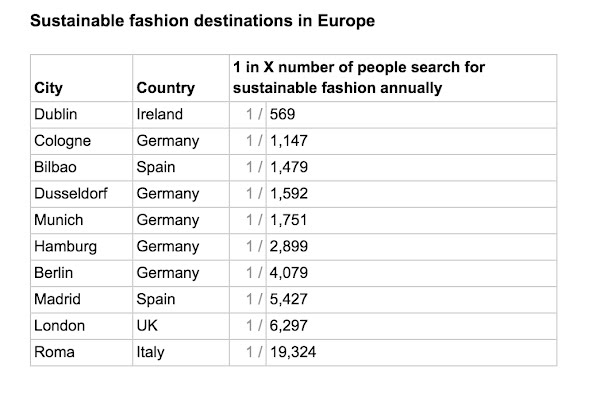 Proving that the thirst for second-hand (and other such sustainable practices) is of the utmost priority to many Irish shoppers, according to the stats, searches for sustainable fashion in Ireland have increased by 9% so far in 2021 (a huge 147% increase in comparison with the 2019 figures). 
Where does Ireland rank nationally though? 
When it comes to the countries most interested in sustainable fashion, Ireland ranks fourth in Europe, with an average of one in 1,372 people searching for sustainable fashion. Germany took the top spot in that department (one in 635 people), with the UK coming in second (one in 992 searches). 
Commenting on the company's findings, Kate Heiny, director of sustainability at Zalando said, "our customers tell us that they care deeply about sustainability, but they struggle to translate their values into actions when they go into stores or shop online. Our role as a platform is to enable ourselves, our brand partners and our customers to make more sustainable choices, inspiring collaborative action and long-lasting change."
If we really want to close the long-existing attitude-behaviour gap in fashion, collaboration is the only way forward. The fashion industry and our consumers have to come together.
Surmising as to why there has been such an uptake in searches for sustainable fashion, Cllr Carolyn Moore, a Green Dublin City Councillor, added, "I think here's a number of reasons why people are now looking beyond fast-fashion retailers to get their fashion fix, and sustainability is certainly one part of it. 
"With bricks and mortar shops closed for so much of the last year, people have had much less opportunity to indulge in the kind of mindless consumerism that leads to buying things you don't need. We're not browsing after work or popping into Penneys for a few bits and coming out with half the shop. At the same time, I think we've learned to put a greater sense of value on what we have, and perhaps realise we don't need so much."
Wanting to be sustainable is all well and good, but how can consumers put those aspirations into practice? 
Zalando shared their tips for getting started and it apparently comes down to five simple things. 
Ask yourself if you'll wear an item again (and again and again). If the answer is yes, then you know it's a smart purchase as it will fit in with your wardrobe and you'll actually make use of it. If the answer is no, put it back. 

Pick items that are versatile and that can adapt to the temperamental Irish weather.

Do your homework, by which Zalando means look into the places you're buying from. Information about their ethics and sustainability practices is usually readily available… and if it's not, then that should be your first red flag to avoid them. 

BYOB (bring your own bag, obvs). Now that shops are reopening, it's likely you'll be out and about browsing. Make sure to always have a tote to hand so that you can forgo the paper – or worse, plastic – bags and help cut down on the amount of waste being generated. 

Don't overlook vintage. A little bit of patience and you'll end up finding one-of-a-kind pieces that no one else has. Better for your individuality and better for your pocket (and the environment) too.
Interested in learning more about and supporting the sustainable fashion movement? There are several causes out there worth looking into, Fódla – a sustainable clothing brand that donates 5% of each sale to the Inner City Helping Homeless charity and The Irish Environmental Network amongst them. 
Of course, it would be hard to write about the Dublin sustainable fashion scene without mentioning some of the Irish trailblazers who helped to bring it to the fore. The likes of Taz Kelleher and Geraldine Carton of The Useless Project or Sharon Greene from Queens of Neon who headed up the Dublin Flea Christmas Market. Not forgetting all of the beautiful second-hand, vintage and charity shops that keep the circular economy in motion. 
With the demand for sustainable clothing on the up and up, consumers are holding retailers more accountable for how and where they source their clothes. Demanding transparency on sustainability and labour practices, the addition of a pre-loved section to Zalando's online offering is definitely a step in the right direction. 
*Search data was collected in April 2021. Population data sourced from www.worldometers.info – the United Nations, Department of Economic and Social Affairs, Population Division. World Population Prospects: The 2019 Revision