This sunny Spanish resort is the perfect place to book your next family holiday
---
Shayna Sappington was a guest of the newly renovated Grand Hyatt La Manga Club Golf & Spa in southeast Spain. With sports camps for kids, outdoor pools, a luxury spa and a range of restaurants, there really is something for everyone to enjoy.
Dublin is quiet in the early morning hours. My taxi flies down an empty motorway towards the airport and I can feel that sleepy excitement that comes with going on holiday – a jumble of jitters from late-night packing and worry I've forgotten something important, along with the anticipation of shutting off for a long weekend of sunshine, exotic foods and a few cheeky margaritas.
My destination is Murcia in southeast Spain, where Hyatt has recently refurbished the Grand Hyatt La Manga Club Golf & Spa. Once a destination for Hollywood stars in the late 90s and early 2000s, the hotel is now part of the Grand Hyatt family and has been restored to its former glory. 
(TIP: If you have to connect through London, YOTELAIR offer day rates if you want to nap or relax during your layover. They are located inside Gatwick Airport and have food and drink options available 24/7 as well.*) 
After leaving a particularly rainy day behind, the heat hits me with a welcome blast when I arrive at Murcia International Airport. A quick 35-minute drive (you can grab a taxi or arrange a transfer via the hotel) takes me to the grounds of the impressive resort. It is three times the size of Monaco, with over 2,300 residences in its surrounds including local boutiques, shops, bars and restaurants.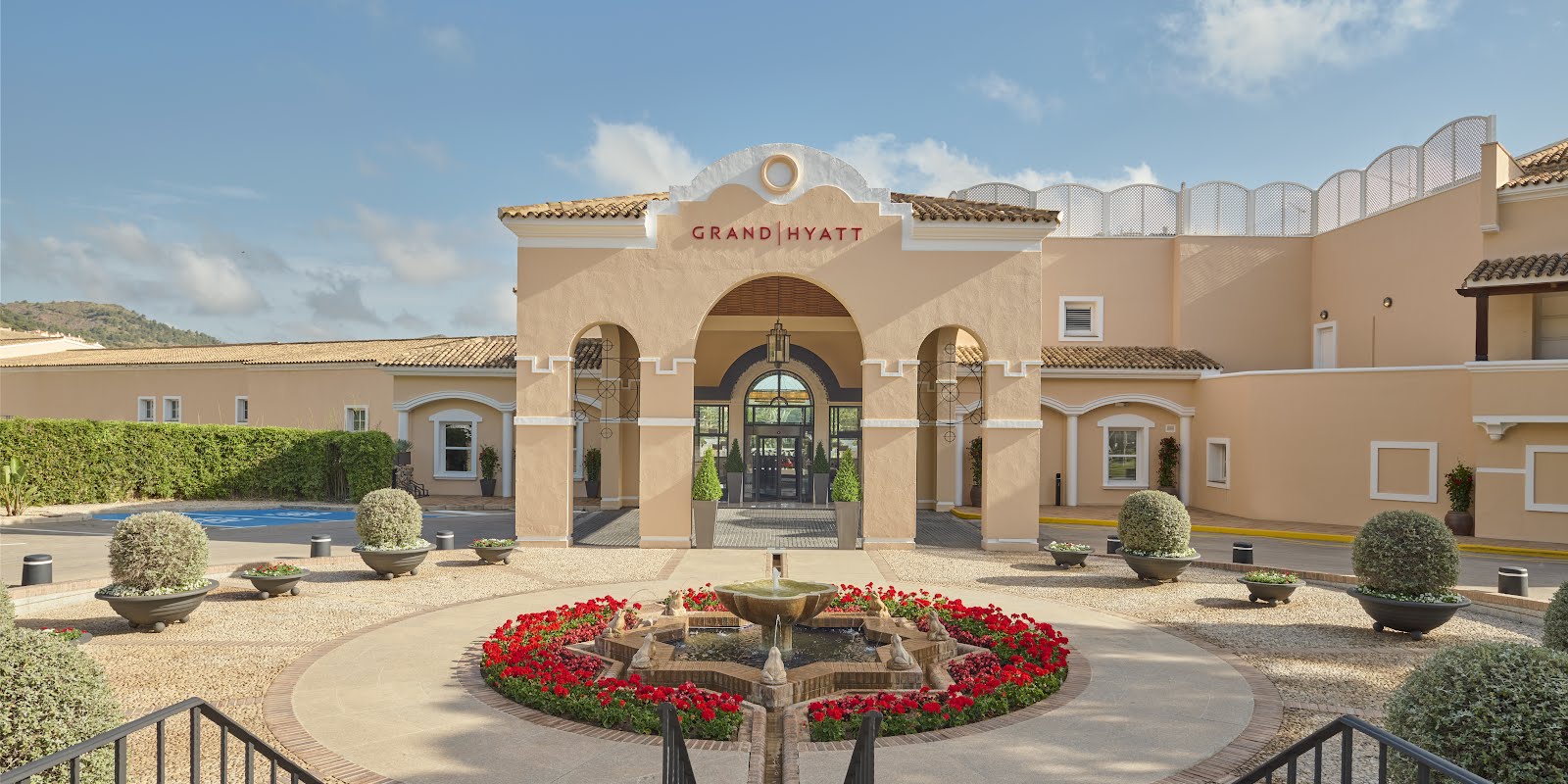 At the community's heart, nestled amidst lush green golf courses, the rolling hills of Calblanque Natural Park, and the Mediterranean Sea sits the Grand Hyatt La Manga Club Golf & Spa. The Mediterranean-style building greets me with a grand entrance and automatic glass doors whoosh cool air conditioning on my face as I walk through.
The lobby carries this local influence throughout its design, with Moorish architecture and decor that reflects the area's natural beauty. There's even a pleasant scent of lemons on the air, which my guide informs me is Murcia's largest export and a local staple in many seafood dishes and desserts.
The days that follow are a blur of delicious food and cocktails, sporting adventures, lazy days by the pool and relaxation at the spa. Rather than drone on about the details, I've highlighted the best bits and absolute must-tries below…
Recreation
Golf
First and foremost, the Grand Hyatt La Manga Club Golf & Spa is best known for having three of the best 18-hole golf courses in Europe, along with a Golf Academy and Practice Centre. Some of the best players in the world have graced these golf courses and it often holds major professional tournaments. If you're a fan of the green, this should definitely be on your bucket list.
Tennis & Padel
A visit to the Racquets Club with the kids can't be missed. It is one of Europe's most popular tennis destinations with 28 courts on three surfaces, seven floodlit padel courts and a pickleball court. There are summer camps every year for youths, from beginner to amateur levels, and equipment can be rented or purchased in their Pro Shop. 
The best times to book into the camps are the summer holidays in July and August and the half-term breaks in October and May.
They also have cricket facilities, a football centre, and nearby walking trails and hikes, so the family will never be short of something to do.
Relaxation
Pools
If you're planning a family holiday, perhaps one of the best features of the hotel is its outdoor swimming pools – which include a family pool with a baby's area and an adult-only infinity pool with views over the golf course and poolside bar service. If your kids are booked into a training camp, you can sneak off to a children-free zone and sip cocktails in the sun. (This was one of my favourite parts of my trip!)
Spa
The newly refurbished wellness centre is a whopping 1,700 square metres and includes a state-of-the-art gym and an Arabian-inspired spa, Alma, which means 'water' in Arabic and 'soul' in Spanish. In fact, water is a key theme throughout the spa, from its hydrotherapy pool to its multi-sensory circuit with a sauna, steam room and cold plunge pool.
During my stay, I booked a deep tissue massage that melted my stresses away. Afterwards, I was brought to a relaxing lounger and served hot tea with mochi ice cream to ease the transition back to the real world. I made a day of it at the spa, swimming in the hydrotherapy pool, enjoying a deep cleanse in the sauna and reading my book in between dips.
Food & Accommodation
Rooms
There are 192 elegant guestrooms, including seven signature suites, with options of a balcony or a terrace available. Guests can choose between a view of the golf course or of the pool – both are idyllic scenes to wake up to on holiday. Each room has a  luxurious feel and the latest amenities, including a smart TV, rain shower and air conditioning. There are also cribs available on request.
Dining
As someone who derives great joy from indulging in a quality meal, my holiday taste buds were well-satiated at the hotel. The resort has 11 distinctive dining destinations, featuring home-grown as well as international flavours. From an Italian trattoria to an authentic izakaya sushi bar, and from Southeast Asian cuisine to fine dining, there is truly something to suit everyone's palate. 
One of my favourite meals was at the breathtaking beachfront La Cala restaurant. The hotel offers a shuttle service to this intimate beach, where you can spend the day swimming and enjoying refreshments at the bar. Using fresh ingredients, the restaurant's fare includes top-quality fish, seafood and traditional local dishes such as caldero rice.
There's also a breakfast buffet each morning and it's a smorgasbord of delight. They serve up your typical morning foods like made-to-order omelettes, as well as those inherent to Spain like fresh meats (the jamón is divine), cheeses and fruits.
If you're looking for a luxury romantic getaway or a family holiday, Grand Hyatt La Manga Club Golf & Spa ticks all the boxes. The staff went above and beyond to ensure I had everything I needed, answering any questions I had and sharing their favourite local haunts whenever I asked.
You can enjoy a spa day, lounge by the pool, savour delectable food and drink, or try your hand at tennis and golf. Everything is close enough that everyone can split up, do their own thing and reconvene for dinner, ensuring a fuss-free vacation. Plus, it's pet-friendly, so no family member will be left behind.
It was one of my best sun holidays yet, and I'll definitely be back next summer.
At Grand Hyatt La Manga Club Golf & Spa, starting rates are from €292 for one night in a standard room (king bed or twin beds available). For further information, contact Grand Hyatt La Manga Club Golf & Spa by phone at +34 968 33 12 34, email at [email protected] or visit their website.
*YOTELAIR rates start from £95 for a standard cabin based on check-in at 6pm and check-out by 8am the following morning.