House Tour: How influencer Aoife Mulvenna transformed this Belfast home with €3,500
---
Take one architectural designer and influencer, one fixer-upper and one pandemic, and what do you get? A light-filled home transformed on a shoestring budget. Aoife Mulvenna tells us how she did it.
Photography by Ruth Maria Murphy.
When Aoife Mulvenna was furloughed during the pandemic, she decided to put her design savvy to good use. "My boyfriend's father, Roly, decided to buy a little affordable house in North Belfast to do up and sell on," she tells me. "With my background in architecture and interiors and with a fair amount of time on my hands, I figured I'd help him fix it up. My boyfriend Robbie and I never actually intended to move in, but as I began to put my mark on the house we thought, "Why not rent it?"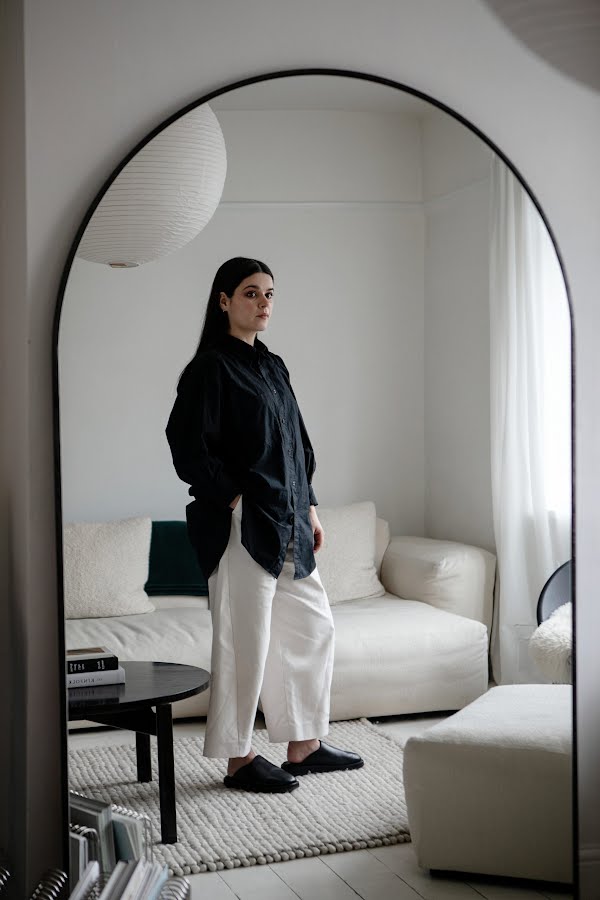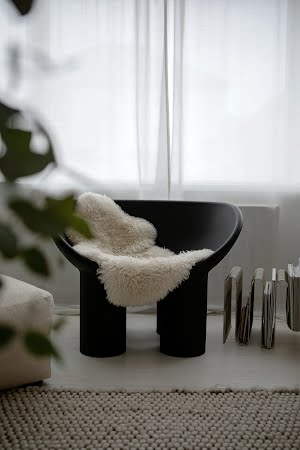 It was decorated with burgundy velvet carpets and manilla walls when they found it, but Aoife and Roly transformed the two- bedroom house on a budget of just £3,000. "Roly likes to get things done, at speed with – he won't mind me saying – minimal consideration for his safety," Aoife laughs. "Whereas I'm slower and take a more planned approach to projects."
"The seven months we worked on the house together was like a slapstick comedy with some wonderful, thought-provoking chats Roly labelled our 'set the world to right conversations'."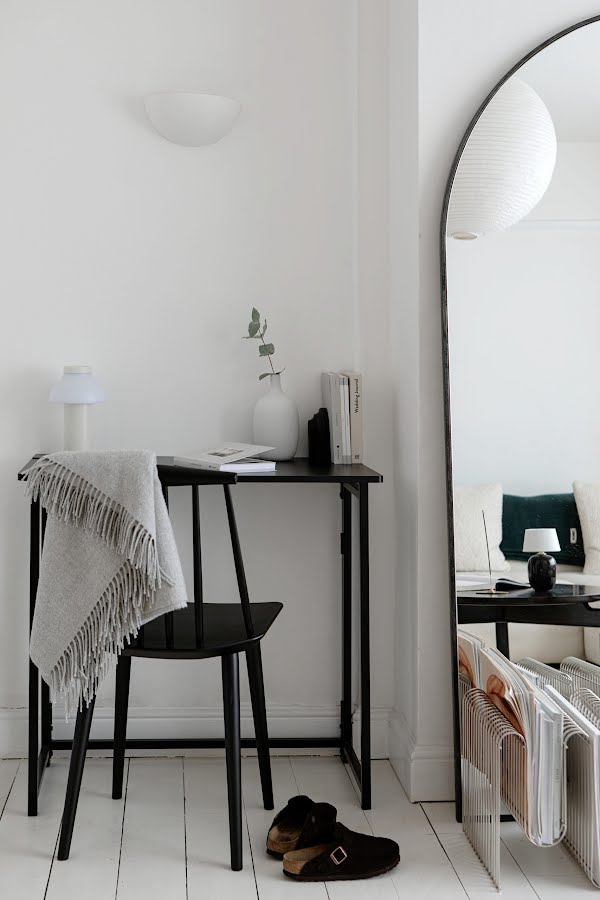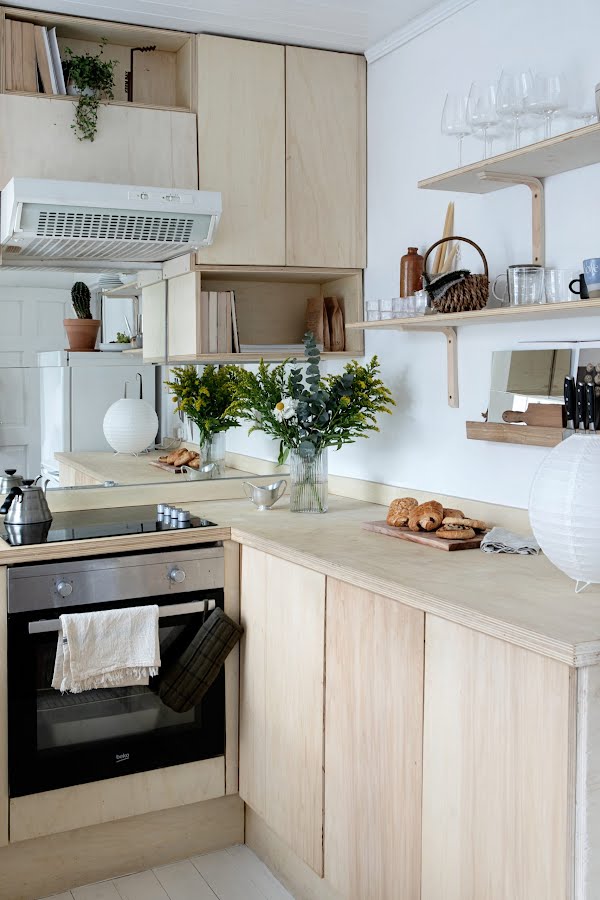 Working with a square footage of just 540 square feet, Aoife painted all the walls and floors white, deploying mirrors cleverly throughout to give the illusion of space, with tall freestanding mirrors in the living room and bedroom and a mirrored splashback in the kitchen. With her love of big shapes and monochrome palettes, which has gained her an 8,000-plus following on Instagram, she then layered texture and tone – think a white sofa on a white rug – disguising non- period windows behind sheer floaty drapes.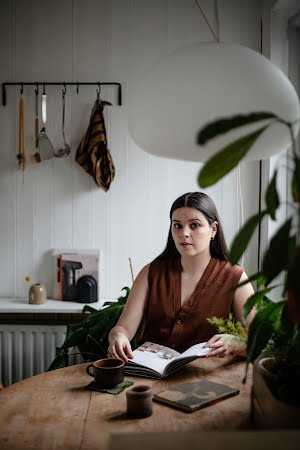 The result is a deceptively spacious space that's big on comfort. "There's definitely a crossover between my clothing and interior aesthetic," she says. "With my clothing, I might wear a nice structured suit, but I like to offset it with a slouchy, cosy Aran knit jumper and a big practical trench coat. The same ethos applies to the house – simple, pared-back colour palettes with nostalgic, well-worn furniture pieces."
The kitchen is one of her favourite rooms. Scandinavian in style, with a nod to Alvar Aalto and Sigurd Lewerentz, the plyboard kitchen cupboards and counters – sealed in Osmo oil to repel water – sit happily with the original terracotta tile floors and Robbie's granddad's Ercol table set. "It feels like a proper working kitchen, complete of course with an iconic Belfast sink and hanging laundry maid. It's a particularly lovely space to have breakfast during the summer months when we open the door right into the south-facing garden."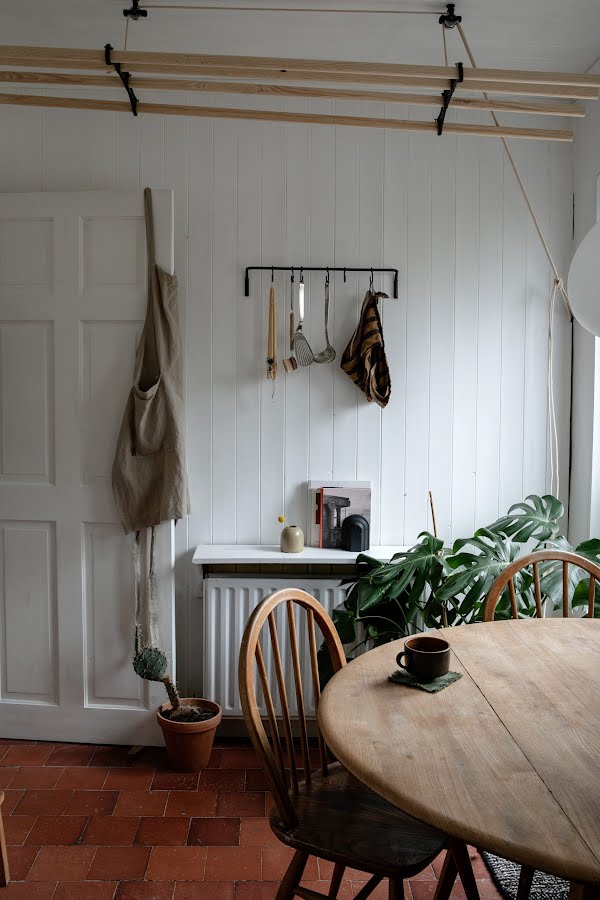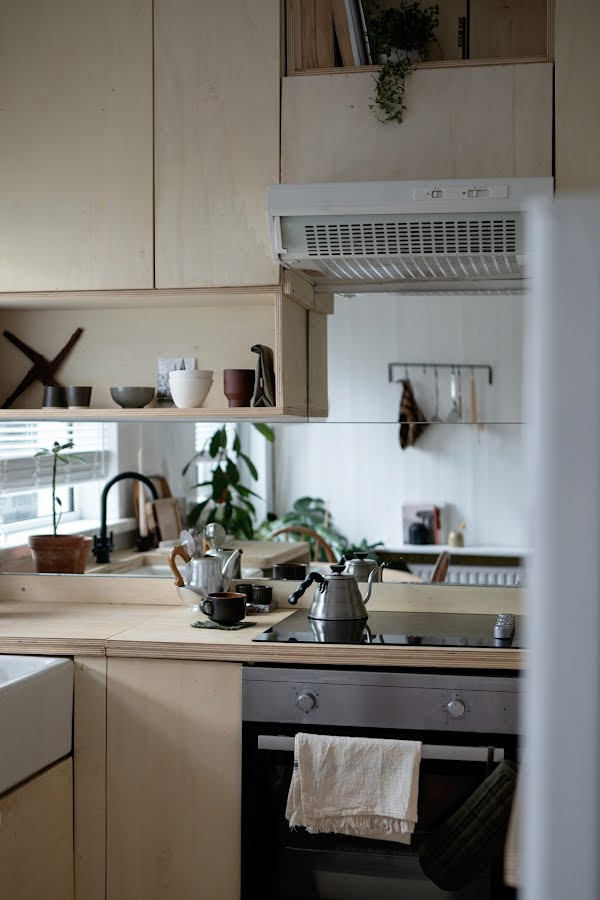 Open shelves champion local talent and add richness and character to the sleek design. "I like to create little moments in every nook I can find, so each spot has a piece I value."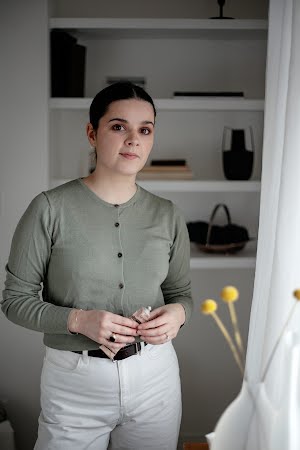 "It feels like we're carrying on both our grandparents' collections and I love that we're building on this with pieces we can hopefully pass on to our own children someday." The house is dotted with pieces by Driade, Hay, Menu and Karup, but with space at a premium, Aoife makes careful edits. "I don't like to hoard."
"I did a huge clear-out a few years ago and really honed in on the aesthetic that feels like me. It was a total game-changer. Everything that now comes through the door is deliberated over." Of course, not all home renovators have a beloved – and very handy – father-in- law-to-be.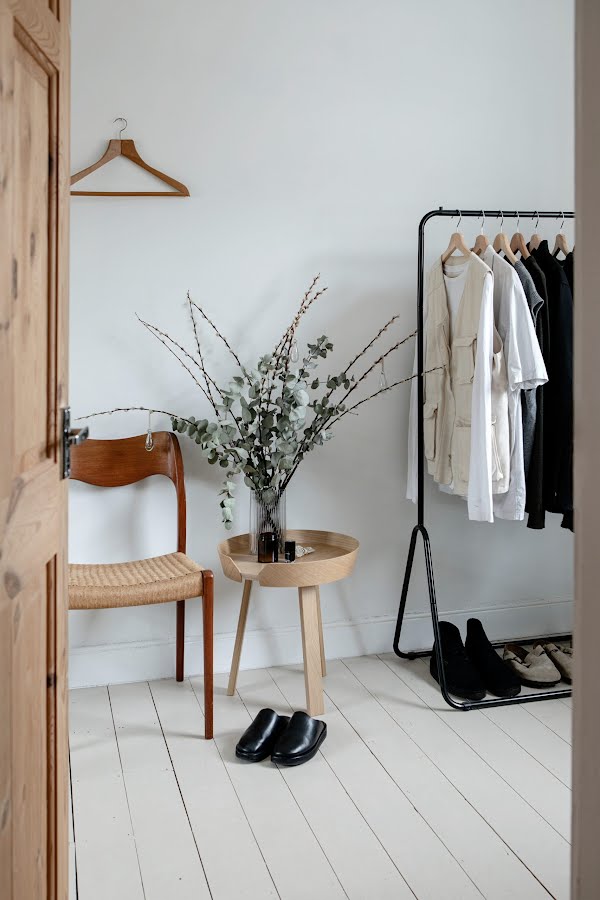 What advice does Aoife have for others looking to maximise on space, without compromising on budget? "Design to your needs," she says. "A home should function as well as be aesthetically pleasing. Think about the space – where can you cleverly create hidden storage? Play with proportions, offset chunkier furnishings with lighter pieces. Test out colour palettes on different walls. Light has a massive effect on the actual tone of paint, so although it may look good in the swatch, it may not be right for your room."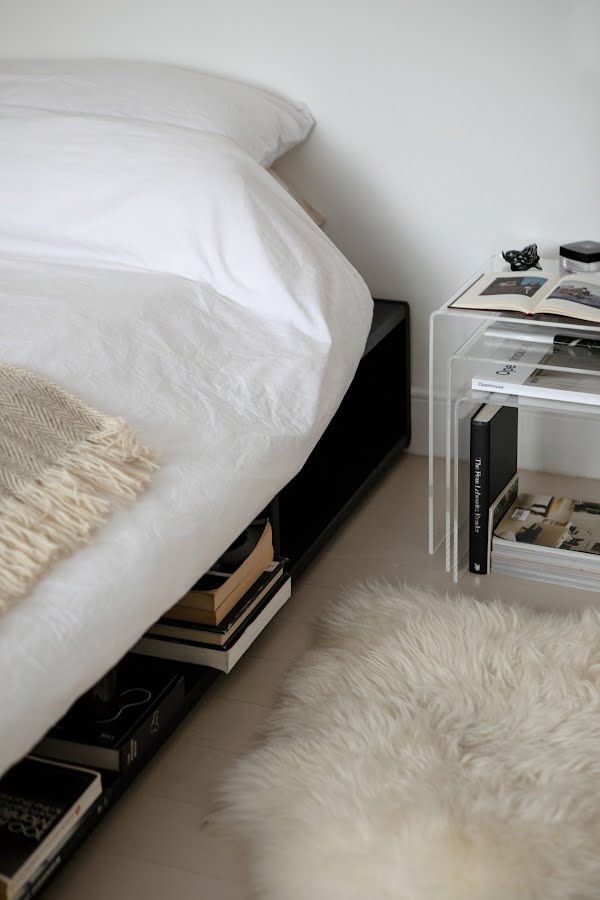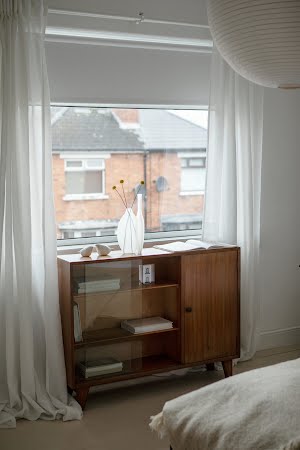 Now happily settled in the house, Aoife and Robbie are planning their wedding. "2021,"Aoife writes on Instagram, "the year I bagged myself a fella for life and built a home with him." She's back at work too, at Terry, the award-winning design studio, joinery workshop and fit-out company (weareterry.com).
Work is a constant source of inspiration: "I'm not sure I'd change much in the house," she says, "but there are still bits I'd like to do, as in design and fit a bespoke storage system to house my ever- growing woolly knit, trench coat and shoe collection; along with creating a coffee table, which I'm excited about – the perks of the job when you work with a specialist joinery company." The house, one senses, will always be a work in progress.
This article originally appeared in the Spring 2022 issue of IMAGE Magazine.