3 delicious recipes that will have you excited for autumn
Sponsored By
---
Sponsored By
This season, we are minding our own health with these nutritious recipes and showing our loved ones how much we care. Nominate someone in the competition below and they could WIN a weekend getaway at The Merrion.
Following the unprecedented year and a half we've had, we've joined forces with Linwoods and are on a mission to make winter better for all of us this year. That means enhancing our diet to ensure we get all the nutrients we need to boost our immunity.
It doesn't have to be complicated, it's really about making good better by enhancing an already healthy meal with a sprinkling of extra goodness from Linwoods.
Here is some inspiration to do just that, as well as a delicious recipe for Pumpkin Streusel Cake for when you have more time and wish to share the goodness over a cup of tea with friends or family.
(Don't forget to nominate a special someone to win a weekend away at the Merrion HERE.)
Berrylicious Oats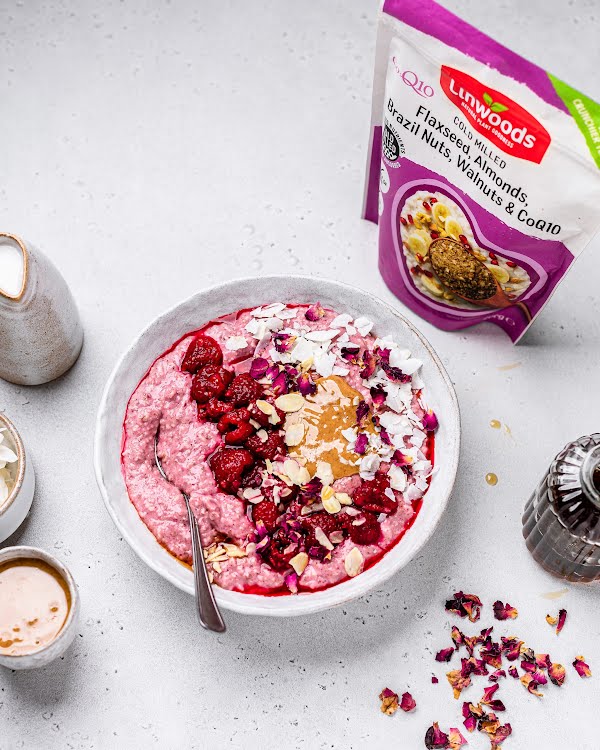 This creamy bowl of oats serves as a tasty treat on a chilly morning! Filled with sweet natural flavours such as cranberries, raspberries, and coconut, and with the nutritious addition of Linwoods Flax, Nuts & Q10, you get the  benefits of magnesium and selenium, both of which contribute to the normal function of the immune system. Enjoy!  
Preparation time – 5 minutes; Cooking time – 5 to 10 minutes
Servings – 1 
INGREDIENTS
50g rolled oats 

1 tbsp Linwoods Milled Flaxseed with almonds, brazil nuts, walnuts and co-enzyme 10
2 tsp maple syrup

¼ tsp beet powder

1 tsp freeze dried

cranberry powder (optional)
250ml oat milk
For the topping
½ mug frozen

raspberries
Coconut flakes, peanut butter, cacao nibs, raspberries and rose petals to serve
METHOD
Add all ingredients except

for the raspberries to a pot over a medium heat. Bring to a boil. Simmer and cook for five to ten minutes; until they reach your desired consistency.
Stir in frozen raspberries and allow to heat through and melt into the oats.
Serve topped with fresh or frozen thawed raspberries, coconut flakes, a mighty dollop of peanut butter and a sprinkling of rose petals if you're feeling fancy.
Southwest Chopped Salad with Hemp Ranch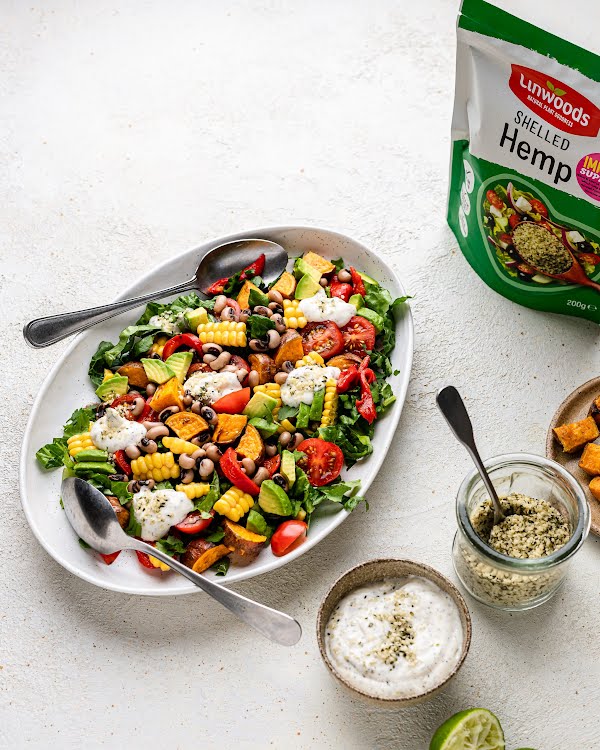 Hemp is a winter salad must have! It provides a lovely nutty taste and is rich in nutrients. A 20g serving of hemp seed will give you 33% of your RDA for magnesium and 3mg iron. Shelled hemp also provides 18% of your recommended intake of zinc in one single 20g serving, all of which helps support the normal function of the immune system. It is also a good source of omega 3 and high in plant protein, so, all in all, an excellent addition to a vegan or vegetarian diet!  
Preparation time – 15 minutes; Cooking time – 30 minutes
Servings – 2 to 4  
INGREDIENTS
For the dressing
½ cup  (70g) Linwoods Health Foods Hemp Seeds 

1/3 cup oat or almond milk

2 tsp lemon juice

1 tsp dried dill

½ tsp onion powder 

½ tsp garlic powder

½ tsp salt 
For the salad
1 large or 2 medium sweet potatoes, diced, skin on

1 tbsp olive oil 

1 can of black eyed peas or black beans, drained and rinsed well

1 cup of cherry or

baby plum tomatoes, sliced
1 small head of romaine lettuce chopped
2 baby corn on the cobs, cooked, or ½ a cup of cooked corn
1 avocado peeled and diced
1 whole jarred roasted red pepper, sliced
Fresh coriander to serve and some more Linwoods Hemp Seeds
METHOD
Preheat your oven to 180°C (350°F).

Place sweet potato on a baking tray, drizzle with oil, season with salt, and roast for 30 minutes. You can also save time by cooking the bite size pieces in an air fryer for 15 minutes.

Blend together all dressing ingredients in a high speed blender until smooth. Can be made in advance and stored in the fridge in a sealed container for four to five days.

Assemble salads with lettuce, corn removed from the cob, diced avocado, tomato, roasted red pepper and roasted sweet potato chunks. Add dollops of the thick and creamy ranch dressing, a little sprinkling of hemp seeds and coriander to serve. 
Pumpkin Streusel Cake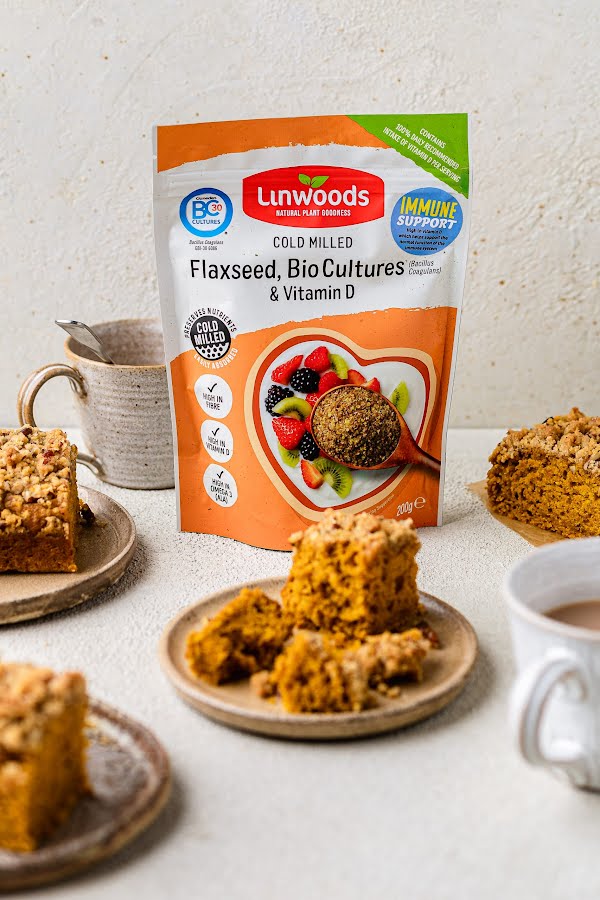 Living in Ireland, most of us are at risk of low vitamin D levels, so it is recommended that we supplement vitamin D3 between October and May. Using Linwoods Flaxseed with Vitamin D and Biocultures in your daily diet can help to keep you topped up as the sunshine fades. Providing 100% of our RDA for vitamin D in a 20g serving, this product is packed with probiotic cultures that may help support healthy digestion and immune health. Here we've weaved it into a tasty cake to use up all those pumpkins post October.  
Preparation time – 15 minutes; Cooking time – 35 to 40 minutes
Servings – 12 to 16  
INGREDIENTS
For the cake
2 tbsp Linwoods Flaxseed with Vitamin D + 5 tbsp water

240g pumpkin puree

80ml light tasting olive oil

120ml oat milk

220g plain flour

150g coconut sugar or soft brown  sugar

1.5 tsp baking powder

½ tsp baking soda

1 tsp cinnamon
¼ tsp ground cloves
¼ tsp ground ginger
¼ tsp ground nutmeg
Pinch of salt
For the topping
50g chopped pecans 

40g plain flour

40g vegan butter, melted

40g coconut sugar or soft brown sugar 
METHOD
Preheat your oven to 180°C (350°F).
Line an 8-inch square tin with baking paper (a 9-inch will work fine for a flatter cake).
Whisk together the water and flax in a small bowl and set to one side for  five minutes.
Meanwhile, whisk together the pumpkin puree, oil, oat milk and sugar in a large bowl.
Once combined, stir in the flax, eggs and then, sieve in the flour, spices, baking powder, soda and salt. Fold to combine and give it one quick whisk to remove any lumps.
Place mixture into the prepared tin and spread evenly using a spatula or back of a spoon.
Mix together the flour, butter and sugar for the topping to form a paste. Stir in the chopped pecans. Crumble the mixture all over the top.
Bake the cake for 35 to 40 minutes; until a toothpick comes out clean.
Slice and store in the fridge for up to four days in a sealed container. Serve at room temperature.