Lizzo slides into Chris Evans' DMs and his reaction is everything
---
TikTok is blowing up with fans' reactions.
Singer Lizzo has always been upfront on social media, which is why we weren't too surprised when she revealed a hilarious move she made on Instagram.
In a TikTok video, she shares a screenshot of her sliding into actor Chris Evans DMs, with some confusing and possibly steamy emojis — a gust of wind, a female athlete and a basketball. Shooting her shot, maybe?
The sound she used was from TikTok star Tatayanna Mitchell, lip syncing: "The reason I'm upset about this one is because I know I'm not going to be able to marry him. And honestly, it hurts me to the core. Because, damn papa, he a rare breed, no comparing. Like, Chris…" 
The Good as Hell singer hinted at her instant regret, captioning the video: "Don't drink and DM, kids…. for legal porpoises this is a joke."
His reply
But to her surprise (and our delight), he actually followed her back and responded with a revelation of his own. 
"No shame in a drunk DM," replied The Avengers star. "God knows I've done worse on this app lol."

Evans is, of course, referring to his nude leak scandal that happened last year. He had shared a screen recording of his family playing a game when the video flashed to an image of his camera roll.
And although he quickly deleted the clip, people had screenshotted the image of a male's private part and been quick to share it online.
Lizzo then dueted her original TikTok video with his response, showing his message and her screaming and smiling in excitement.
Fans' reactions have matched Lizzo's level of enthusiasm, some commenting jealous remarks and others just laughing at Evans' scandalous reference.
"She's living all our dreams," says one comment. "I need this to happen," says another. "I'm so invested y'all."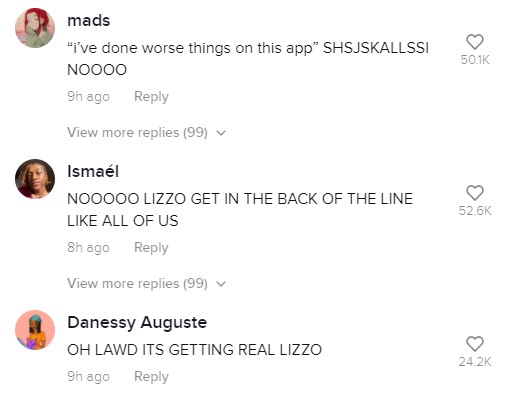 There's been no update yet on whether Lizzo's continued the conversation, but it's safe to say that her fans won't be letting this go for a while.
Everyone is rooting for the pair online, but for now, we'll have to settle for scrolling through the comments and having a laugh for our daily dose of celebrity tea.