This soothing haircare range is just as good for your scalp as it is your hair
Sponsored By
---
Sponsored By
Made with natural and nourishing ingredients like oat milk and almond oil, this range quenches thirsty hair and skin.
When shopping for hair care, it's easy to prioritise ingredients that support healthy hair, while the scalp is often left neglected. This unawareness can lead to poor hair growth and other issues, says certified trichologist (AKA scalp doctor) Carol Johnson. She runs the Universal Hair and Scalp Clinic in Dublin.
"People do neglect their scalp, but unintentionally," she says. "They can do this by washing their hair less and using dry shampoo more, which clogs the pores of the scalp. Less respiration means the scalp is less healthy, and a healthy scalp grows healthy hair."
The key to maintaining a healthy scalp and avoiding issues later on includes several factors, including diet, scalp stimulation and, of course, your hair care routine.
3 tips for a healthy scalp
Here's what Dr Johnson recommends for a nourished scalp:
When washing your hair, keep the water temperature warm, not hot.
Nourish from within by eating a balanced diet rich in good fats (e.g. omega oils).
Stimulate the scalp by brushing the hair regularly and using a mask on dry scalps.
Aveeno released their hair care range in Ireland with this in mind, prioritising a thriving scalp and hair, and we have the inside scoop on how it fares.
As a brand primarily known for its skincare, we'd expect nothing less than the new haircare line's mantra — beautiful hair starts at the scalp. They've designed each product to prioritise a healthy scalp, using nourishing blends with colloidal oat, apple cider vinegar, fresh greens, blackberry and quinoa.
Think skincare for your scalp — but without the fuss of DIY hair masks and the thicker, oily textures of some shampoos and conditioners. 
Within this hydrating hair care, there are six different targeted ranges, including Add Moisture, Clarify & Shine, Lightly Hydrate, Add Volume & Thicken, Protect Colour and Calm Frizz. While each one is designed to restore a dry and flaky scalp, they each have bespoke ingredients as well to work with your specific hair type. 
So, how do these help your scalp flourish and strands shine? We break it down in this easy-to-follow, ingredient-led guide, showing you how each tackles haircare at the root. 
Colloidal oats and oat milk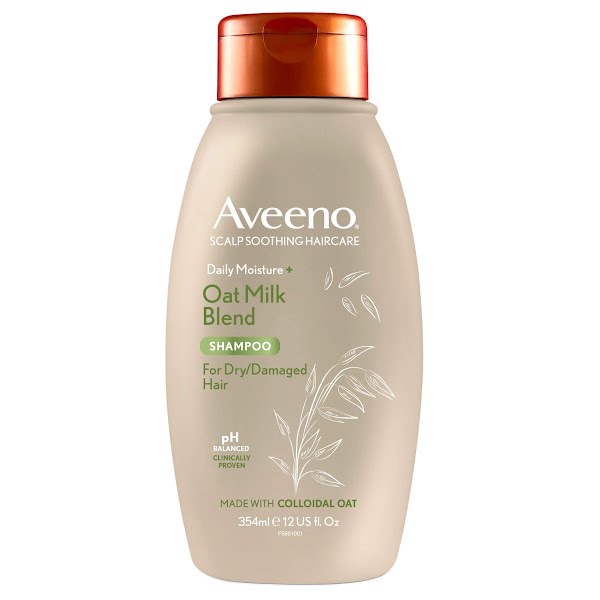 One of Aveeno's more well-known ingredients, colloidal oats are just as good for your scalp as for your skin. After all, your scalp is where healthy hair growth begins and we need to make sure our strands aren't weighed down by heavy oils and build-up to ensure optimum growth.
"Oats promote healthy scalp environments," says Dr Johnson. "This helps revive damaged hair and keep the scalp clean by removing excess oil."
Colloidal oats can help soothe skin and aid in stopping itching and irritation, which is why porridge has been used as a calming agent for centuries. 
Apple cider vinegar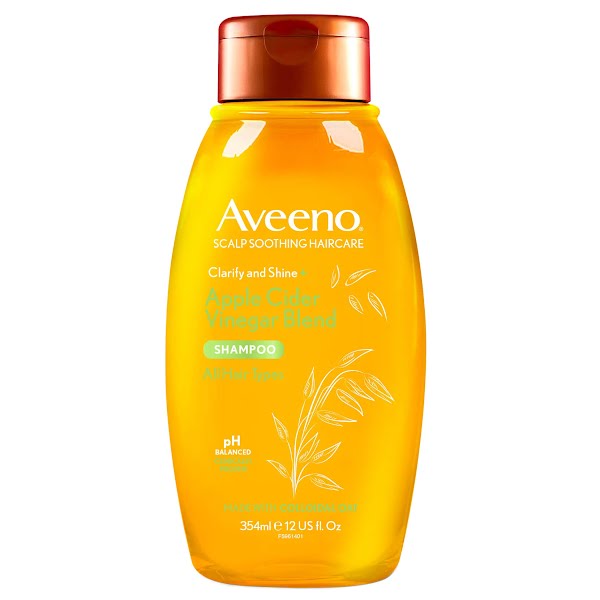 Many of us have already heard the praises of apple cider vinegar, from homemade hair rinses to pungent salad dressings, with many beauty lovers raving about its benefits for hair and skin.
So, how does it work? In short, apple cider vinegar is fermented apple juice, and because of its acidic properties, it helps clarify hair, leaving it smooth, soft and shiny – a great option for those with excess oil or dandruff.
Blackberry & quinoa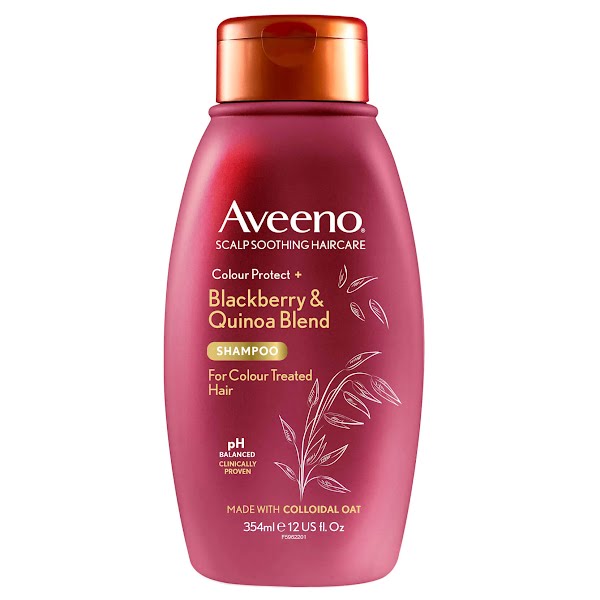 Yes, we're talking about the same quinoa you'd throw in a stir fry or a summer salad. Known to strengthen strands and nourish the scalp, this quinoa-infused blend was crafted to improve the appearance of damaged hair.
"Blackberries contribute to healthier hair," says Dr Johnson, "which helps keep the scalp hydrated by retaining and sealing moisture into the hair and scalp."
Infused with blackberry, this shampoo and conditioner help protect colour-treated hair. Plus, it infuses hair with a gorgeous and long-lasting fruity scent.
Fresh greens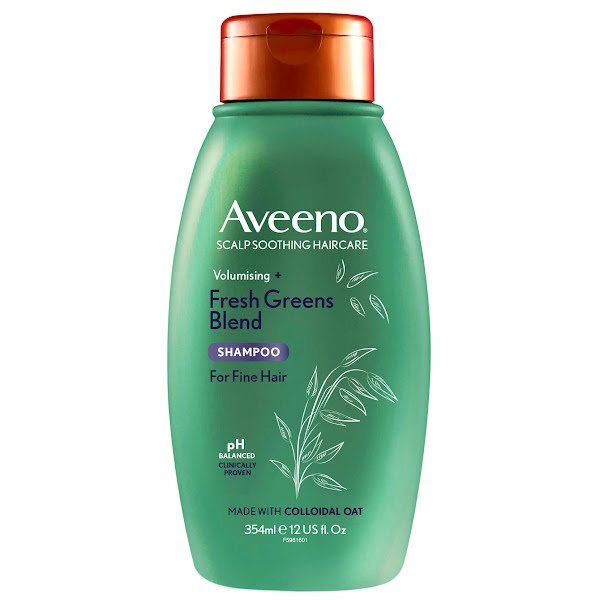 Fresh greens aren't just good for your overall health and wellbeing; they work wonders for your skin as well. Aveeno uses a unique blend infused with cucumber water, rosemary oil and peppermint extract to help moisturise and volumise hair.
The high water content of cucumbers aids in hydration while the rosemary oil and peppermint extract keep strands lightweight for a refreshing, weightless sensation. This is a great blend for those with thicker locks or those looking for more volume.
"Fresh greens also give a cooling and soothing effect to the scalp, which is particularly helpful to sensitive, easily irritated scalps," explains Dr Johnson.
Rose water & chamomile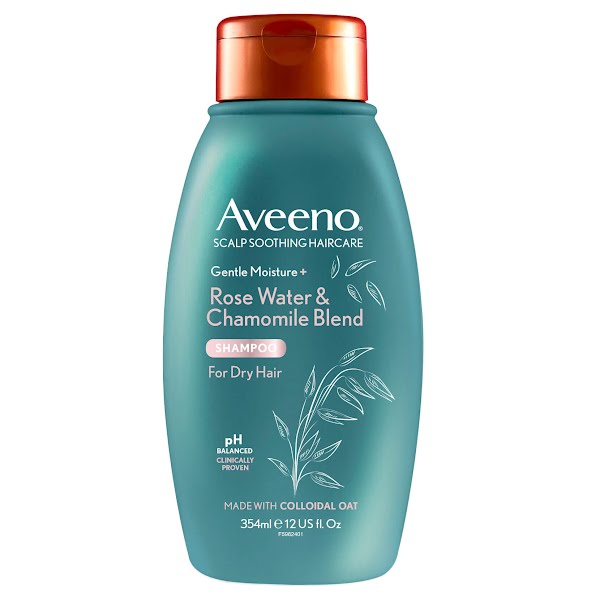 Rose water is known to help restore your skin's health, which is why it is often found in facial mists, toners and other beauty products. These same benefits can be applied to your scalp as well.
"Rose water has a softening and soothing effect," says Dr Johnson. "Chamomile is gentle on the scalp, particularly sensitive and dry scalps, ideal for fine and fragile hair also."
This lightweight shampoo and conditioner combo works to clarify hair and help stop excess oil in its tracks, while soothing and hydrating your scalp. The result? Fine, dry hair is gently moisturised and left bouncy and weightless.
Almond oil blend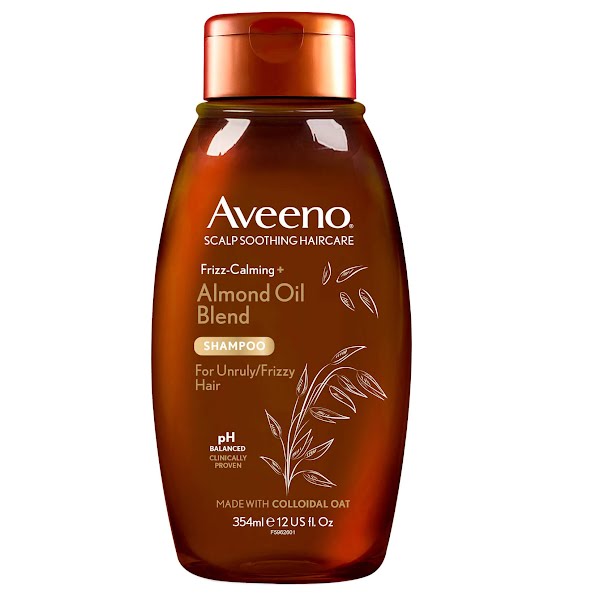 If you have thick and frizzy hair, then you probably already know how important hair oils are to calm unruly strands. While many apply them post-shower, this almond oil blend shampoo and conditioner tackles frizz during the cleansing process.
This shampoo and conditioner combo's rich blend of nutty nutrients hydrates the scalp and hair, leaving a luscious, healthy shine behind. The best part is it's not overly greasy like other high-moisture hair products.
All in all, Aveeno's newest range is chock-full of nutritious ingredients that tackle dry and brittle hair at the root, leaving your scalp deeply hydrated and flake-free and your hair with a healthy-looking shine.
To read more about Aveeno haircare's ingredients, see here. Shop the full range online or in-store at Dunnes Stores, Tesco, Supervalu and pharmacies nationwide.