Marianne Smyth, aka @smythsisters, on her January style staples
---
IMAGE.ie's fashion columnist, Belfast-based fashion stylist and photographer Marianne Smyth – aka @smythsisters – is a maven of everyday wardrobe staples. Join us here every second week where she shares what's new in her wardrobe and on her wishlist.
A mother of two and a photographer by trade, IMAGE.ie's fashion columnist Marianne Smyth shot into the Instagram limelight very quickly due to her signature outfit pose. Known for her distinguishable mirror-selfies and timeless style, Marianne provides a catalogue of must-have, accessible outfits. Her carefully curated content is comprised of everyday wardrobe staples, styled in different ways.
Join us here every second week, where Marianne will hunt down the very coolest buys and tell you how to style them.
Marianne's shopping picks this week
Start the new year off with some elevated knitwear. I would style this set casually with a pair of slim trainers or alternatively dress up the look with a pair of black heeled boots and a black cross-body bag to keep that effortless look.
Zara Knit Cardigan with Hood, €45.95
I'll take everything oversized this year.
R13 Frayed checked washed-cotton shirt, €550.45
I bought an R13 shirt years ago and every year I pull it back out. It's definitely an investment but one to last a lifetime. I love this blue muted tone with fringe detailing. It reminds me very much of the Bottega Veneta shirt Kate Moss wore on the spring/summer 2023 runway.
Farm Rio Mystic Scarves Cardigan, €225
After wearing my favourite Christmas jumper religiously for the past month, statement knitwear has been on my radar. This Farm Rio cardigan would look amazing with a relaxed cropped jean and chunky boot to balance the look. Obsessed!
Khaite Lotus Mini Suede Handbag, €1,581
Another investment piece but with the unusual colour and shape it would elevate so many of your basic items in your wardrobe. Very high up on my wishlist.
Previous shopping picks
Keeping warm is one thing, keeping warm whilst also looking chic is a task on its own. This shawl-shaped puffer coat will do just that.
Re/Done 70s Stove Pipe Cropped Straight-Leg Jeans, €322
Re/Done is one of my favourite brands for denim. I love dark indigo paired with black boots and your favourite evening top.
Arket Ruched Black Bustier, €79
I ordered this bustier to pair with denim this festive period. I plan to wear it with tights and strappy heels under my jeans to elevate the look.
Arch4 The Ivy Cashmere Sweater, €655.33
This may look like a plain grey jumper but this jumper will, without doubt, be the hardest working item in your wardrobe. I'd style this jumper now with leather trousers, flat chunky boots and an oversized coat.
Loewe Webbing Trimmed Leather Chelsea Boots, €690
The perfect tread for this icy weather.
Raey Embellished Dad Organic-Cotton Boyfriend Jeans, €708
Spotted these last week at the Matches store in London, haven't stopped thinking about them since! Perfect for Christmas hosting with a plain T-shirt and heels or alternatively on an evening out with a grey jumper and strappy sandals. Seriously tempted!
Reformation Porsha Velvet Top, €185
Christmas night out ready! Pair with a pair of wide-leg black trousers to keep the look sophisticated.
COS Straight-Leg Velvet Trousers, €99
I really love these velvet trousers paired with the matching shirt, effortlessly cool. I'd slick my hair back in a low bun and add a pop of red lipstick for that minimal-effort look.
Totême Mélange Cable Kit Wool Blend Turtleneck Sweater, €350
I reach for my cable knit year after year. I'm very drawn to this Totême knit with the roll neck this season.
COS Hooded Boiled-Wool Coat, €175
Green shirt, chic jacket, what's not to love!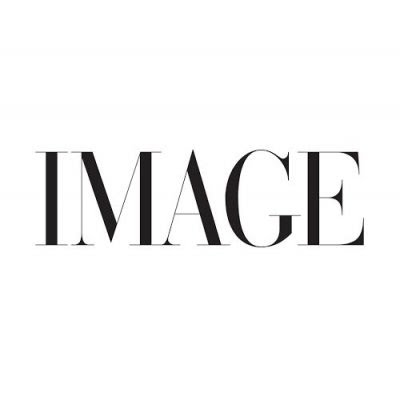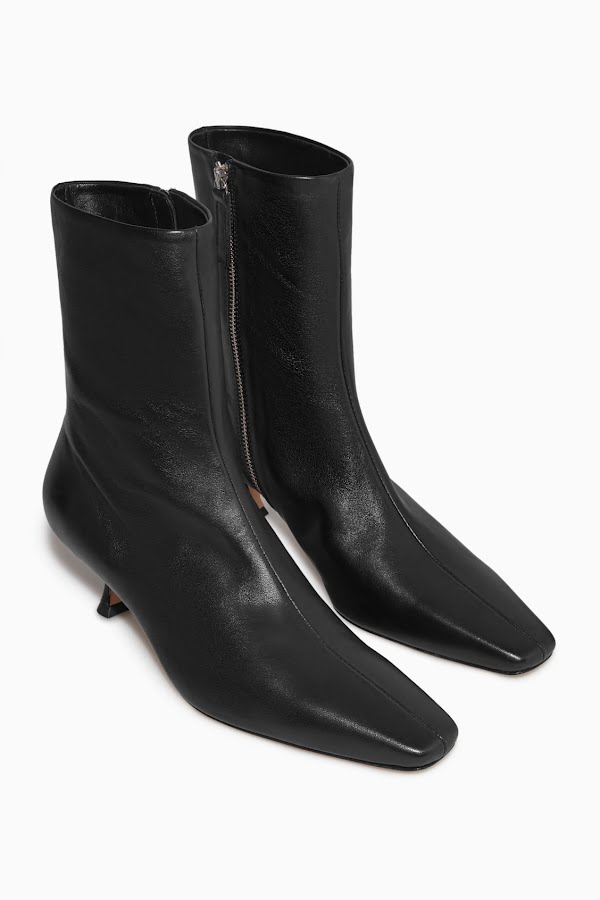 The perfect black boot to take you from day to night.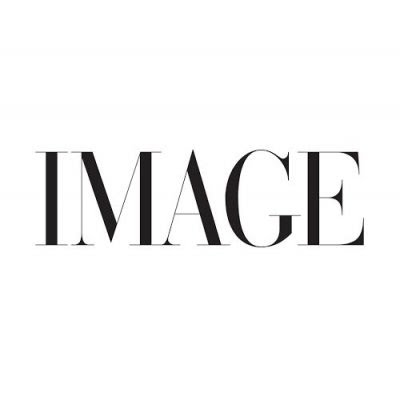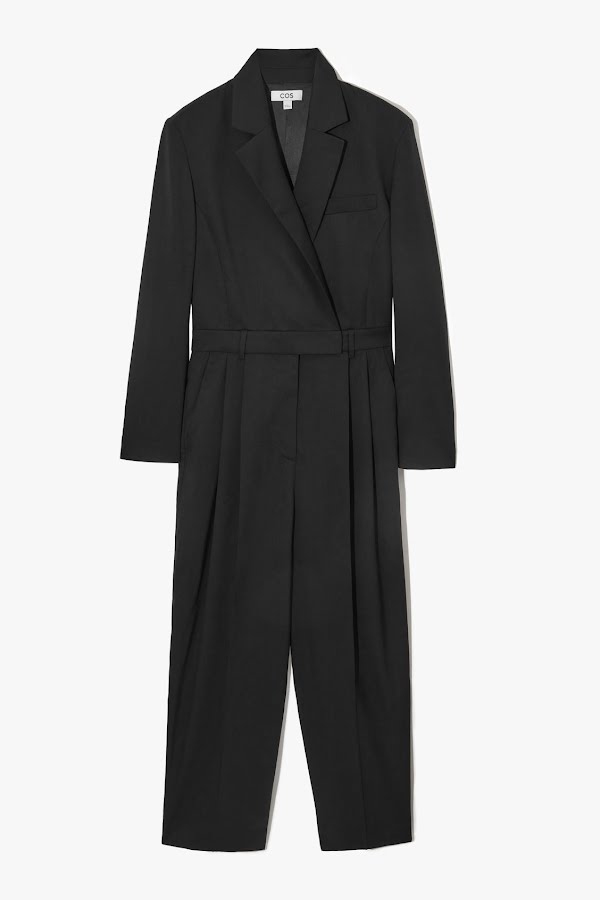 COS Tailored Wool Tuxedo Jumpsuit, €195
Party season is just around the corner and with that in mind, this tuxedo would look great with a strappy sandal, a pop of red lipstick and some sparkly earrings. Simple and sophisticated.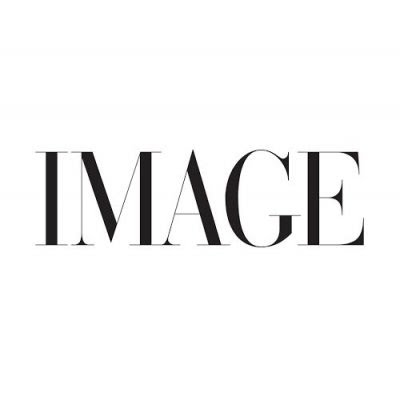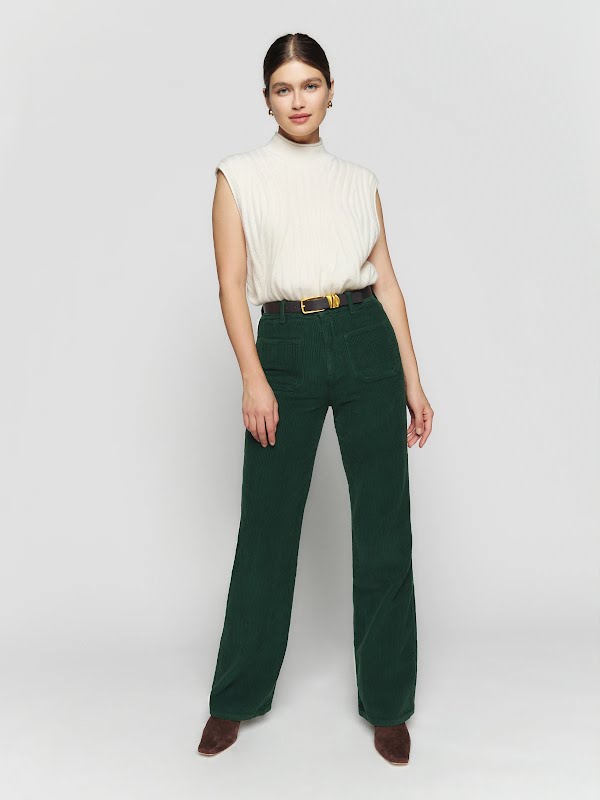 Reformation Alyssa High Rise Wide Leg Corduroy Pants, €185
Corduroy in this green; Reformation are on to a winner. Purchased these immediately!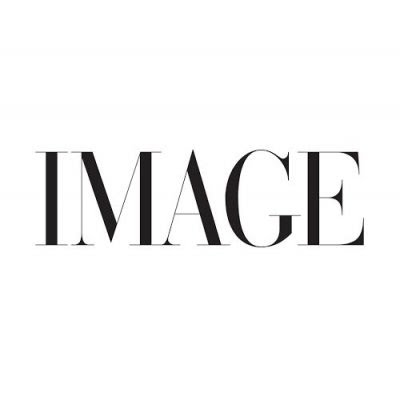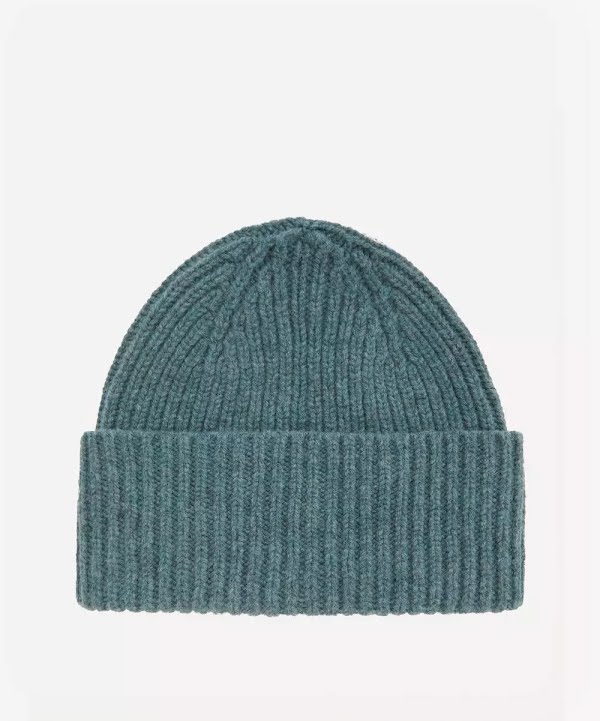 Quinton Chadwick Wool Ribbed Beanie Hat, €58
I recently bought a knit in this jade green. I've been instantly drawn to everything in the same colour since.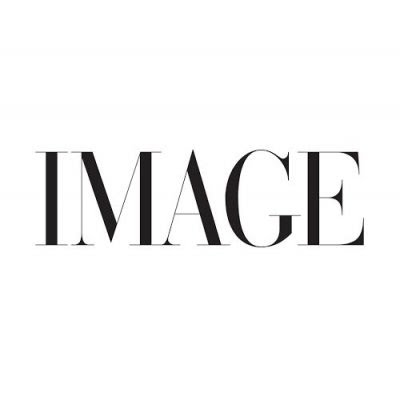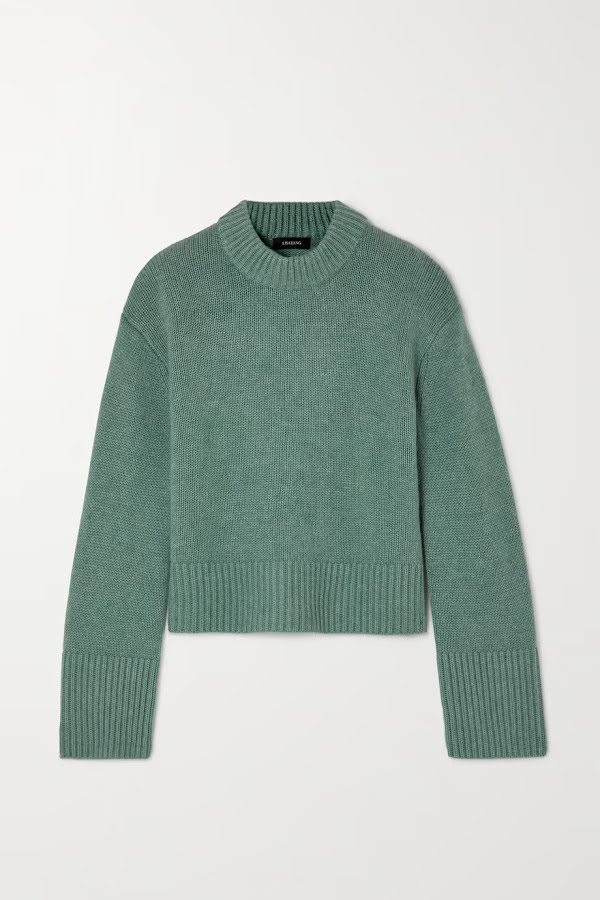 Lisa Yang Cashmere Sweater, €509.13
The jumper I've been wearing on repeat all week. I've been styling it up with jeans lately but I plan to wear it on an evening with my Agolde leather trousers and strappy sandals. Knitwear works great in the evening too! It's all about the accessories.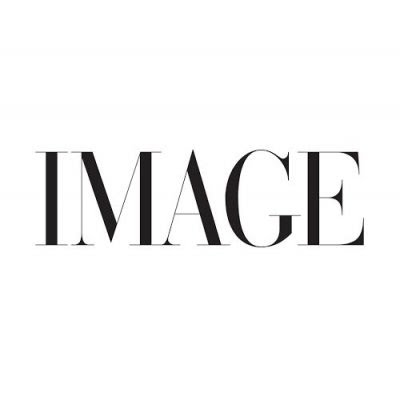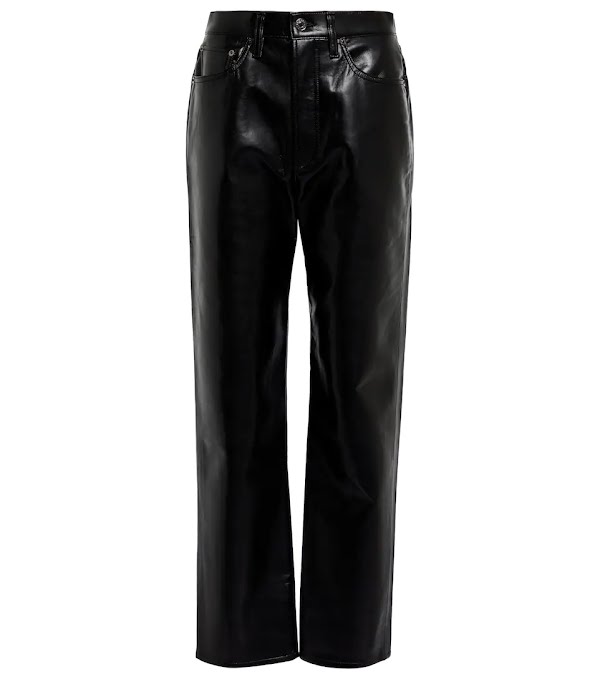 Agolde 90s Pinch Waist Leather Blend Pants, €355
Bought these a few years ago and they're without a doubt the hardest working item in my wardrobe. Perfect for the festive season ahead.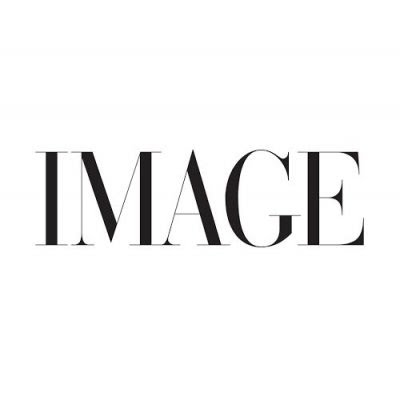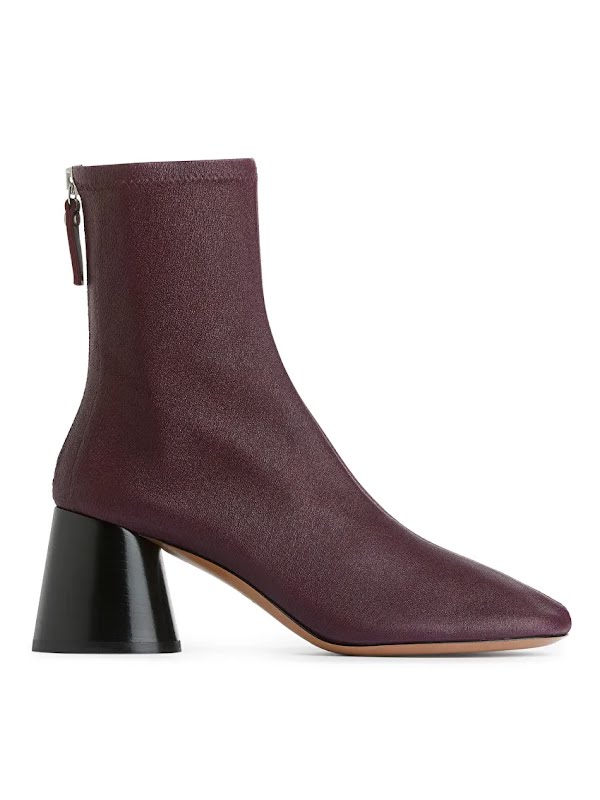 Arket Stretch Leather Sock Boots, €229
My favourite autumnal colour. Pair with an all-black look and let the boots do the talking.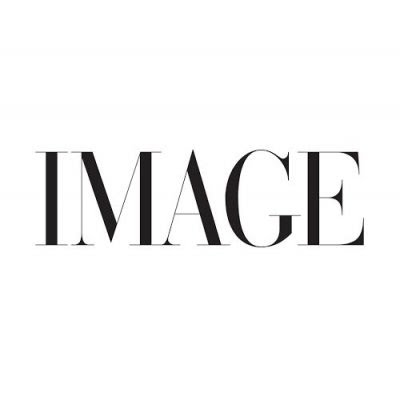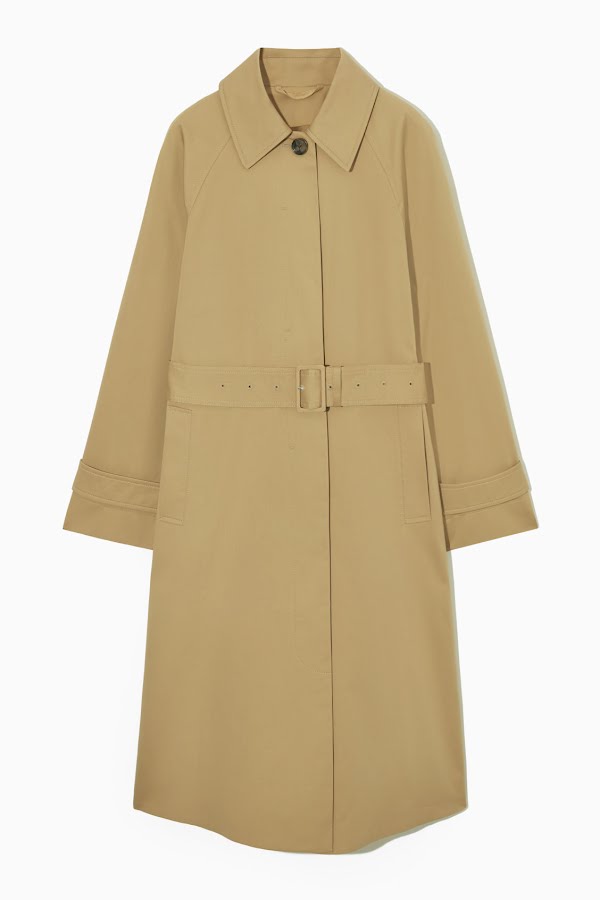 The perfect transitional piece. Size up for that Scandinavian-inspired look.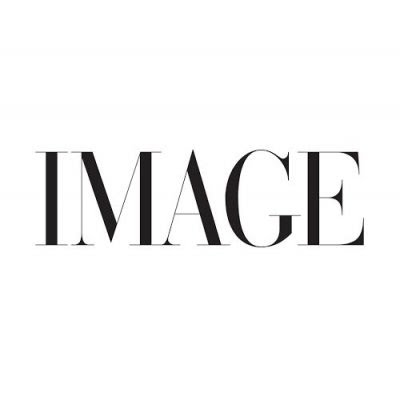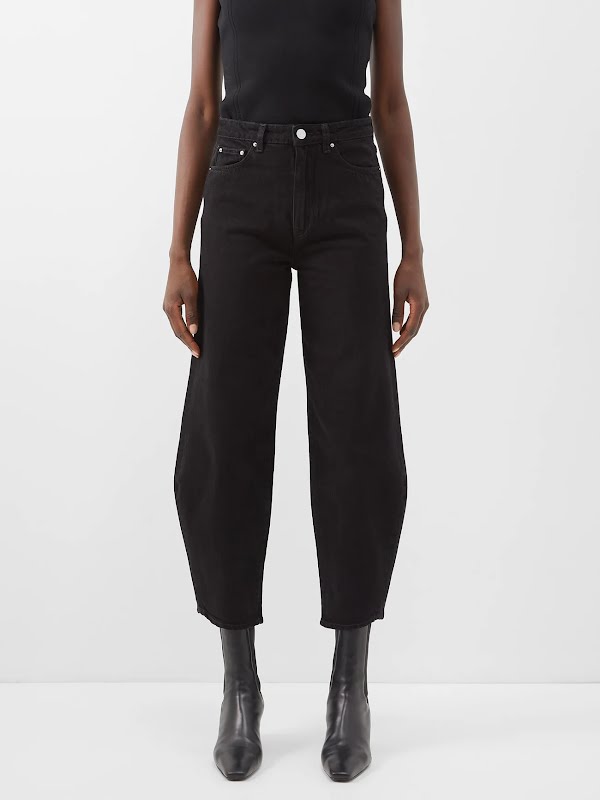 Toteme High Rise Barrel Leg Jeans, €271
It's no secret I love my denim looks. I love to keep my denim interesting by incorporating different silhouettes into my daily looks. These sculptural Toteme jeans will transform your everyday looks.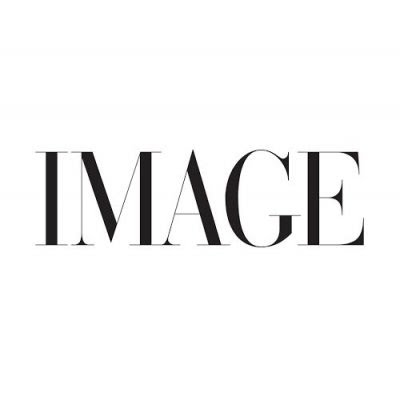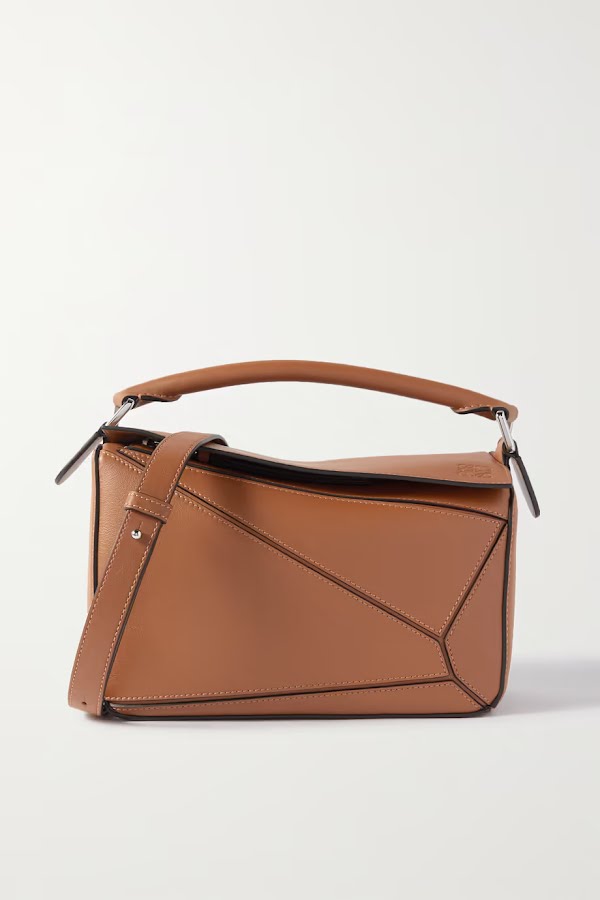 A classic bag to last a lifetime. A bag I've thought long and hard about for the last few years and I've finally pulled the plug. I will be styling this Loewe puzzle bag all winter long (and for years to come).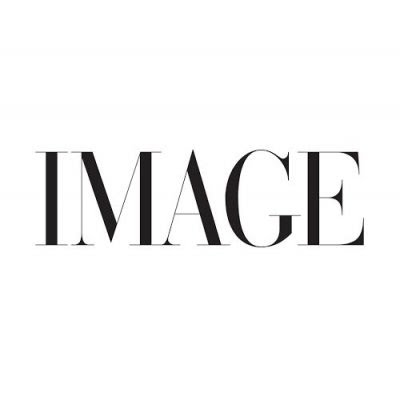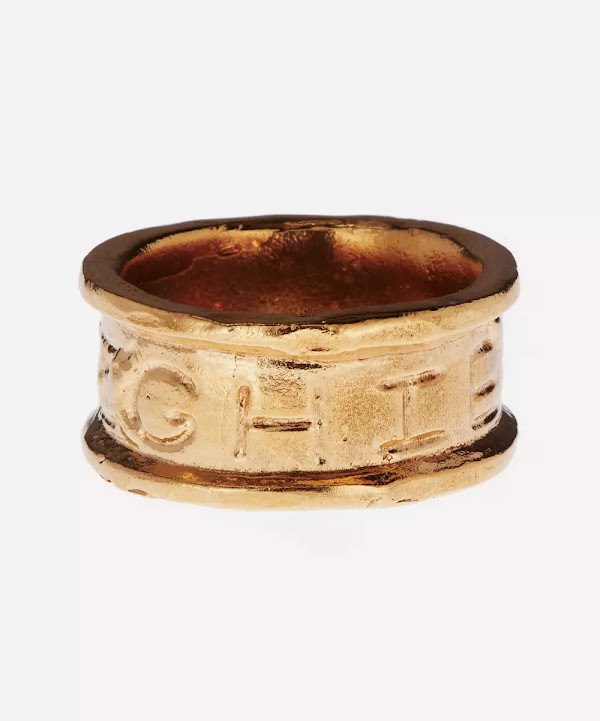 To make a statement without trying too hard, this beautiful band will do exactly that.
Photography by Marianne Smyth @smythsisters. We may earn a commission if you buy something from any affiliate links on our site.