If she had lived Sharon Tate would have been 79. A cruel and twisted evil saw it was not to be. On August 9, 1969, Tate and four others were murdered by members of Charles Manson's cult – the Manson Family. However, Jennifer McShane says her life and impact should make the headlines, over that of a mindless act of violence. 
---
Actress Sharon Tate made fresh waves in the news thanks to Quentin Tarantino's much-lauded Once Upon A Time in Hollywood, reimagined by Margo Robbie. The late 60s icon has, thus far, been ingrained in many people's minds as a victim but she has always deserved better. Tate herself frequently became a footnote – associated with an end at a time when the frenzied coverage remains on the murderers and not those who were murdered.
"I always felt it was very unfair for her life to be remembered primarily for its final moments. Sharon had a magnificent life," Debra wrote of her sister in Sharon Tate: A Recollection.
It's true her legacy, the fact that she epitomised the style of the swinging sixties remains overshadowed by her untimely and brutal death (along with her unborn child Paul and four others) at the result of The Manson Family. Though slowly, that is beginning to change.
Tarantino by way of example chose to alter that legacy; to celebrate her life as it should be remembered, showcasing the little things that were taken away – as well as depict her rising star on screen.
View this post on Instagram
In late 2019, Newbridge house did the same.  Clothes worn by the Valley of the Dolls actress were among a collection of personal items featured in an exhibition at the Museum of Style Icons in Newbridge, Co Kildare. They included an ivory silk wedding mini dress, a mink swing coat, a black lace dress designed by Christian Dior and worn by Tate to the film premiere of her then partner Roman Polanski's Cul-de-sac in 1966, and a chocolate-brown silk gown worn to the Golden Globes in 1968.
The Sharon Tate show at the Newbridge Museum of Style Icons was much like the late star, hugely intriguing; featuring a collection of over 100 personal possessions, fashion, and photographs that belonged to the actress and model. The items were closely guarded until now by Tate's younger sister Debora (head of her estate), who said she wanted people to be re-introduced to Sharon, "to learn more about her, see all the amazing life and fashion statements."
View this post on Instagram
"I wanted to give a flavour of the person behind the scenes – that is why I put in almost everything."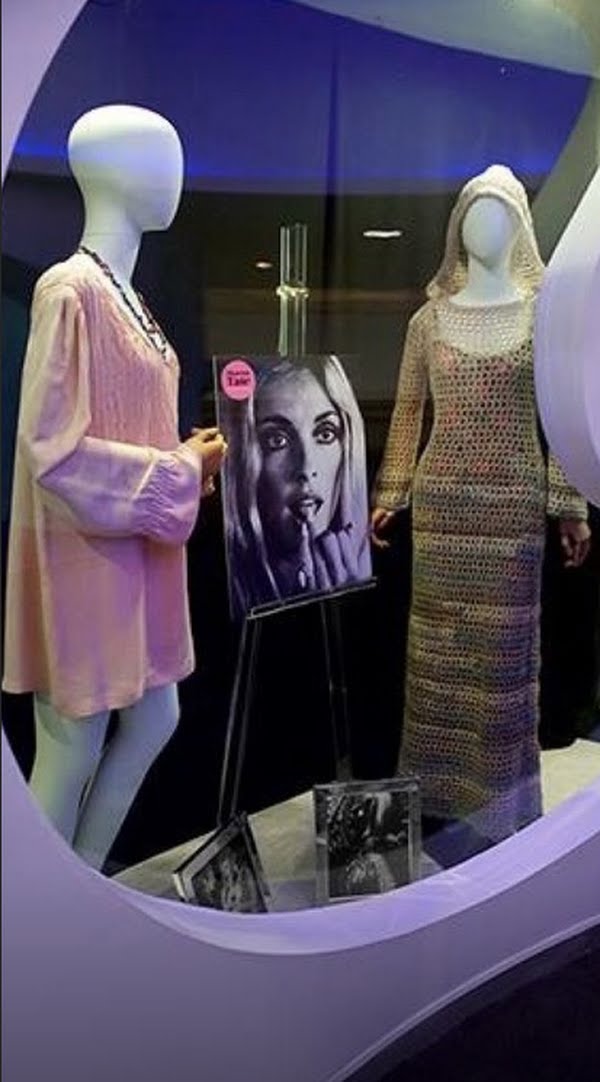 A sample of the exhibition via Newbridge House
"A magnificent life"
Born in 1943 in Dallas, Texas, Tate won numerous beauty contests throughout her teens. She was cast in six films before her death: The film Barrabbas in 1961 after being spotted in Italy, as well as a Pat Boone television special. Small TV roles followed until she landed her first big acting role in 1963 as the bank secretary Janet Trego in the popular television series The Beverly Hillbillies. Her first major starring role was in the 1966 now cult classic Eye of the Devil.
View this post on Instagram
Tate was then cast in director Roman Polanski's film The Fearless Vampire Killers in 1967 where the two fell in love while on set. They married in London in January 1968 in a star-studded wedding ceremony at The Playboy Club with guests that included Joan Collins, Candice Bergen and Michael Caine.  She also appeared in Don't Make Waves – her role in it was the apparent inspiration for Malibu Barbie – and The Wrecking Crew with Dean Martin.
Her arguably most famous performance was as Jennifer North in the 1967 cult classic film Valley of the Dolls (which earned her a Golden Globe Award nomination for Best New Actress. Her final film role was in The 13 Chairs (also known as 12+1), which was released after her death in 1969.
Other things to know
She was apparently the cause of great jealousy to actress Elizabeth Taylor, who forbid her to come on one of her sets seeing the attention that followed her arrival. She also featured in over 250 magazines and their covers – she was almost constantly photographed.
Her go-to beauty product was Vaseline. When not working on set or appearing in public, Tate preferred to go without much or any makeup (or shoes,  instead walking around in her bare feet, according to a biography written by Debra who said she often appeared fresh-faced with nothing more than Vaseline on her lips.  She also didn't like perfume but blended her own scents, usually using essential oils.
View this post on Instagram

She wasn't a fan of being portrayed as a sex symbol. Tate studied acting and wanted serious, substantial acting roles. And despite her beauty, she was rumoured to have very little confidence. One acting coach commented that she was "such a beautiful girl, you would have thought she would have all the confidence in the world. But she had none." She frequently referred to herself as "sexy little me"- a tongue-in-cheek reference to the sex-bomb image she desperately wanted to escape.
"Sharon had a fragile incandescent quality that brought oxygen into the room."
Tate was, by all accounts, a woman who loved life; and the recent re-examining of her life serves as a much-needed chance to commemorate all she achieved in her short time – as opposed to solely focusing on the tragedy that ended it.