How to plan a destination wedding, an expert's guide
---
Luxury wedding and event planner Olivia Buckley has been planning destination weddings for over ten years. Here, she gives us her top tips for executing the perfect big day abroad.
How do I know if a destination wedding is right for me?
Deciding whether a destination wedding is right for you depends on a variety of factors, including your personal preferences, budget, and expectations for your wedding day. Based on my experience as a destination wedding planner, these are the top considerations to take into account when considering a destination wedding.
Comfort and convenience
When planning your destination wedding, your loved ones' comfort and convenience should be a top priority. You want them to feel welcomed and cared for, even before they arrive at the venue. This means taking into account travel logistics and being prepared to offer support and guidance every step of the way. From providing travel information to arranging transportation to and from the venue, it is essential to make sure your guests feel at ease throughout the journey.
Of course, this can be a time-consuming process, so it is important to allow yourself plenty of lead-in time. Without the help of a dedicated wedding planner, we recommend giving yourself a minimum of 12 months to plan every aspect of your wedding, from the venue to the travel arrangements. This will help ensure that everything runs smoothly and that your guests feel truly taken care of. After all, your wedding day is a celebration of your love and commitment, and you want your loved ones to feel just as happy and excited as you are.
Weather
If you're dreaming of an outdoor wedding surrounded by nature's beauty, you want your day to be as perfect as can be. One thing to consider is the unpredictable weather, especially if rain could dampen your outdoor celebration. That is where a destination wedding abroad can offer greater hopes for fine weather. By choosing a location with a more predictable climate, you increase the chances of having a beautiful, drizzle-free wedding day. This could mean a stunning beachfront wedding with clear blue skies or a mountaintop ceremony with breathtaking views, all while enjoying the peace of mind that comes with knowing the weather is on your side.

Accessibility
It is important to keep in mind that not all of your beloved guests may be able to make the journey. As you plan for your big day, keep in mind that some of your loved ones may have physical challenges that could make it difficult for them to travel to a different country. It is crucial to take into consideration their unique needs, such as accessible facilities, the climate and terrain, and access to medical care.
Destination weddings often require a significant time commitment, with an average of five days needed for travel and festivities. It is understandable that not everyone may be able to invest in travelling abroad for your wedding, and this could mean compromising on having all of your loved ones present on your special day. However, a destination wedding can also be an opportunity to manage your guest list and create an intimate and meaningful celebration. By naturally reducing the number of guests attending, you can manage your wedding finances more effectively and create a unique experience that truly reflects your love and commitment to one another.

Your vision
Keep in mind your unique vision and style. Your wedding day is a reflection of your love and commitment, and you want every detail to be just right. The location you choose can play a big role in bringing your vision to life. While Ireland is famous for its medieval castles and grand manor houses, you may be drawn to other stunning destinations like sprawling French vineyards or a romantic ocean-side villa in Italy. Your heart may be set on a particular setting that speaks to you on a deeper level, one that captures the essence of your love story and reflects your personality as a couple. It is important to follow your heart and choose a location that feels right for you, one that will make your special day truly unforgettable. 

Do most venues abroad have all-inclusive packages, or would they typically be blank canvas venues? 
Similar to Ireland, overseas venues offer packages that can simplify the planning process and provide excellent value. The more exclusive venues may require an exclusive-hire fee, which allows you to host all your guests under one property, embrace every corner of the venue for your celebration, and make the venue feel like a home away from home. An exclusive hire can create a seamless experience by reducing transport requirements, as you have the opportunity to create multiple experiences across the estate. 
Whether you choose a package option or a non-package venue, there is plenty of room for creativity and personalization to make your day truly special. What matters most is that you choose a venue that captures the essence of your love story, and creates a magical atmosphere that you and your guests will remember for a lifetime.
Would you recommend a wedding planner?
Planning a wedding can be overwhelming, especially when it is a destination wedding. With so many details to balance, from entertainment to catering, design to transportation, it is easy to get lost in the logistics and lose sight of the true essence of the day. This is where a wedding planner can make all the difference.
By entrusting your wedding to a professional planner, you can free yourself from the stresses and distractions of the planning process and truly be present with your guests. After all, the reason you chose a destination wedding is to create a unique and immersive experience for you and your loved ones. With a planner managing every aspect of the wedding, you can relax and enjoy the magic of the day, confident that everything is taken care of. 
Let's talk budget. What's the comparison in price to a local wedding?
Choosing a destination wedding can come with additional expenses such as flights, transport, accommodation and activities. With that being said, Ireland and many popular destination wedding locations are comparable in price. The cost of services and products can vary greatly from country to country, with wine being more affordable in France and flowers being more affordable in the Netherlands. The secret is embracing local produce and seasonality. What is important is that you prioritize your budget to create a wedding that's not only magical but also financially comfortable. 

What is the general timeline a bride should follow and how is it different from a local wedding?
It is so important to embrace a strong channel of communication with your venue and creative vendors throughout the planning process, as you will have limited 1-to-1 meetings. Express the necessity for strong communication when you are in negotiation and going to contract stages. Destination weddings and weddings at home have quite similar timelines. The main consideration is allowing at least two site visits to your destination venue. This is a general outline of a wedding timeline that can guide you on your wedding planning journey.
12 months to go: Sourcing your venue is the top priority. For a destination wedding, it is essential to allocate sufficient time for travel to your chosen location and to tour the property. This journey is an opportunity to immerse yourself in the local culture, try out various cuisines, and seek inspiration for your big day's entertainment. Once you have the venue and date, create a timeline for all the remaining tasks leading up to your special day with priority being your Save to Date and wedding website. The key to a smooth guest experience is creating a really strong website, sharing as much detail as possible about the event schedule and destination. Then begin securing other key vendors such as a photographer, videographer, entertainment, floral designer, transport, hair and make-up.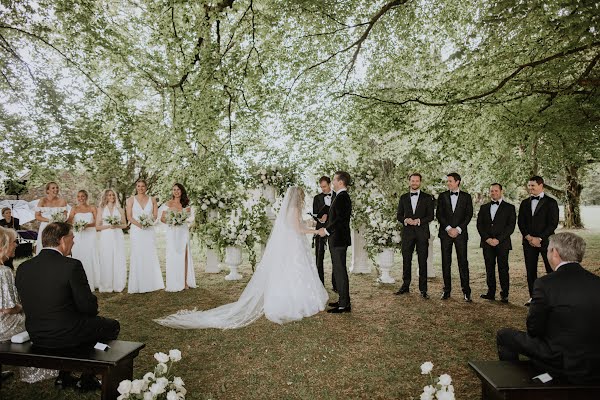 9 months to go: Determine your colour palette and begin focusing on the designs of your wedding. Once you have a great understanding of your style and aesthetic arrange a virtual meeting with your floral designer.  
6 months to go: Hone in on the details of each stage of your wedding celebration. Give careful consideration to your wedding ceremony, the readings and the music. Allow yourself time to customise your wedding to reflect your personalities and your love story. Consider the various entertainment throughout the spaces and how you can create a cohesive event flow.  Plan a trip to your destination for menu tastings, hair and make-up trials, floral design and other preparations. 
3 months to go: Meet all vendors virtually to ensure all plans are clear and personalised to your wishes and all timings are carefully communicated taking language barriers into consideration. Focus on detailed logistics for your entire event experience, this is the key to a successful guest experience. We recommend, one final update of your wedding website to ensure you have shared every possible angle, this ensures everything is reflective of your plans on the final stage especially as guests plan to travel. Begin working on your seating plans, and give careful consideration to personalities and dynamics. 
1 week to go: I recommend arriving at your wedding destination at least three days ahead of your wedding day, giving yourself ample time to settle in, unwind and recover from any jet lag.
What are a few of your favourite destination wedding locations so far?
Your wedding day is an extraordinary milestone in your life, and finding the perfect destination to say "I do" is an essential part of making it unforgettable. While travelling abroad might seem like the only way to have a spectacular destination wedding, there are stunning locations closer to home that can offer privacy, togetherness, and awe-inspiring scenery. Considering national and international locations, here are some special properties:
About Olivia Buckley International
Olivia Buckley International is a world-renowned event design and production company, founded and led by the visionary event designer, Olivia Buckley. With a passion for creating exceptional, bespoke events, Olivia Buckley International has established itself as a leader in the industry, renowned for its exceptional attention to detail, creativity, and commitment to excellence. From intimate gatherings to lavish affairs, every event is unique, reflecting the personality and style of each client, and brought to life with signature flair and expertise.
As experienced destination wedding planners, Olivia Buckley International manages all timelines, proposals, budgets, processes and event schedules for every logistical detail imaginable. Their dedicated guest relations team provide a tailor-made guest relations service and are in place to exclusively manage and realise any guest's queries or wishes. Fáilte Ireland recognised the wedding agency amongst the top in Ireland and rewarded them Top Destination Wedding Planner in Ireland.