Movement therapy became a thing in lockdown, here's why it's worth holding on to post-Covid
Sponsored By
---
Sponsored By
We ask physiotherapist and founder of Freedom Physio Christine Gioia about the latest lockdown trend – movement therapy – and how it deeply benefits our bodies.
Over the past year, there has been a surge in online exercise classes like yoga, barre and pilates. We've optimistically signed up for Zoom sessions and found ourselves fumbling along to the instruction, enjoying the freedom of having zero eyes on us as we hold our next pose.
And while these exercises are aimed towards fitness and strengthening, movement therapy combines different techniques, focusing on celebrating the body you have and tuning into its needs. 
So we asked physiotherapist and founder of Freedom Physio Christine Gioia to dive deeper into how it all works and what benefits her clients usually experience.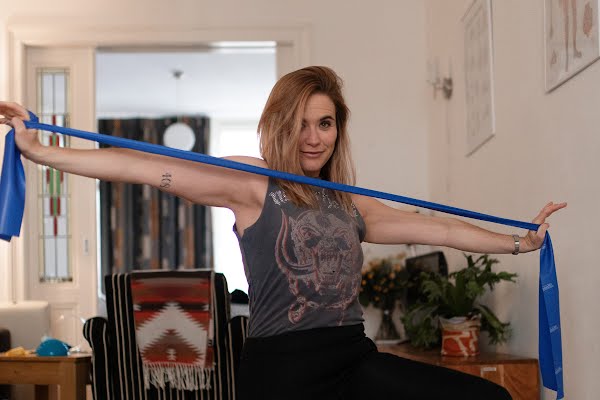 So what exactly is movement therapy?   
"Movement therapy is functional, full-body fitness taught through the lens of physiotherapy and deeply rooted in the six pilates principles," explains physiotherapist Christine Gioia. "Each series or class is tailored around a specific goal such as: core mobility, high intensity endurance, shoulder stability, spine health, foot health and more. 
"The movements I teach are a fusion of evidence-based physiotherapy rehab, pilates, yoga and contemporary fitness. It's tough but safe and tailored to the individual. Its uniqueness lies in the belief that our bodies are built to move. It can help improve motor function, bone density and posture, all while doing low-impact movements."
The benefits of regular sessions
Movement therapy is for anyone that's eager to move safely, and sustainably. It's built to have results over time, so most people won't see results until after a few sessions. 
"As a physiotherapist with over eight years of pilates teaching experience, I'm always learning more about current evidence-based movement science and immersing myself in modern movement styles," says Christine.
"Movement therapy is not about fat loss or punishment for what you ate, but about rejoicing in your body and working hard to get stronger together. We hone in on motor control to prevent injury, develop our bone density, improve our posture and better connect with our bodies.
"It's a great way to help you excel at the little things that make life fun, whether it be a game of golf, football, rollerskating, tennis, swimming, lifting, running or skateboarding." 
Great for neck, lower back and abdominal pain
As its name implies, movement therapy is an effective way to deliver targeted pain relief. Specifically, it helps those who suffer from neck and lower back pain, abdominal pain, joint pain and those who have lingering aches from a past injury.
"I've had the most glorious results with clients across all ages and walks of life with a vast array of sporting and movement backgrounds," Christine says. "I've helped patients manage work-related neck and lower back pain; I've given exercise therapy to athletes after traumatic knee dislocations and ankle ligament sprains; I've helped working mums with breathing dysfunction, abdominal pain, foot pain and more. 
"It's truly been incredible to see how open people have been to at home online physio and that it really does work if you're willing to put in the effort."
If you'd like to try a movement therapy class, you can sign up for Christine's three-part Beginner's Series for free. It's a great way to get started and experience the hype first-hand. 
---
Christine Gioia is the founder of Freedom Physio – an authentic, online fitness and physio experience. Her classes are designed to target and address unhealthy movement patterns, whilst simultaneously lengthening and toning the entire body. Join a session today and get to know your anatomy, get strong, learn about your body, and take ownership of your human experience.