Take a tour of Joy Thorpe's Kilkenny cottage full of antique finds
---
Bringing your work home takes on a new meaning in this Georgian stone cottage, which has been given a rich and layered finish, thanks to a moody paint palette and a lifetime's worth of carefully curated pieces.
If you've been lucky enough to visit Joy Thorpe's exquisite Castlecomer antique shop, or even just scrolled covetously through its Instagram account, it will come as no surprise that her home is a veritable treasure trove of finds.
It's a lifetime's worth of things picked up on travels, and at the auctions, estate sales, and car boot sales where she plucks pieces with her expert eye. As a result, it seems everything from large pieces of furniture to trinkets on the shelves have an interesting tale behind them. Forget buying something to fill a gap, these pieces, as Joy herself puts it, "have been slowly collected and treasured over the years", a manifestation of "stories and memories".
Take, for example, the bank of drawers in her living room. "They are old land commission drawers that I purchased in Kildare many years ago when I was looking to purchase a Nissan Figaro," Joy explains. "The car dealer didn't have the Figaro I wanted, but he did have several of these sets of drawers. I bought them all and sold them, bar one, which I kept."
An 18th century hand-painted cupboard, bought for just €60 at a local house clearance auction with her mum also never got put up for sale. "We got some great bargains. I hadn't even seen the piece, as it was buried in a shed out the back, but I felt it was worth a gamble. It was a real beauty, so I convinced myself I should keep it to remind me of the loveliest day with Mum."
Of course, Joy's job means that she is presented with many opportunities to add to her enviable collection. "I buy what I love for the shop, so it is very hard to part with things. Unluckily for me, and luckily for the business, I live in a cottage and not a manor house, otherwise I would have nothing for the shop."
It can work both ways, though, such as with the candy-striped screen pictured in her bedroom. "It was originally purchased for the shop, but I loved it so much I brought it home," Joy explains. However, in the few days it had spent in the shop, it was spotted by a customer who returned to buy it, "so sadly I had to part with it".
As well as providing a beautiful backdrop for her pieces, the house itself adds another layer to this space full of stories and memories. Part of a Georgian house, originally the stables, its charm is part of the reason Joy ended up in Castlecomer, having lived in Kilkenny city for around 15 years.
She had been looking for a change of scenery, and rent had been rising in Kilkenny, "when a friend of mine told me about this beautiful cottage in Castlecomer. Initially, I was going to stay for six months, but it will be three years in October."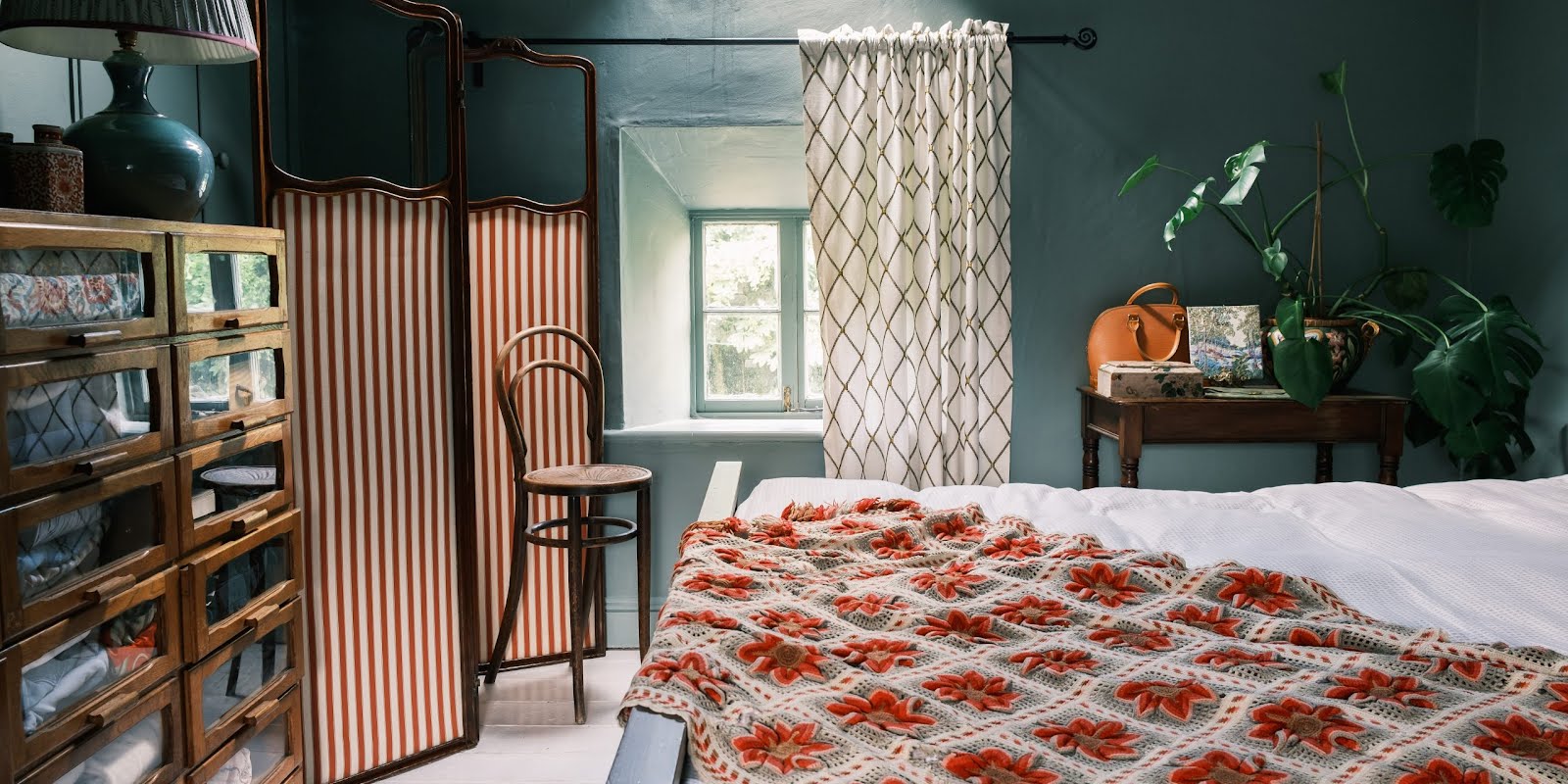 Part of the appeal is her landlady, a local artist who has given her free rein to decorate. "It's important for me to live somewhere I like. A lot of Irish rental properties are pretty dire, which I think is quite sad. In Ireland, especially in the winter, you spend so much time in your house, it's important to me that it's somewhere you'd really want to go home to, and that has character and charm."
Even when she thought she was only moving into the cottage for six months, "I still put in my own furniture, and I hung art on the walls, and added loads of Kilim cushions and rugs and plants, just to make it more homely." She believes that you can put your own stamp on a rented home in ways that are both temporary, and inexpensive.
"I had rented since my college days, so I had always picked up pieces of art along the way, on trips abroad and things like that. They don't have to be massively expensive, even little chairs, or textiles can be great in rented properties. But as soon as I knew I'd be staying a bit longer, I started painting."
When she moved in, the walls were all white, but over time Joy has introduced a palette of dusky colours, which she has added to the ceilings as well as the walls. "The ceilings are quite low, so I feel it's important to make the space look a bit bigger than it actually is. It's like a continuation of the wall, even down to the porch that's done in William Morris wallpaper, where I've also wallpapered the ceiling."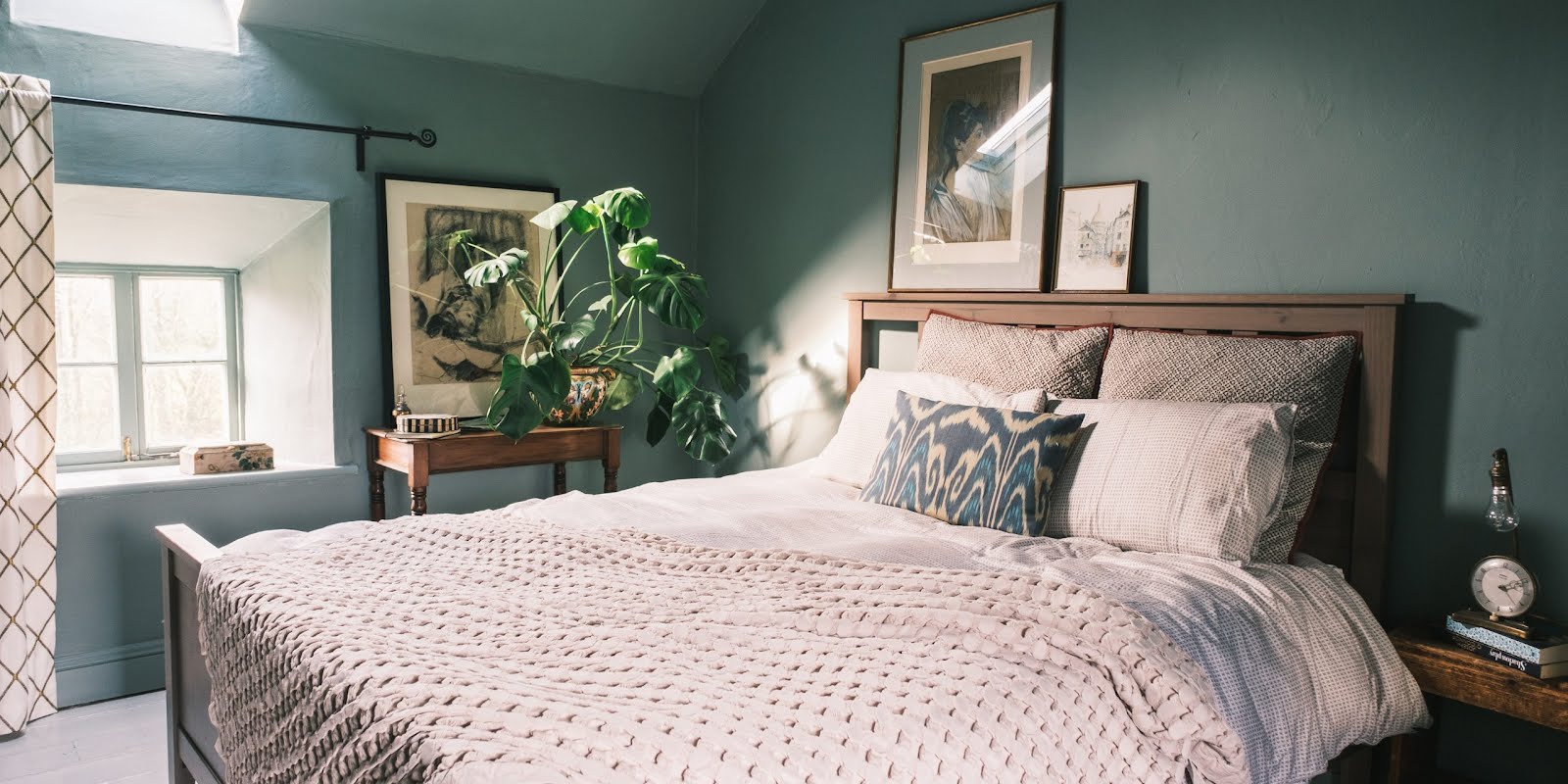 Living in Castlecomer is also what led to her opening a shop there. Joy noticed the building walking past one day, thinking it would be an amazing place to showcase her pieces.
It's an important part of her business, as most of us don't have her eye for visualising how an old piece of furniture will actually look in a home. She has filled it with surfaces like natural stone, oak parquet and distressed tiles, providing a backdrop that makes it much easier to imagine them in a home context.
"I buy what I love for the shop, so it is very hard to part with things. Unluckily for me, and luckily for the business, I live in a cottage and not a manor house, otherwise I would have nothing for the shop."
Joy's cottage is the manifestation of her skill at this difficult task. Her collection of objects mixes eras and countries, styles and palettes with a deft hand. What has been amassed over a lifetime looks like it could all have been chosen specifically for this space, illustrating her strong sense of style.
"My home is really an extension of myself," she says, and while you may think of a home full of antiques as a little stuffy and fusty, hers is anything but. The imperfections of these objects are part of their story, creating a space not only with layers of stories, but also one where you feel deeply at home.
Photography: Storybord
This article originally appeared in the Autumn 2021 issue of IMAGE Magazine. Have you thought about becoming a subscriber? Find out more, and sign up here.