It may be the smallest county in Ireland, but Louth is the home of friendliness, hospitality, great food and of course, James Bond, says Frank W. Kelly, filmmaker and co-founder and creative director of the new Boyne Valley International Film Festival.
Home is… County Louth, I'm from Drogheda and live in Ardee, and love nothing more than exploring my home county, we're the smallest county in Ireland, but we have a lot to offer!
Where was your first home outside of your childhood home?
San Francisco, I went there in 98 on a student visa, spent a mad summer there with a bunch of hurlers from Monaghan. Then Australia for a year, I lived in Sydney. When I finally came home I moved into a converted convent, where I lived for a couple of years.
What was your first job?
Stacking shelves in Dunnes Stores, did that for six years through college. I hated it at the time, but looking back it was good fun, I sometimes wish for the simplicity of that time. I met a lot of really decent people working there and have stayed in touch with many of them.
What's your favourite memory in your county?
Saturday adventures as a kid with friends, hiking out old railway lines to Beaulieu Wood and playing all day in the trees. You'd be gone at 10am and home in time for tea! Very much a "Stand By Me"/"Goonies" childhood! Different times.
Where do you go to let your hair down?
I drive, I get in the car and go get lost around the county. I take every laneway, back road and winding trail and see where it goes. It's so beautiful here, I love getting lost, discovering a village I've never been to, coffee shops, pubs and restaurants that are new to me. Hidden gems like Oldbridge house or Dowth, the Kavanagh Museum in Inniskeen, or the Cornerhouse in Omeath.
If you could buy any building in your county, which would it be?
There are old mills along the Port in Drogheda, I would love to convert one into an independent film studio and school. Teach students how to make films by making films, and bring one of these beautiful buildings back to life.
Where would you recommend for a first date?
Il Forno on West St. does good food and is relaxed, pop into The Grey Goose next door for a drink and live music, there's usually a lively trad session going on, then catch a play at the Droichead Arts Centre.
What's your favourite hotel in your county?
I'm going to have to say Bellingham Castle, where I got married. It will always have a place in my heart.
What are your favourite local shops?
Duffy's Toy World in Dunleer is a wonderland that instantly makes you feel like a kid again. Big Moon Records just opened in Drogheda, selling vinyl, and wouldn't you know I just bought a turntable, so I'll be making it a regular haunt!
What makes someone a local in your county?
We're the smallest county in Ireland but we stand tall, we're full of pride for our wee county. There's a warmth here, friendliness and hospitality. You're always guaranteed a good chat.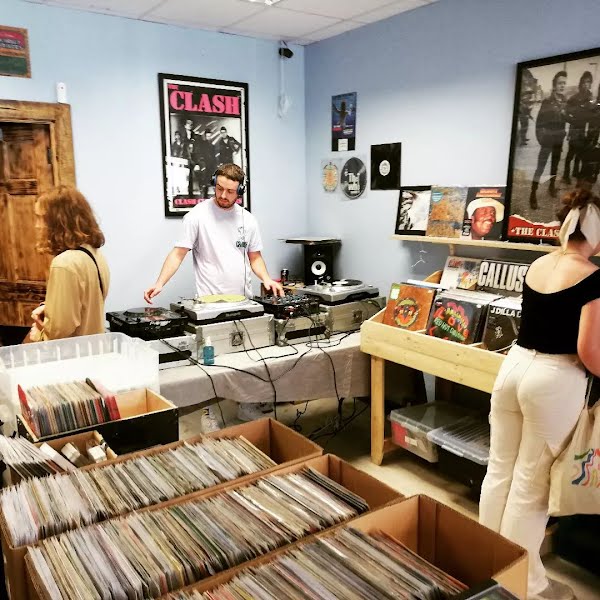 Who is the most iconic person from your county etc?
Probably Pierce Brosnan, yes, he's a Navan man, but he was born in Drogheda! And you can't get more iconic than James Bond!
Best thing a taxi driver has ever said to you?
It was an Uber driver in Indianapolis, I was working the night shift in a warehouse, a miserable job. But this driver was pulling 12 hour shifts at an Amazon warehouse in the day, then sleeping for a couple of hours and driving his Uber all night! He told me he was doing it for his family back home in Africa, he said, "You must look after your family" I complained less about my shift after that!
Favourite pub in your county?
Probably Donegan's in Monasterboice, cozy and great food.
Favourite coffee shop in your county?
Stockwell Artisan Food, great coffee, food and the friendliest staff!
What's your favourite Irish work of art?
I love Paul Henry's work, his landscapes capture the essence of the Irish landscape. There is a local artist here whose work I love too, Aidan Flanagan, he creates evocative ink screen prints of the local landscape, they're just stunning.
Who's your Irish hero?
I'm drawn to Patrick Kavanagh, I often find myself stepping over county lines and into Inniskeen, his words stir something in me. I'm an explorer, but I have deep routes here too. In film, Jim Sheridan, he carved out a path for a generation of Irish filmmakers, with powerful films that spoke to the heart of what it means to be Irish, and did it on the world stage, being a six-time Academy Award nominee!
Favourite barber in your county?
Guys, I'm a middle-aged bald guy with a beard… my bathroom?
Favourite way to spend a day in your county?
In the morning I'll drive to one of our beautiful beaches, usually Clogher Head, grab a coffee and take a walk on the shore. I might drive up to Carlingford and walk around the town, pop into a little antique shop. Then I'll drive up to Omeath, look over the bay to Warren Point and then drive back through the Cooley Mountains. I might stop at Blackrock for fish and chips. Then on to Drogheda, I'll meet a friend for coffee and a chat across West St. If they're in from out of town I'll take them up to Millmount, show them our murals, churches and pubs and catch some live music in one of our many great pubs or venues.
Best meal you've had in your county?
On a clear day, fish and chips from the cart at Clogher Head. After a walk over the head, there's nothing better than sitting on a bench looking across the bay to the Cooley Mountains and on to the Mourne mountains, with a fresh breeze and the smell of the sea.
The best walk in your county?
The Boyne Valley Camino, it goes through some stunning landscape.
What's your hometown secret?
I think our beaches, they're beautiful. A short drive out of town and you have so many to choose from, from the mouth of the Boyne and Baltray, on to Termonfeckin, Clogherhead, Blackrock, Gyles Quay up to Carlingford. Our coast is stunning.
What's the most exciting Irish plan you have this summer?
My family started this a while ago, we have a large map of Louth, and the surrounding counties. We give the kids each a little pebble, and they throw them in the air, whichever lands near a town or village we haven't been to, we go on a day trip to that place! It's been a great way to discover our area.
My favourite thing about Ireland is… the people, and their stories, I love exploring and when I stop somewhere I love striking up a conversation with a local, sometimes it's just about the weather, covid, the cost of living, but sometimes it's about the history of a place and a lovely little anecdote. Whatever we talk about there's a great warmth here.
What are you up to with work at the moment?
I'm the co-founder and creative director of the new Boyne Valley International Film Festival, our first festival is August 12 and 13, so I've been working hard toward that and I'm really excited about it, we have a great line-up of films and events. I'm also a filmmaker and I continue writing and developing new ideas, I'm shooting my next short film this Autumn.
The inaugural Boyne Valley International Film Festival, curated by acclaimed filmmaker and Boyne Valley native Frank W. Kelly and Collette Farrell, Droichead Arts Centre Director, is a two day event on August 12 and 13, featuring the best short films from around the country and the world, with a special focus on films made in the region. Buy tickets here.Photography by Brian Connolly.