If your space feels a little flat, there are clever ways you can use paint to highlight features or even create the illusion of them where there aren't any.
We all love to look at gorgeous images of period homes, especially Georgian and Victorian ones with cornicing, dado and picture rails, wall panelling and tall, often shuttered windows.
These details add definition to a space, helping it feel balanced, however not many of us are lucky enough to live in these kinds of buildings. What is more likely are the flat, featureless walls of modern homes, and probably with lower ceilings than we'd like.
However, whether your space has features you'd like to highlight or you want to create the appearance of some where they don't exist, you can use paint in clever ways to do so. Here are some ideas to inspire your next paint job.
Highlighting features
If your room does have nice features like details on window frames or high skirting boards that you'd like to draw attention to, painting them in an eye-catching or contrasting colour is a good solution. 
For a more subtle method, paint them the same colour as your walls, but a few shades darker.  
Shape shifting 
Painting shapes on your wall, from a circle, to a square, to a stripe, can have all manner of effects on your space. While a geometric square can feel edgy or draw your eye across, a circle or arch can add structure the way a window might. 
You want to get a very clean shape for this to be successful. Masking tape and a spirit level are essential for straight edges, while a stencil is a good option for something curved, even one you have cut yourself. The trick of fixing a piece of string to a single point and then using that to guide your curve (like a big compass), might come in handy, too.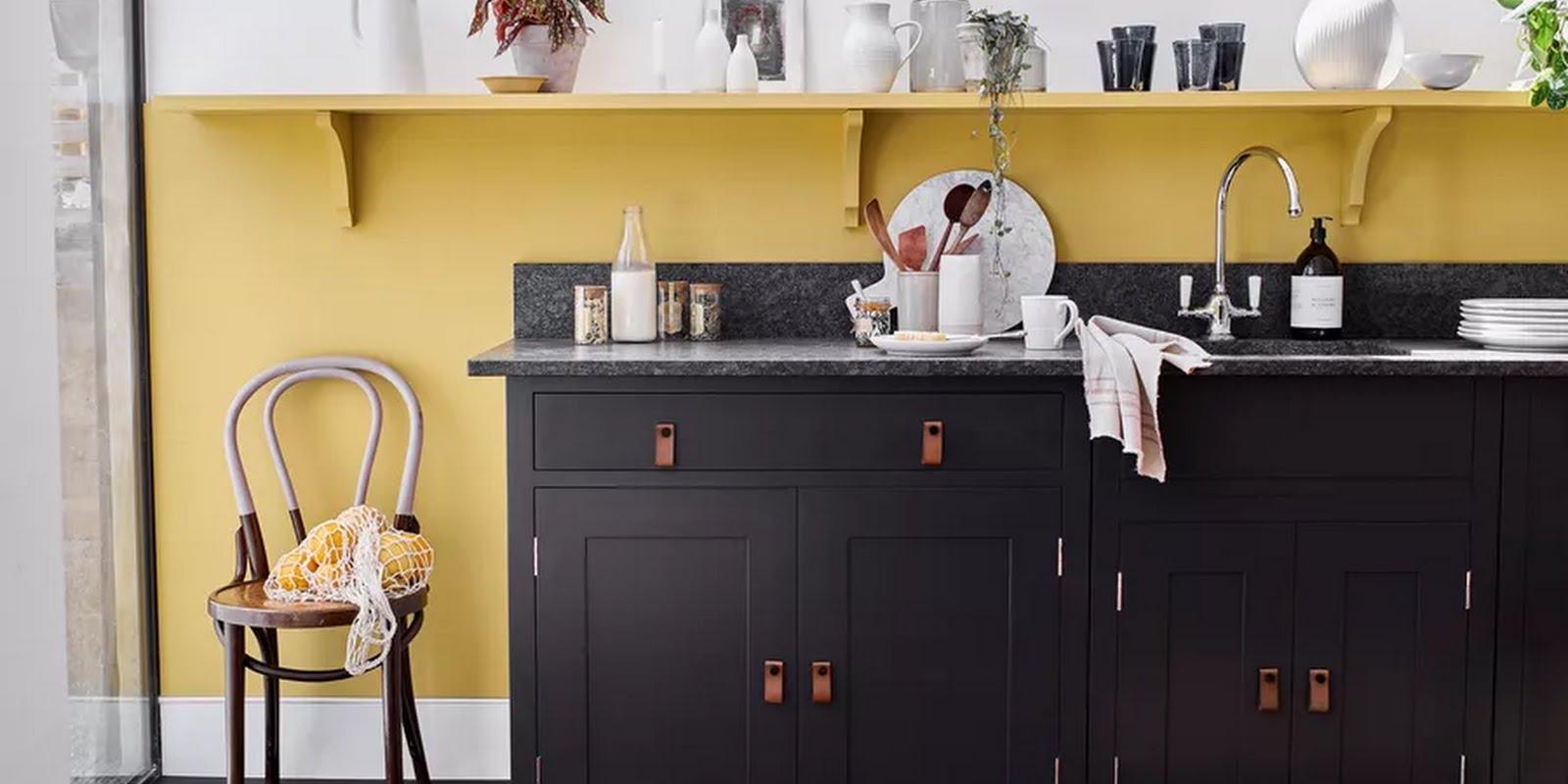 Saffron, Neptune
Creating a dado or picture rail 
Even if your room doesn't have one, simply changing your paint colour where a picture or dado rail would be gives the same effect. 
Painting the lower section a darker colour than the higher one will make your room feel bigger, while creating a false picture rail can help ceilings feel higher.
Defining zones 
If you have a multifunctional room, using paint to subtly define its different zones can help it feel calmer, helping you to see each space separately. 
Even within a smaller room, you can designate an alcove as a study area with a different paint colour, or put focus on the bed with a painted 'headboard'.