Ballywalter: A tender look at humanity, with cutting Irish humour to boot
---
A bitter-sweet comedy-drama set in Northern Ireland, Ballywalter stars Séana Kerslake and Patrick Kielty as unlikely friends who and end up saving each other from the darkness.
After a short and troubled attempt at starting a new life in London, twenty-something-year-old university dropout Eileen (Séana Kerslake) returns to Belfast where she moves back in with her mum and heavily pregnant sister. Making ends meet by working as an unlicensed driver in her ex-boyfriend's minicab and picking up the odd shift at a local café, it's clear to everyone but her that she's in a downward spiral. 
When Eileen accepts a regular fare from Shane (Patrick Kielty), a man starting a stand-up comedy course who has holed himself up in Ballywalter following the breakdown of his marriage, everything changes. Over the course of a few months of 40-minute weekly car journeys from Ballywalter to Belfast – and back again – these two lost souls form an unexpected connection… one that brings them both back from the precipice of despair and leads them to a moment of realisation.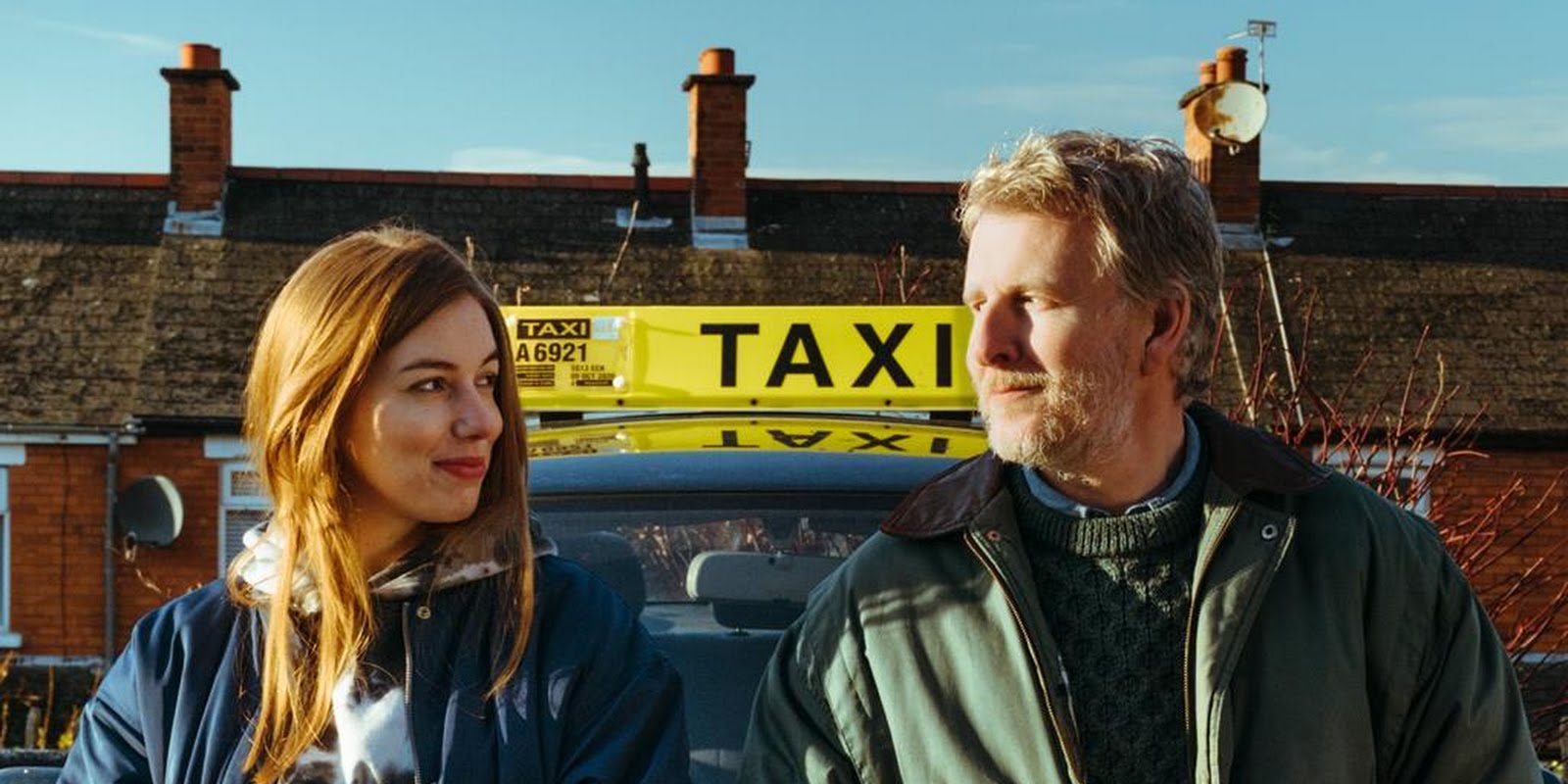 Given its history, Northern Ireland seems like the ideal setting for a story about fractured relationships. The film never crosses over into political territory but it doesn't need to; we all know what happened in the past. "Northern Ireland is a demarcated mosaic of communities within these islands; a place of identity dissonance and buried post-conflict suffering; a place trying to find ways of having the hardest conversations; a place that is optimistic and beautiful and very, very funny," notes director Prasanna Puwanarajah. "It felt familiar and peculiarly like home. I love arriving there. I am always sorry to leave. I feel its contradictions, I recognise its lines."
Set against a rugged – and often unforgiving – landscape, Eileen and Shane's path forward is a delicate one. "I think if you look at modern-day Belfast, the past is the past but there are still undercurrents there. What Prasanna has done beautifully in this film is, you know, you see the murals and you see different bits and pieces but also, you don't know where Eileen's boyfriend has got his drugs run from, you don't the people on the comedy course, what lives they're going back to. So, it's kind of saying, 'we're following these two guys and you have to make your mind up about everything else'", says Kielty.
Though this was his first feature-length acting debut, you'd never know. In fact, according to Kerslake, he was "like a duck to water". "He was just there and honest and present so he made me just listen and have a conversation. He made my job so much easier." However, while acting might seem like a natural progression for the new Late Late Show host, the whole thing was very much outside of his comfort zone. "This was the most intimidating thing I have done in my life – I've hosted the Special Olympics opening ceremony standing in Croke Park, I've done a lot of big stand-up gigs but walking onto that set for the first time with actors, with people who know what they're doing… the Irish cinema industry is world-class so everyone on that set was world-class. To walk out not having acted on the first morning, terrifying," he recalls. 
A movie about the beginnings of two journeys back from aloneness, roads  – literal and metaphorical – are the connective tissue here… as is the humour. "Black humour is a very Northern Irish quality that I grew up with and one of the different coping mechanisms, which can be quite hard for people outside that historical experience to understand," screenwriter Stacey Gregg explains. "It's about how people deal with pressure and depression and challenges, how people pull each other up, how the small kindnesses and stoicism shine out from the cracks if you are looking for them and if you know how to hear them." 
"I think that Irish people are very good at keeping Irish people in the place that we need to be and long may that continue," laughs Kielty. Kerslake agrees. "The comedy element, if you didn't laugh, you'd cry kind of. It's a defence mechanism. I think people up there have a great sense of humour. Because you have to."
Kerslake is the perfect Eileen – tough yet vulnerable, caustic yet sensitive. Her feathers are often more easily ruffled than she'd like – a random exchange with a customer starts with a complaint about milk froth and ends with Eileen calling her a "c*nt" – and she's completely magnetic to watch. 
Hailing from Tallaght, she's a born and bred Dub but her Nordie accent could definitely convince you otherwise. While Nicola Coughlan used Nadine Coyle's passport-gate monologue to prepare her for her role in Derry Girls, Séana decided to go method and stayed in the accent (even when filming cut) at the suggestion of director Prasanna.  "I wish I had such an iconic thing to reference and now Nicola's piece is so iconic but no. I just stayed in the accent, lived in Belfast. I had Stacey Gregg, our writer help with my accent. I struggled through all the icky bits at the beginning when I sound awful, awful, awful!
"Prasanna gave me the confidence to go, 'Ok, I will do it', so I didn't feel naff or that I had notions. It really, really helped to get into character and to just keep that sound the whole way through."
Was it fun to play such an acerbic character? Absolutely. "You get to channel all your stuff through the character," she tells me, keen to stress that it was very much a team effort. "Anything that's a little bit funny is all down to the script and how it was cut and directed."
Kielty is equally enthralling – complex and likeable with a world of pain brewing just beneath the surface. His stand-up routine toward the end of the film, endears him to us, though admittedly, we've had a soft spot for him the whole way through. "What was lovely was that that scene was one of the last things that we filmed so, by that time, Séana and I had a connection and everyone on that movie had a connection. There was a lot of real emotions going into that scene from both of us.
"There are so many young people in Ireland at the minute who, they're back on their mum and dad's sofas, their lives aren't working out the way that they wanted them to work out and the idea that maybe an unexpected connection putting two broken people together again – I think there's a lot of stuff that people will relate to," Kielty concludes.
Ballywalter opens in cinemas across Ireland and the UK on 22 September. Imagery courtesy Breakout Pictures.