This week's celebrity rubbish round-up: the return of Juicy Couture, Molly Mae's meals and Fungie
---
Welcome to Celebrity Rubbish Round-up, your Friday explainer of the absolute worst in celebrity news this week. Here's the backstory on the tweets you haven't understood and the memes coming to Facebook sometime next week
---
The nation was gripped last night by the unceasing cruelty of 2020 when word spread that Dingle residents were growing increasingly concerned about the disappearance of the national icon that is Fungie The Dolphin. Fortunately, it was Hake News. He's just been flouting the social distancing rules with some visiting dolphins, according to a fisherman who says he saw him yesterday. Finally, a 2020 news story with an eel-good ending.
It's likely you have absolutely no idea who Dominic West is. If you missed our in-depth report on his saga this week, let me give it to you quick. The star of The Affair (indeed) was photographed kissing Lily James, of Mamma Mia! Here We Go Again fame. They're currently filming a tv show together, where he plays Lily James' dad (gah). Not 24 hours later, West was back at home, wearing the same clothes (I hope it's because his wife put all his clothes in the fire), being photographed kissing his (Irish) wife Catherine FitzGerald. Even more bizarre, he was smirking with all the confidence of Emily in Paris showing up to her first day of work in a shirt with the Eiffel Tower on it. But the final detail that sent social media over the edge in a united shock that made the Internet slightly less terrible for just one day; they passed out notes to waiting photographers that said;  "Our marriage is strong and we're very much still to get her," signed by them both, like a Christmas card to paparazzi.
The look that kills your Dominic West crush stone dead. /Kelly. pic.twitter.com/EyFaKfpHMQ

— The Guilty Feminist (@GuiltFemPod) October 13, 2020
The Haunting of Peppa Pig
Sadly for fans who loved season one (me included), the only thing scary about Netflix's The Haunting of Bly Manor was the attempted English accents. Initially, you might have thought the Chitty Chitty Bang Bang voices were because the children were a little creepy, but as the series drudged on, it became more and more apparent that no one who worked on Bly Manor had ever met an English person to know that they don't say "perfectly splendid!" in every second sentence. The only popular, modern English television character who might actually say "perfectly splendid" quite often is Peppa Pig, who coincidentally, is voiced by the little girl who plays Flora Wingrave.
The perfectly splendid feeling when you find out Flora from Haunting of Bly Manor also does the voice of Peppa Pig: pic.twitter.com/gFNzanOh8U

— Alex Zalben (@azalben) October 12, 2020
Jumper news
Yes, jumper news. Not just one news story about jumpers either, there were two incredible celebrity news stories about jumpers this week. First, as The Crown season 4 and Diana-mania beckons, two of Princess Diana's most iconic jumpers are being remade and resold. Pre-order Diana's 'I'm a Luxury' sweater and her sheep-emblazoned one from Rowing Blazer here, for €314.59 each. Are you there Santa? It's me, Holly.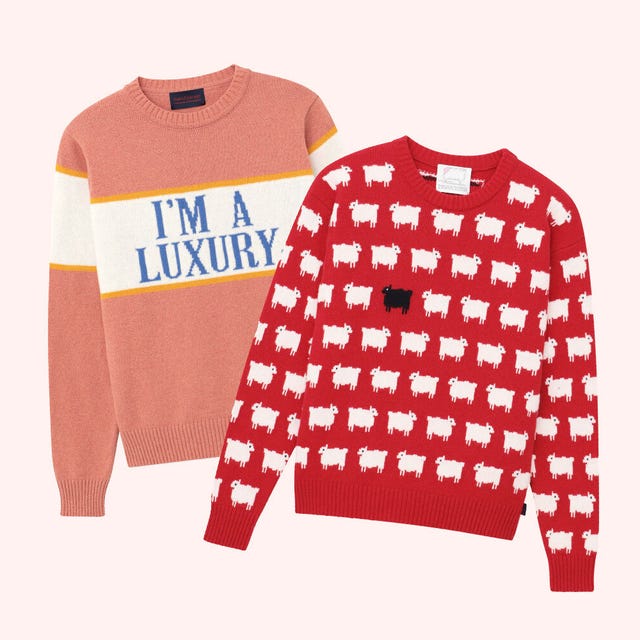 Our second jumper news story will delight anyone who was happy to hear that Uggs are having a resurgence thanks to the brand's upcoming Telfar collaboration. The Internet's golden boy Timothée Chalamet is GQ's November cover star. Whether it's a Glossier hoodie or a fuschia suit, the Call Me By Your Name star's modern approach to menswear always strikes the perfect pop culture balance that makes him not only GQ's Best Dressed Man of The Year but an unlikely mainstay on the Pinterest boards of women everywhere. His whimsical wardrobe strikes again in the November issue GQ shoot, where he's wearing the Paris Hilton hero piece you secretly never threw out; a soft pink velour hoodie, joyfully captioned in the shoot as "his own hoodie, by Juicy Couture."
Molly Mae's meals
Love Island star Molly Mae was forced to apologise this week after she said the food in Italy was "grim". She wrote on Instagram this week, "one thing I will say about Italy in general… The food is actually shocking? So controversial I know but I've been a lot of times now to different parts and I've tried a lot of different restaurants and I'm always so disappointed. It's meant to be the home of pizza and pasta and I really can't see how! Strange. Even this ice cream was grim." Truly, the only reason this is news even worthy of the social media storm it ensued is because last year, Molly Mae cooked Tommy boiled chicken and limp broccoli for dinner and Tommy had to come to her defence by saying, "I don't like seasoning or any of that."
Molly Mae's tea tonight pic.twitter.com/ic9hqNjrzM

— Pete Burns' Confiscated Coat (@harrisonjbrock) October 15, 2020
Photography by GQ.
Read more: I left Dublin for Kerry at the start of the pandemic — and I've never been happier
Read more:A psychotherapist shares her toolbox for managing coronavirus anxiety
Read more: The joy-giving, under €50 Irish fashion pieces you won't find in the Amazon sale