Take it from the SS20 beauty trends, black lipstick is for all year round
---
There's a sound going viral on TikTok at the moment of an old video of Rihanna. In the video, Rihanna's being interviewed and she's talking about black lipstick.
Rihanna says: "I love black lipstick. I think it's daring, it's bold. There's a way that it can be really, really beautiful. It's one of those colours that people shy away from a lot, but if you do the right balance of make-up, I think black is such a beautiful colour. It could be the new red."
TikTok users are creating videos with the sound, showing off how they wear it. Not sure how it's done? There is in fact, a way to make black lipstick look gothic and chic without looking like Wednesday Addams (who doesn't want to look like Wednesday Addams though?). All it takes, as RiRi says, is "the right balance of make-up."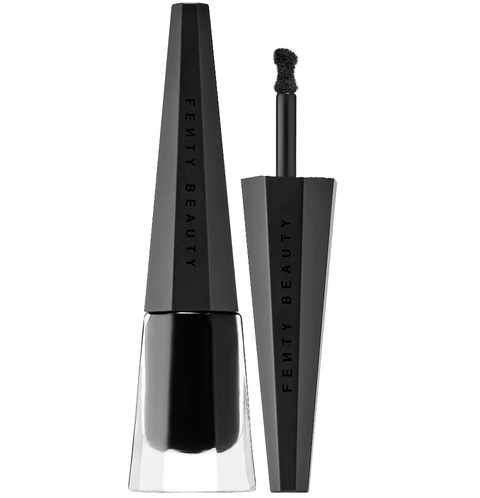 Fenty Beauty Stunna Lip Paint in Uninvited, €24
The modern way to wear it, as per the SS20 shows, is to ditch the flat white base associated with black lipstick and go heavy on the bronzer for freckly, sunkissed warmth.
Max Mara SS20
At Max Mara SS20, all the goth lipstick stereotypes were broken: skin was bronzed and paired with sheer pastel blue eyeshadow, a look that on paper doesn't sound nearly as good as the final result.
Max Mara SS20
Maybe pastel baby blue eyeshadow and black lipstick is best saved for the professionals, but whatever you do, keep coverage light and minimal, like at Matthew Adams Dolan.
Matthew Adams Dolan SS20
Molly Goddard SS20
Ease your way into black lipstick with the Molly Goddard approach: dabbed lightly on with a fingertip for a blurred effect, almost like a red wine stain.
Chloe SS20
Still not brave enough for the boldness of jet black lipstick? Start off slowly with a deep, rich burgundy, as seen at Chloe.
Photography by Jason Lloyd Evans.
Read more: Chrissy Teigen has shared her full skincare routine
Read more: Shopping Fix: a €20 Irish-made setting spray that hydrates the skin
Read more: Watch every show from the first ever season of digital haute couture