WIN a One Nutrition Wellness Hamper worth €200
Sponsored By
---
Sponsored By
Enter for your chance to WIN a One Nutrition Wellness Hamper including One Nutrition MCT Oil and Black Seed Oil, both perfect for creating nutritious summer salads.
We all know that it's important to eat healthy fats as part of our diet. They benefit everything from our brain to our skin, and can even help us absorb important vitamins. However, it can be tricky to get enough of the right kinds of fats into our everyday meals.
That's why One Nutrition's Organic Black Seed Oil and Organic Pure MCT Oil are great options to have on hand. Both can be used to make delicious salad dressings, like in the recipe below, as well as drizzled onto your favourite meals.
An oil few of us here have heard of, Organic Black Seed Oil has been popular in the Middle East and the Far East for thousands of years. It is traditionally used in food and as a general wellbeing oil, and is derived from the black seeds of the Nigella Sativa plant, a small plant with pale purple, blue or white flowers that grows abundantly in Eastern Europe, Western Asia and in the Middle East.
Organic Black Seed Oil has a pleasant aroma and taste and so can be used in salad dressings, for baking and is delicious when drizzled over side dishes like roasted vegetables. It's made exclusively from organic Egyptian black seed, preserved in an amber glass bottle.
One Nutrition Organic Pure MCT Oil is made from organic virgin coconut oil and is an easily digested energy source. Medium Chain Triglycerides (MCTs) are suitable for low carb, high fat, keto or hybrid diets. MCT oil can be used as an alternative to salad oil or in cooking with fats and oil under 160°C.
Smoked Mackerel Vegetable Bowl
Ingredients
1 whole smoked mackerel, flesh removed from bone, or 2 large fillets of smoked mackerel lightly flaked
100 grams French beans, topped and tailed
200 grams petit pois (frozen is ok)
100 grams purple sprouting broccoli or normal broccoli, cut small
100 grams cauliflower, broken into small florets
150 grams kale, stalks removed and lightly torn
100 grams semi-dried or sun-dried cherry tomatoes
1 tablespoon salted capers, roughly chopped
100 grams red onion (1 small-medium onion), thinly sliced
4 tablespoons One Nutrition Organic Pure MCT Oil
Method
1. Peel skin off mackerel fillets and tear the flesh into bite-sized pieces. Set aside until required.
2. Cook the French beans, petit pois, broccoli, cauliflower and kale in salted boiling water for 3-4 minutes until just tender, then strain thoroughly. Toss in a large mixing bowl with semi-dried tomatoes, capers, thinly sliced red onion and a good dash of MCT oil.
3. Season and toss, then gently mix the flaked mackerel through it.
4. Divide between 4 plates and serve at once if serving hot.
What you win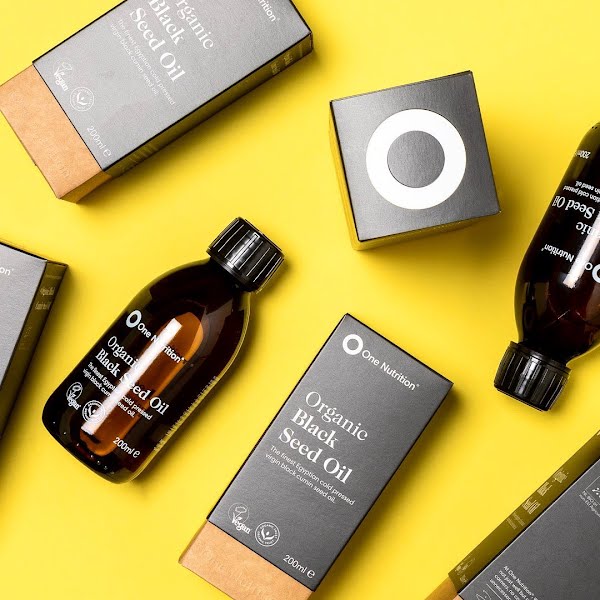 A One Nutrition Wellness Hamper worth €200, including:
2 bottles of One Nutrition Organic Black Seed Oil
2 bottles of One Nutrition Organic MCT Oil
One Nutrition Revive & Go Immunity
One Nutrition B-12 Max Oral Spray
One Nutrition P-4 Immune
One Nutrition Ashwagandha
One Nutrition Ocean Mag
How to enter
Enter for your chance to win by filling out the form below AND following @weareonenutrition on Instagram (click here to do so).
Sorry, this competition is now closed and no longer receiving entries. Thank you.
Irish company One Nutrition has a range of sustainably packaged, ethically sourced nutritional supplements, created with the demands of daily life in mind. One Nutrition Organic Pure MCT Oil and Organic Black Seed oil are protected in amber glass bottles and cardboard packaging. Find One Nutrition in your local health store and pharmacy or learn more at @weareonenutrition.