Want whiter teeth? What to do (and avoid) for a brighter smile
Sponsored By
---
Sponsored By
Don't fall for one of those TikTok trends!
Chances are, if you've been scrolling through social media, you've seen a Spotlight Oral Care ad. They're everywhere right now and clearly having a moment. In fact, Google Trend search queries for them have increased 400% in the last month alone. But their growth hasn't been a breeze, it comes after a lot of hard work put in by its founders Dr Lisa and Vanessa Creaven. 
The Irish sisters are both dentists — a tradition in their family. Their other two siblings are dentists as well, and helped take over the family dental practice so that Lisa and Vanessa could focus their attentions on growing their brand.
We sit down with Vanessa to talk more about the recent rise in oral care trends, discussing the dos and don'ts of teeth whitening, how oral health impacts your confidence and how it's much like skincare.
From shadow to Spotlight
Both Creaven sisters studied dentistry in Trinity College Dublin and worked in the public service before opening their practice in Galway. It was then the beginnings of Spotlight Oral Care began to take shape.
"We were working in our practice and a lot of younger people were coming to us to whiten their teeth," says Vanessa. "They didn't want them done in a dental practice; they wanted a more cost efficient way, and that's why we came up with Spotlight Oral Care. It's evolved very naturally over the last five years."
Since launching in September 2016, the company has seen phenomenal growth, expanding from simply selling in their own practice to a huge online and international presence. They're now retailing in Ireland, the UK, Norway, Finland, the Middle East and the US. 
Self-empowerment
Spotlight Oral Care has a range of products from toothpaste to sonic toothbrushes to teeth whitening, all of which aim to make oral care more accessible AND affordable.
"Many studies say that the smile is the first thing a person sees when they look at you. One thing I would see as a dentist is the amount of shame and phobia that comes with that, especially from those who've had a previous bad experience. So, when you're able to build that rapport and relationship with your patients, you get a unique insight into what they actually want. We are breaking down those barriers and creating a practical and proactive treatment plan with the patient.
"Spotlight Oral Care is an extension of that accessibility. We have a dental advisory service on our website where anyone can contact a dentist or dental nurse, and they'll go through any problems and complaints with you, even if you just want a second ear to listen to. I think autonomy and the self-empowerment of owning your own oral health is really important, and ultimately, that breaks down any phobias.
"The practice has really given us a unique insight into the wants and needs of our patients," explains Vanessa. "We wouldn't have been able to grow Spotlight Oral Care to the level it is without that direct relationship, chatting to everyone every day. And we've developed some great friendships over the years with our patients, who were initially testees and now they're some of the brand's biggest advocates."
Female-led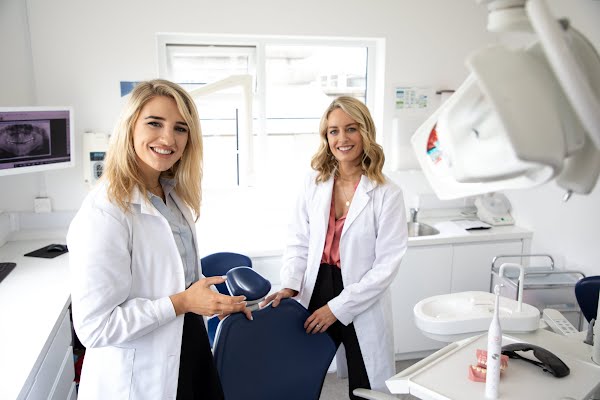 One of those client friendships is with influencer Vogue Williams, who has been a Spotlight Oral Care fan from the start.
"Vogue has been a brand ambassador for a number of years and continues to be to this day. She's a fantastic advocate for women, and everything the brand stands for as well. We try to engage with female entrepreneurs and influencers because, as young founders, social media is where we spend our time."
Championing these female connections is key to Vanessa and Lisa. As a female-dominated company, 85% of their employees are women. And flexibility has been key to retaining this high percentage, especially during WFH.
"Many of our staff have young kids and babies and juggling child care was a huge issue during the pandemic. One person may work 9am-5pm, another might have to mind their baby for a few hours during the day and catch up in the evening. So finding the right balance and maintaining equal opportunity via flexibility has been a real learning curve. The mental burnout that came from it as well – that's all, ultimately, something that we had to learn and grow from as a team together."
Teeth Whitening Tips
Vanessa shares some of her top tips for teeth whitening:
1. Use products with hydrogen peroxide.
"Hydrogen peroxide is the only clinically proven active ingredient that can actually whiten your teeth, and Spotlight Oral Care's whitening range is actually one of the few in the EU market that contains it."
2. Only use ingredients that are scientifically backed.
"We always say to use ingredients or products that actually work and have been shown to work. Double check the ingredients and make sure they've been scientifically backed in studies."
3. Avoid dental trends on social media.
"In the oral care industry, especially teeth whitening, there's a lot of fads around like charcoal, coconut oil, etc. They don't work and they can be harmful for your teeth in terms of abrasion, particularly charcoal. 
"I've also seen people try to create their own whitening formulas at home using household bleach or order those whitening home kits. It's unregulated and bleach can cause an awful lot of damage to the soft tissues in the mouth. At home dentistry is a terrible idea, whether it be dental aligners at home or clip-on veneers. There's a lot of technique involved so you need to lean on professionals to guide you through treatments."
Creating a bespoke oral care routine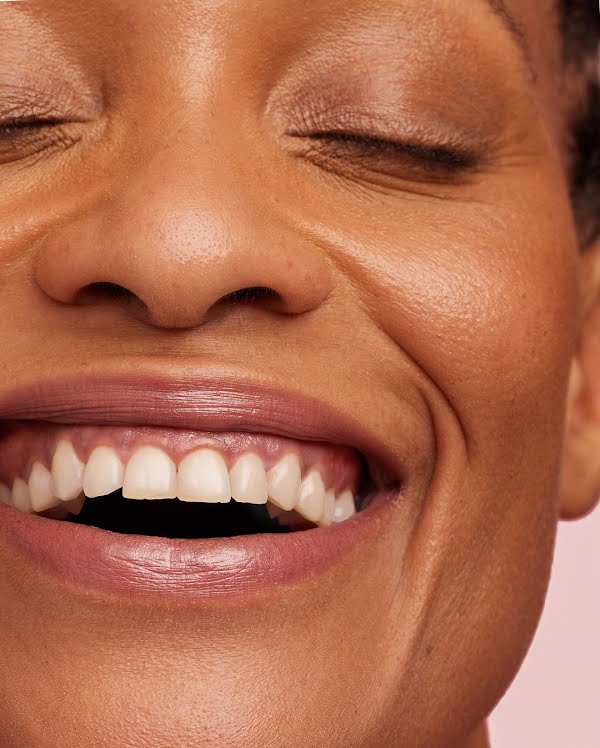 Oral care is much like skin care, Vanessa says. You have to build the right routine with the right products for what you need.
"One of the biggest misconceptions when it comes to oral health is that it's all achieved at the dentist, when, in reality, 98% of oral health is achieved at home. Your dentist can only be reactive, be it fillings or gum disease. But what you do, day in and day out, and the products you use make a huge difference long term."
And it turns out, not all oral care products are created equal. 
"Toothpaste isn't one size fits all. If you have sensitive teeth, use a sensitivity toothpaste because you want to close the channels on the tooth. Whereas, when you're whitening, you're actually lifting stains by opening the channels to a certain extent. So, a toothpaste that whitens and is sensitive is counterintuitive because you can't do both.
"If you do want to whiten your teeth and you have sensitive teeth, you should use a sensitive paste in the morning and a whitening toothpaste in the evening. So that you're not doing both at the same time. And that's where you really get the benefits of targeted treatments."
Skincare vs. oral care
So, we've learned you can mix and match toothpastes, just like you can tailor your skincare routine to your unique needs. Here, Vanessa takes that one step further by comparing different oral care to skincare products, showing you how easy building a healthy routine can be.
Toothpastes are like daily cleansers.

(You can mix and match toothpastes to address different concerns; whitening toothpaste is like your salicylic acid cleanser, lifting build-up from tea, coffee and red wine stains)

Teeth descaling is like a facial.

 (A deep clean that gets rid of all of the impurities you can't remove at home)

Teeth whitening strips are like a retinol treatment.

(A comprehensive treatment that reduces fine lines and wrinkles [AKA dull and yellow stains], lifts and rejuvenates; do once or twice a week)

Teeth whitening pen is like an acne spot treatment.

( Your touch up for immediate results. Use it if you're out with your friends, on a date, at a wedding, etc.)
Sustainability
Oral care is one of the farthest industries to go in terms of sustainability, which is why Lisa and Vanessa have prioritised clean packaging and products whenever possible.
"Sustainability is really important to us. We're the world's first commercially available oral care brand that has toothpaste in recyclable packaging (made from sugar cane). That was really important to us because 10 billion toothpaste tubes end up in landfills across the world every year. Also, our floss is made from recycled plastic bottles, which leaves a carbon negative footprint, we have bamboo brushes and we've recently partnered with Invisalign, so you can recycle your Invisalign aligners.
"We want to be considerate of how much of a footprint we are leaving as a brand in the oral care space. I always say we're ON that journey. We're definitely not finished. I think being proactive about that is really, really important. Sometimes, I think it's like a pin drop moment where you see a straw with a sea urchin and all of a sudden straws are banned, and I think we need that moment in oral care. We need to realise that toothpaste tubes are one of the most harmful products. They never degrade and they're not recyclable.
"When you think about the amount of consumables you go through in your house, it really makes you start to think. Affordability has always been really important to us too. We've never wanted to be a brand that's elusive or too premium; good oral health should be achievable for everyone."
Feature image: Instagram /@voguewilliams
---
Spotlight Oral Care is available online and in Dunnes Stores, Boots and most pharmacy groups. All IMAGE readers get 30% off all full priced items using the discount code IMAGE30. Learn more and shop their range today.