First look at the autumn/winter issue of IMAGE Interiors
---
Our autumn/winter issue will hit shelves this Saturday. Here, editor Lizzie Gore-Grimes gives us a look into the cosy decor and feel-good finds that are trending this season.
Autumn has officially arrived and that means the Image Interiors autumn/winter issue hits shelves this Saturday. It's all about tactile touches this issue as we celebrate the shift in seasons and revel in autumn's easy earthy tones and rich, feel-good textures.
We're all about quality and craftsmanship too as we visit renowned Irish floral artists Worm Studio in London, award-winning ceramicist Rosemarie Durr in Kilkenny and send photographer Al Higgins to tour the country in search of some of Ireland's most creative families, including husband and wife duo Harrison Gardner and Erin McClure of Caravenseri in Clare, the Byrne family of Limerick (knifemaker, ceramicist and artist) and Mother of Pearl, quiltmakers, in Dublin.
Comfort and cosiness also reign supreme in this issue as we photograph leathermaker Garvan de Bruir (and his sheepdog Ralph) at home in Kildare, and find endless inspiration in the homes of design mavens Suzanne Martin and Alex Milton in Wicklow, Tara Thallon's (owner of Bound concept store) contemporary home in Belfast and Roisin Lafferty's latest marble-clad masterpiece in Co Cork. Plus, special interior design focus features on lighting, kitchen and bathroom design updates and so much more.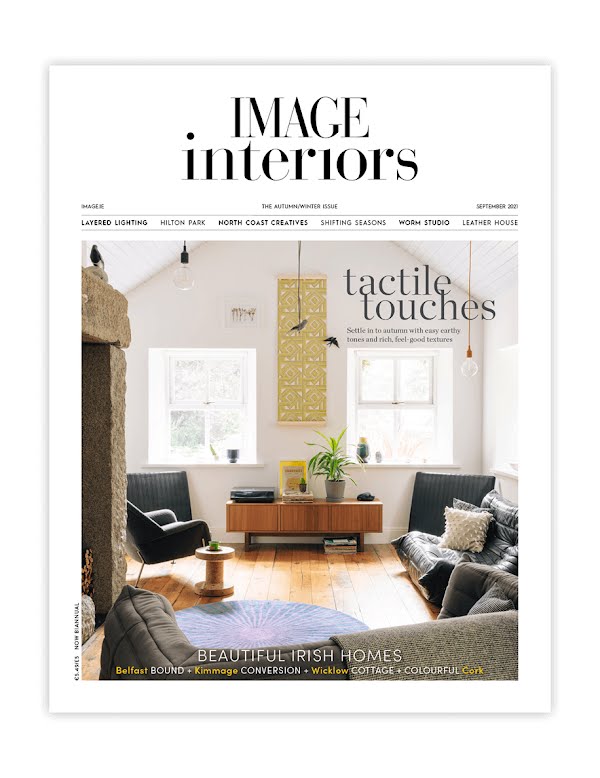 Indulgent Reading
Subscribe to IMAGE for perfect indulgence reading at just €99 per year.
As well as being the first to receive our magazines and having the latest issue delivered to your door, IMAGE Print & Premium subscribers have first-look digital access to the issue, exactly as it appears in print, which you can revisit at any time.
Four issues of IMAGE Magazine and two issues of Image Interiors delivered to your door.
Access to all daily premium articles from Ireland's leading contributors
Digital versions of all magazines. Read IMAGE and Image Interiors exactly as they appear in print.
Bespoke weekly email, rounding up the best content exclusive to subscribers.
A luxury gift from The Handmade Soap Company, worth €60*.
---
*Terms and conditions apply. Offer available only while stocks last on gift advertised (ANAM Candle and ANAM Body Oil). The gift is only valid on postal addresses to the Republic of Ireland. Please allow 28 days after you subscribe to receive your gift. IMAGE Media reserves the right to vary their prices from time to time and any price adjustments will be advised.