Rihanna's new Savage x Fenty campaign stars black breast cancer survivors
---
Rihanna's latest Savage x Fenty lingerie campaign stars black breast cancer survivors
---
Following her social media-overtaking, lingerie industry-shaking, diversity quota-breaking fashion show earlier this October, Rihanna still wasn't finished taking down industries that haven't evolved from outdated ideals and values.
Following the show, Rihanna turned her attention to hegemonic masculinity and the narrow, marginalised and damaging view of what can be constituted as sexy for men by hiring plus size men to model a new range of boxers online. The photographs went viral online, causing men to express the confidence and emotions the campaign has given them.
Everything Rihanna touches is an instant sensation for diversity in casting across race, body types, age and gender identity, and her latest Savage x Fenty campaign is no different.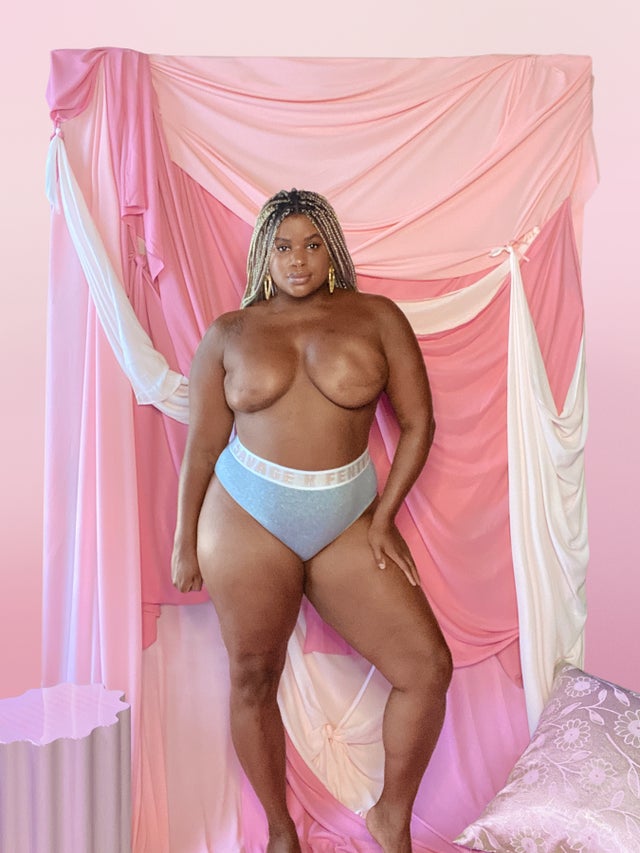 October is Breast Cancer Awareness month and the latest campaign for Rihanna's Savage x Fenty brand stars three black breast cancer survivors, the "survivors and thrivers" Cayatanita (who starred in the Savage x Fenty show), Ericka and Nykia.
Diagnosed with aggressive forms of breast cancer, the website states that Ericka, Cayatanita and Nykia "have also faced the unfair disparities within the health care system due to their age and race." On social media and on the website, Savage x Fenty are sharing details of "their journeys of gaining access to adequate health care, self-advocacy, finding support, and empowering others within the underrepresented Black Community."
View this post on Instagram
A portion of the profits of every Breast Cancer Awareness Month-related product sold on the Savage x Fenty website will be donated to non-profit organisation the Clara Lionel Foundation to help support members of the black community who have been diagnosed with breast cancer. Up to $250,000 from the sales of the October and November capsule collections will also be donated.
Read more about Cayatanita, Ericka and Nykia's journeys and shop Savage x Fenty here.
Photography by Savage x Fenty.
To learn how to properly check your breasts at home, watch Marie Keating's video below or click here for more information.
Read more: Rihanna has highlighted how left behind men are in the conversation around body positivity
Read more: Beauty during breast cancer: Helen Cody on feeling good, inside and out
Read more: Beauty that gives back for Breast Cancer Awareness Month