A beginner's guide to shopping sustainably (but still finding nice stuff!)
Sponsored By
---
Sponsored By
Want to start shopping sustainably but don't know where to start? Marine scientist and eco-conscious surfer Finn van der Aar breaks it down in this handy beginner's guide.
One of the biggest misconceptions about shopping sustainably is that it costs more than fast fashion – a myth that marine scientist, author and speaker Finn van der Aar is eager to disprove. 
If you're unfamiliar with the term "fast fashion", it describes the production of clothing in a non-eco-friendly way.
"This means a few different things," explains Finn. "First, garments are being produced at a rate that's unsustainable – tons of season and mini trends are supporting overconsumption and waste. It's also clothing production in a way that negatively affects the environment, causing massive carbon pollution or polluting waterways with run off from chemical processes and dyes. 
"Finally, it's clothing made in a way that's unethical, where workers are in unsafe working conditions and not paid fair wages. Women are typically the worse affected by this issue."
(To learn more about fast fashion and how it negatively impacts the environment, Finn recommends the documentary The True Cost, which helped her quit fast fashion cold turkey.) 
How to shop sustainably 
But fast fashion isn't the only inexpensive option. Thankfully, there are plenty of ways that you can shop sustainably without overspending. Finn recommends starting with these three steps.
1. Decide what you want
"One of my favourite things to talk about is shopping sustainably! I would first recommend deciding what you want," says Finn. "What's your dream wardrobe? For me, I like a lot of neutral colours (black, white, beige) and chunky boots."
2. Write a list and keep it handy
Once you've thought about what you're looking for, write it into fruition. "Write a list in your notes app or on a piece of paper and keep it in your wallet!"
3. Shop in second-hand stores, online or via apps
"Next, armed with your list, go hunting in your favourite charity shops for key pieces (my go-to for denim and woolly jumpers). When you're looking for specific items or sizes try sites like Thriftify or Depop. I'd use these for shoes too (like the Doc Martens I'm currently wearing)."
Creating your dream wardrobe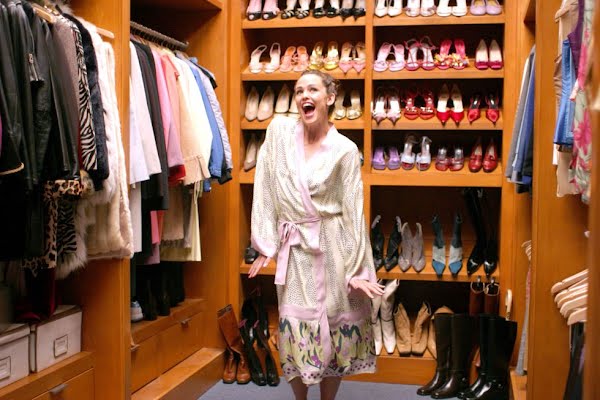 Sustainable shopping isn't all charity shops and scrounging around the web. In fact, Finn says that she sticks to a simple rule to keep her wardrobe diversified.
"I like to use a kind of 80/10/10 formula for sustainable clothes shopping – that's 80% secondhand, 10% as-sustainable-as-possible high street (but don't be fooled by fast fashion brands claiming to have sustainable collections), and 10% super sustainable brands and Irish-designed and made pieces.
"For this last category, it would be obvious leaders like Patagonia, but Irish specifically too. I love Grown Clothing or Aoife McNamara for high-end, completely produced in Ireland pieces."
What materials are considered eco-friendly?
Now that you know where to shop and what strategies to use, it's important to know what materials to look for. This can help you determine if a piece is considered sustainable or not.
Naturally-derived materials
"When it comes to materials, I think it's crucial to focus on how we can use what already exists and what can naturally be broken down," says Finn. "When buying second hand, I always search for naturally derived materials that I wouldn't buy new as well as natural, plant-based fibres like cotton and linen. 
"The carbon footprint is drastically lower as it's not a newly produced garment, and it's also something that can be naturally broken down at the end of its lifecycle."
Recycled plastics vs new plastics
When it comes to what materials to avoid, Finn warns that some of the cool fashion trends aren't always as eco-friendly as they sound.
"I am a little wary of the new wave of vegan leather products that are really just another way to sell us plastic fashion products (they're often made of vinyl). However, I am a huge, huge believer in the use of recycled plastic polymers being used to create new garments and fabrics. 
"Olly Olly & Co. are a great Irish-owned example of using ocean plastics to create yoga clothing. This is also something that's becoming really interesting outside of fashion as well, moving into home interiors and how cars are made too."
Electric and leather-free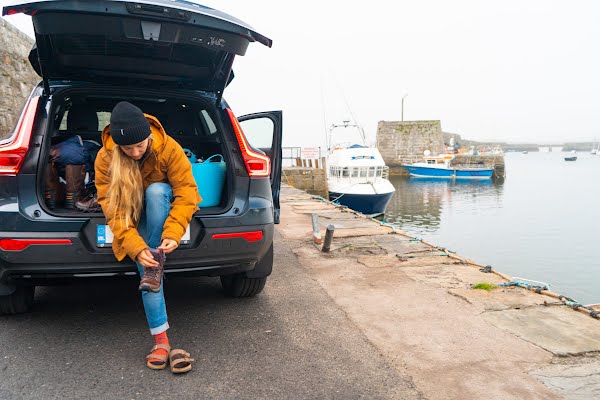 Finally, Finn says one of the biggest ways you can shop sustainably is by investing in bigger, eco-conscious purchases you will use every day, like an electric car.
"For me, a massive part of living more sustainably is transport. I often have long commutes everyday, so the switch to driving the fully electric Volvo XC40 has drastically cut down my carbon emissions. 
"As well as lowering emissions though, one of the things I love the most is that the carpeting is actually made of recycled plastics and the upholstery is leather-free. I think it was so commonplace before that a nice car would always have leather seats, and I'm so happy to see the move away from this!"
---
As part of its commitment to sustainability, Volvo Cars is taking a strong ethical standpoint for animal welfare. It's removing leather interiors from its fully electric cars and working to reduce the use of residual products from livestock production, commonly used within or in the production of plastics, rubber, lubricants and adhesives. Volvo Cars is making this transition to support animal welfare and to help eliminate the negative environmental impacts of cattle farming, including deforestation.