Netflix's 'Good on Paper' is actually based Iliza Shlesinger's pathological liar ex-boyfriend
---
The true story behind Netflix rom-com 'Good on Paper' is even crazier than the movie
Have you seen Good on Paper yet? If not, spoilers ahead – although it's not the type of movie you watch for its dramatic tension.
The rom-com follows Andrea, a young up-and-coming comedian who meets a handsome, wealthy Yale graduate stockbroker named Dennis on a flight. The two end up dating (after he Drake-style fawns over her until she acquiesces) and he discloses that he's building a house in Beverley Hills and his mother is dying from cancer.
Only he's not wealthy, nor did he graduate from Yale. Nor is he a stockbroker. He lives in a flat with two housemates he met on Craigslist. And yep, you guessed it, his mom doesn't have cancer. Wild, right?
Stranger than fiction
Not as wild as Iliza Shlesinger's real dating horror story. Shlesinger wrote and starred in Good on Paper and it makes perfect sense, considering she already lived through that very experience. Talking to Variety, the comedian explains that not only did she based the script on her own experience, every lie Dennis tells in the film was a lie told to her by a frankly psychotic-sounding ex-boyfriend. They met, just as they do in the film, on a flight. 'we started talking and really got along. He was a nice, preppy hedge fund type," she says. They were friends for about a year before he convinced her to date him but three months in "the cracks started to show in a major way".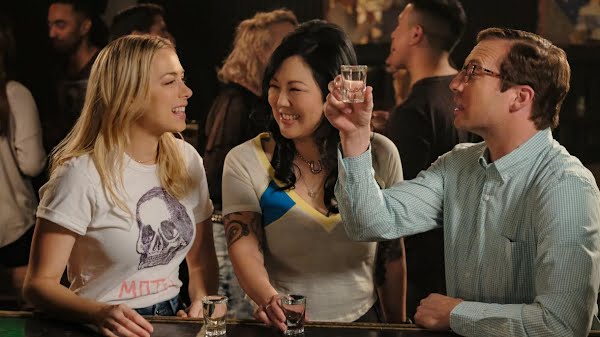 She went into even more detail with Vanity Fair, explaining just how closely the film and reality align. "The beauty of this movie is that it is accurate… And every single lie that Dennis Kelly tells in this movie, those are lies that I took from memory that were told to me." Right from their very first meeting he began lying, telling her he had attended Yale and was a hedge fund manager and he had a girlfriend, none of which were truly. Looking back on it now, one of the weirdest things was that he seemed prepared for the lie. They got off the flight and exchanged Twitter handles. "I remember looking up his Twitter handle. He gave it to me and it had a Yale reference in it… I'm now like, is that a handle that he kept around for when he lied to women? Was that something he created on the plane when I wasn't looking?"
While they were still in friend mode, she was very blunt about not being interested in dating him. One night, out with what she describes as a very GI Joe kind of guy, she posted a picture of his arm on her social media. Next thing she knows, Dennis calls her to say his mom has just been diagnosed with cancer and would she come over. "Looking back on this moment, which to me was the linchpin of all of it, I believe he saw that Instagram post, saw the person I was out with, and he thought, 'I've got to kick this up a notch'."
A mother always knows
As the relationship became romantic, Shlesinger started to notice small things. He was always buying rounds of drinks, presumably because it gave the perception of wealth without needing to drop a lot of cash. He said he had a house in Beverley Hills that was under construction but when she called by his address one day it was a split-level apartment in Hollywood that he shared with two housemates.
He had a response for everything though. When she questioned him about the apartment, he explained that his mother was living in his house while she's undergoing treatment and he wanted to give her her own space, so he had moved in with friends.
It wasn't until Shlesinger's mother got involved that it really began to unravel.
"My mom called the Yale registrar's office… I don't remember what set her off… but once we started dating, she dug a little deeper and called the Yale registrar's office and they said, "We have no record of a Dennis Kelly having attended here since 1985." When Shlesinger asked him where his Yale degree was, she remembered his response so vividly that she put it in the movie. He said, " I'm not a dentist, I don't have my diploma hanging on the wall."
The end of the ruse
Then one day, she just had enough. She texted him and told him she knew he didn't go to Yale and that he was a liar. And he confessed, to everything. After the breakup, dazed and confused and unsure of how she ended up there, Shlesinger got in touch with his housemates. "They start saying, you know, 'We met him on Craigslist, and we've only known him for, like, a year or two. He's in debt for like $600,000.'" When she confessed she just felt bad for the guy with his mom being sick and everything, his housemates looked confused. "That's when the friend said, 'What are you talking about? His mom doesn't have cancer.' And I went home. It was like blunt force trauma to the soul."
You'd think that that'd be the end of him but no. After posting a picture of herself on a nude beach with her friends' hands over her boobs a month after they broke up, he emailed to chastise her for it. Naturally, she went off on at him. And then starting writing a script.