Girls Aloud's Sarah Harding shares the breast cancer symptom she dismissed
---
The singer revealed her devastating breast cancer diagnosis and has urged all women to get any changes in the breast checked by a GP.
Former Girls Aloud singer Sarah Harding has opened up about how she initially dismissed pain in her body before being diagnosed with breast cancer.
Sarah, who is just 39-years-old, revealed her breast cancer diagnosis in August last year, alongside the devastating news it had also spread to other parts of her body. She shared this week that her medical team told her tragically she may not live to see out the rest of the year.
In an extract of her memoir titled 'Hear Me Out', which was published in The Times, Harding wrote: "In December my doctor told me that the upcoming Christmas would probably be my last.
"I don't want an exact prognosis. I don't know why anyone would want that. Comfort and being as pain-free as possible is what's important to me now," she wrote.
View this post on Instagram
In another extract, she explained how she had ignored and dismissed what is considered a symptom of breast cancer – persistent pain – initially just thinking it was a cyst.
"At first I thought it was just a cyst. I'd been playing my guitar a lot, and I thought the strap had probably irritated an area around my breast."
"The trouble was, the pain was getting worse. It got so bad that I couldn't sleep in a bed any more. I slept on the sofa, popping painkillers like they were Smarties. I really overdid it, but the pain was overwhelming. Eventually, my skin started to bruise, and by now I was terrified."
Both bruising and constant pain are two symptoms to look out for when it comes to breast cancer.
"In denial"
She explained that she had almost used the pandemic as an excuse not to get checked (something many of us have also been guilty of) before realising she could no longer put it off. "I'd been staying at my mum's through lockdown, but Covid wasn't showing any signs of going away, and it was just getting worse," she explained.
"One day I woke up realising that I'd been in denial. Yes, there was a lockdown, yes, there was a pandemic, but it was almost as if I'd been using that as an excuse not to face up to the fact that something was very wrong."
View this post on Instagram
"All through the tests, I was, of course, praying that it wasn't cancer. I think the fact that what I had was so painful gave me some hope it might not be. I'd read that cancer lumps are often not painful, which is why I was hoping against hope that what I had was just a cyst of some kind," she went on.
She has urged women to check their breasts and not ignore any changes.
Back in August, after revealing her diagnosis, the singer said she was staying positive and fighting as hard as she could.
"I'm currently undergoing weekly chemotherapy sessions and I am fighting as hard as I possibly can."
She has been met with an outpouring of support online since, adding that publicly revealing her diagnosis was "scary" but was also "the right thing to do". She said the support she has received has been incredible: "I've been inundated with lovely messages from my fans. I'm grateful beyond words for that."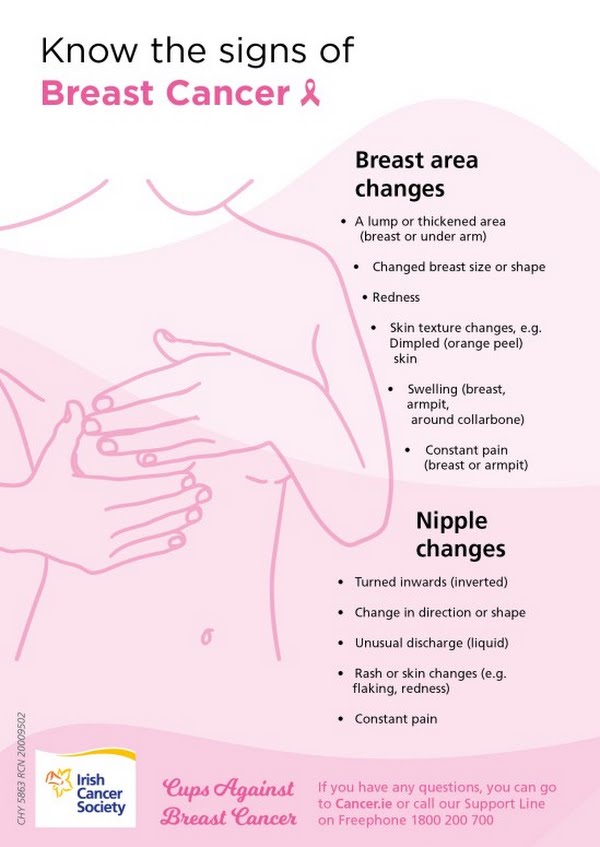 "My lump was initially missed"
Reading Sarah's words literally make me ache; I found a cyst the last week of November last year and then 10-days later, a second lump. I dismissed it initially, it was probably nothing. But then, the worry set in and I went to get checked. The second lump was initially missed by one GP and only found when I went for a follow-up check "just to be sure." It was almost a month before the second lump was checked and another three weeks before I got referred privately to get it seen.
I'll never forget the anxiety. Every time I moved I sensed the lump. Both, as it turned out, happened to be cysts. One which I had removed and the other which eventually dissolved, three months after it appeared, but like Sarah, I brushed it off. It took over two months before I knew I was in the clear and even then, prior to this, I was ignorant when it came to looking out for symptoms.
I was never great at checking my breasts. I'm in my early thirties but was never breast aware and this is despite the statistics: Breast cancer is the second most common cancer among women in Ireland, with over 3,000 diagnoses being made every year. Approximately eight women are diagnosed with the illness every single day.   
The bravery in Sarah speaking out is that it encourages us to do the same. It makes us aware. Know the signs and importantly, how to check your breasts at home. No one knows your body as you do, so also don't be afraid to get a second opinion as I did.
Things to be aware of
The Irish Cancer Society says to look out for the following symptoms:
A change in size or shape – it may be that one breast has become larger than the other.
Changes in the nipple – in direction or shape. Is it pulled in or flattened?
Changes on or around the nipple –  is there a rash, flaky or crusted skin?
Changes in the skin – dimpling, puckering or redness.
'Orange peel' appearance of the skin caused by unusually enlarged pores.
Swelling in your armpit or around your collarbone.
A lump, any size, or thickening in your breast.
Constant pain in one part of your breast or armpit.
Remember, when in doubt, always seek further advice from your GP or local healthcare practitioner. More information can be found at Cancer.ie and MarieKeating.ie.