Take a tour of Wendy Crawford's eternally enviable home and Temple Bar store, Scout
---
Forget fleeting trends – a strong personal aesthetic leads to a much more organic evolution, as Wendy Crawford's eternally enviable shop and home prove.
If you haven't been to Scout – Wendy Crawford's store in Dublin's Temple Bar – recently, it's one to add to your must-visit list. A recent refurb with interior designer Stephanie O'Sullivan means her edit of clothes and homewares now sits within a refreshed layout and a new soft, earthy palette.
Having been in the space since 2014, Wendy explains that she had always wanted to put her own stamp on it, but the pandemic gave her the push to put plans in motion. Online sales grew rapidly, and stayed high even once doors opened again, so the shop needed to function differently. "I wanted more space, I wanted it to be lighter, and we needed a three-metre-long counter so that we could process online orders at one end and serve our customers at the other," she says.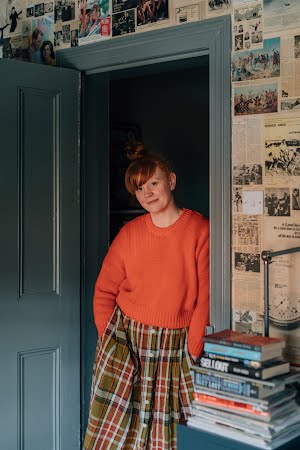 However, this accommodation of the online business has only enhanced the experience for in-person customers. "People are more considered about when they decide to go into town now, so we want them to enjoy the space," Wendy says. It's one that still feels true to Wendy's distinctive style, like a natural progression rather than any radical overhaul.
Her collection of vintage furniture used to display stock works perfectly with the new design. It was in fact vintage clothes that she initially sold in the shop, heading off to Paris and Berlin to pick up stock. "Gradually, it was getting harder and harder to find really beautiful vintage, because it became oversaturated in terms of buyers," she explains. "So I decided to cut in a few more contemporary pieces alongside it. A lot of the labels that we stock are heritage in feel and look anyway, so it all sat nicely together."
From there, the shop evolved to its current curation of timeless, quality clothing, textiles and homewares, but interestingly, Wendy is considering reintroducing vintage, without the pressure of having to have the shop fully stocked with it. "I haven't done vintage in a long time, but I wouldn't mind reintroducing a little bit if I could find it," she says. "It's amazing how everything comes full circle."
Wendy's timeless taste is also evident in her home, a Victorian redbrick in Dublin 8. She and her husband James moved in 10 years ago, and have since been joined by their son, Henry. While they decorated it from top to toe when they moved in, there have been no major changes since, the dark walls and mix of contemporary and vintage pieces looking as good today as they did back then.
Instead, Wendy says, there have just been small changes over the years. "We're quite consistent in what we like, but I suppose you kind of grow up with your house. It evolves with you." Having a child, she says, caused them to pare back some of the decorative items. "We also don't have the time anymore to go around flea markets and vintage stores; we used to pick up pieces all the time. It gives you time to stop and think about what it is that you really want to bring into the house."
She loves to rearrange objects and add in new ones from time to time, especially pieces by Irish designers, while her consistent aesthetic with the shop means that pieces travel between them. "Things like little tables sometimes work for what we have in the shop, so pieces transfer back and forth."
One recent addition has been a midcentury-style recliner for the living room. "I've been kind of pushed off the sofa," Wendy laughs. "My son is nearly seven and he and my husband are quite tall. I was finding myself down the end of a three-seater sofa just completely smushed, so I really wanted a chair of my own."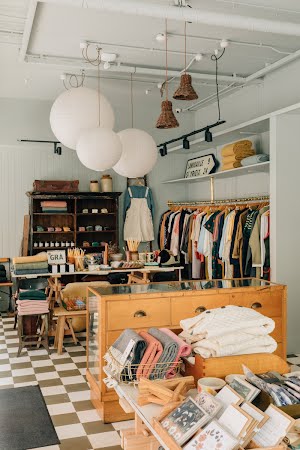 These gradual changes have created a space that feels considered, relaxed, and truly of the people who live in it. Both home and shop prove the power of sticking to your own aesthetic, and allowing time to play its part.
www.scoutdublin.com
Photography Shantanu Starick
This article originally appeared in the Autumn 2022 issue of IMAGE Magazine.