10 breathtaking places you shouldn't miss along the Wild Atlantic Way
---
Named as one of the most Instagrammed road trips in all of Europe, it's not hard to see why thousands of tourists flock to the Wild Atlantic Way each year.
Comprising 2,500km of spectacular coastline, it's undoubtedly one of the country's most beautiful scenic drives. Renowned for its rugged views and lush landscapes, there's plenty to see and do along the way… but, where to start?!
Another summer of Irish staycations is upon us, but the adventures are only just beginning. We've compiled a list of our top 10 must-visits when making your way around the Wild Atlantic Way so you can do the same.
In all honesty, though, narrowing our top picks down to just 10 standout stops was extremely difficult, so this is by no means an exhaustive list. 
Sliabh Liag Cliffs, Co Donegal 
Donegal's answer to the Cliffs of Moher, the cliffs at Sliabh Liag are almost three times the height of their Clare counterpart – making them some of the highest in Europe. Offering uninterrupted vistas as far as the eye can see, you're surrounded by 50 shades of blue on one side and 50 shades of green and brown on the other.
Mullaghmore Head, Co Sligo
Home to Classiebawn Castle, the beautiful stonework contrasts nicely with the towering silhouette of Benbulben behind it. Also a well-known local surfing spot, Mullaghmore Head is the perfect place to don your wetsuit and try to catch a few waves. If you're lucky, the skies will clear and you might just be able to spot Sliabh Liag in the distance. 
Keem Beach, Achill, Co Mayo
Continuously voted as one of the world's most picturesque beaches, Keem Beach in Achill is an absolute must-visit at least once in your life. Famed for its mostly uninhabited white sand shore, it's hard to believe that such an enclave exists anywhere in the world – let alone on our little Emerald Isle. 
Dunquin Pier, Co Kerry 
Nestled snugly along the Kerry coastline, if you don't recognise the name, you'll definitely recognise the photos. Easily identifiable by the narrow winding path that snakes precariously down to the sea, Dunquin Pier is a picture-perfect stop-off along Kerry's Slea Head drive.  
Cliffs of Moher, Co Clare 
A Wild Atlantic Way favourite, the Cliffs of Moher are so-loved for a reason. Yes, the place is usually teeming with visitors but it's still worth adding to your road trip list… if even just for the chance to indulge in a decadent, champagne picnic on what looks to be the edge of the earth. 
Dursey Island, Co Cork
If travelling by cable car is on your bucket list, then a trip to Dursey Island off the coast of West Cork is in order. Home to the country's only cable car, it carries visitors from the mainland to Dursey Island – with the journey only taking around eight minutes each way. A haven for all manner of wildlife, once you arrive, you'll be greeted by migrating birds, dolphins, whales and other such marine life… so, cameras at the ready.
Downpatrick Head, Co Mayo
Named after the country's patron saint, Downpatrick Head is so-called as it is the site of a former church founded by St Patrick. Standing tall above the wide expanse of sea below, it's also where you'll find the famous Dún Briste sea stack. Reaching a height of almost 50 metres, it's one of the Wild Atlantic Way's most famous landmarks. 
Caherconree Mountain, Co Kerry 
Making your way around Ireland's west coast by car means you'll be very glad of a chance to stretch your legs. Caherconree Mountain in The Kingdom will let you do just that, treating you to some breathtaking views in the process. A moderate 6km return trip to the summit, this is the place to go for a bird's-eye-view of Tralee Bay.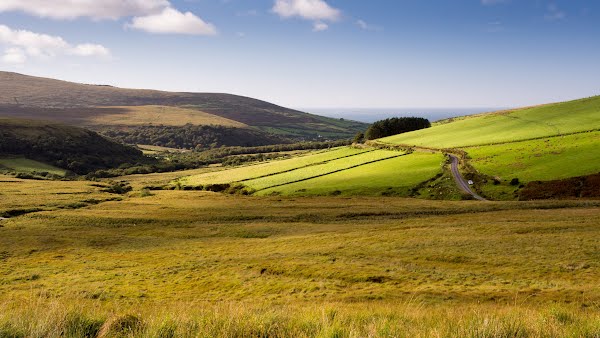 Inis Mór, Aran Islands, Co Galway
The largest of the three Aran Islands, Inis Mór is also one of the most popular – thanks in no small part to visitor attractions such as the prehistoric stone fort Dún Aonghasa. Found on the edge of a 100-metre-high cliff, photos don't do the sheer drop off justice so you'll just have to go see it for yourself. Don't forget to pack your togs and brave a dip at Poll na bPeist or The Wormhole while you're there. 
Glencar Lake, Co Leitrim 
Straddling the border between counties Sligo and Leitrim, Glencar Lake is but a stone's throw from Glencar Waterfall. Previously frequented by W. B. Yeats himself, both the lake and the waterfall's quiet serenity were the source of much inspiration for the poet. A short wooded walk offers different viewpoints with several other waterfalls to be found on the drive to Glencar.