'The biggest challenge we face is taking conflict home': What it's like to work with your partner
Sponsored By
---
Sponsored By
What's it like to work with your partner? We sat down with Kerry Hanaphy and her partner Dr Barry O'Driscoll to find out.
In the early 2010s, Kerry had been considering starting her own business for quite some time. She decided to test the water and began renting chairs around Dublin in 2012, offering lip and dermal fillers – all the while juggling full-time work and single motherhood. It wasn't long before Kerry found success and founded The Kerry Hanaphy Clinic LTD in 2016, with multiple locations to follow.
It was then that she met Barry, owner of a successful dental practice in Co Cork, at an aesthetic conference, where the pair bonded over their mutual interests and, a year later, fell deeply in love. Fast forward to today and Barry has been working alongside Kerry in her clinic for four years and counting, renting a chair as a leading practitioner and offering botox treatments.
But the pair's journey hasn't been all smooth sailing. We sat down with the happy couple to discuss what it's like working with your partner and what they've learned along the way.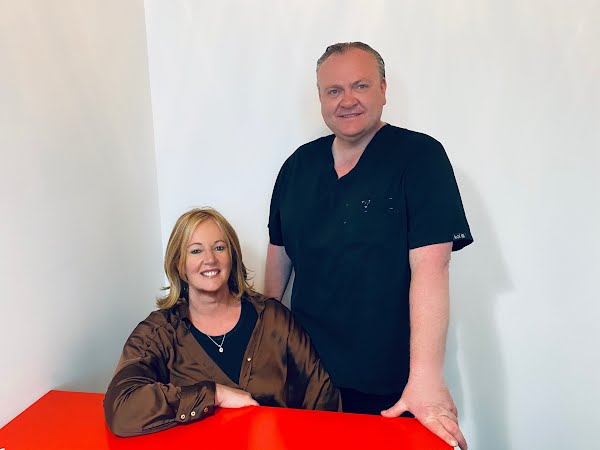 There are many people that work with their partner. Why do you think this is?
"While it seems more common now, medical professionals have been 'power coupling' for a long time. We have lots of friends-of-friends who met in medical school and married thereafter. Working in the same field brings as many opportunities as it does challenges. However, it can be a better work-life balance when you're managing family obligations, financial planning and schedules." – Kerry Hanaphy
What are your different roles within your clinic?
"As the namesake of the company, my role spans many different areas. I work as an aesthetic nurse four days a week and manage the business side of things on the other days. I do everything from staff management, payroll, stock and clinic maintenance, while also constantly upskilling and attending conferences to stay ahead of trends that I can bring back to the clinic." – Kerry Hanaphy
"I work in the clinic as a resident Aesthetic Medical Dentist specialising in personalised anti-wrinkle treatments. My clientele would mostly look for Botox® treatments. I'm also an educator for the KHL Academy, a newly launched aesthetic training centre within the Kerry Hanaphy Clinic." – Dr Barry O'Driscoll
Can you explain how you became business partners? 
"We met each other at a medical conference and instantly hit it off. I was considering launching my own clinic and Barry had a lot of experience in business, so his input was invaluable to me. The conversation of Barry and I working together started out of a need to have a dentist on site in our clinic to offer anti-wrinkle treatments and prescriptions. 
"It was a perfect fit and perfect timing. Luckily for us, Barry agreed to come on board and it's been a great relationship ever since. Having Barry's wealth and breadth of knowledge available to us in the clinic is paramount to our success." – Kerry Hanaphy
What is it like working with your spouse in an aesthetic clinic? 
"It's both challenging and rewarding. It's important to recognise each individual's skill set and nurture that, while offering support in other areas. It's a balancing act and once you get it right, it can be extremely rewarding. 
"We're lucky that we completely understand each other, what drives us, our goals and unique skill sets, so we reap the benefits of a good working relationship and know when to turn off work mode and just be partners. We always make time in the week to unwind with a glass of wine and talk about non-work related topics." – Dr Barry O'Driscoll
What're the positives of working with your partner? The challenges?
"Because we share a working schedule, we get to really balance out our home life. We can easily coordinate time off together that makes us a more effective duo at-home and never miss any of the important moments. The combination of my clinical expertise and Barry's business expertise has really helped the clinic to grow substantially, and we've both been able to teach each other a lot along the way." 
"One of the biggest challenges we face is taking conflict home with us. Working in our industry, we face many challenges, some of which we don't always agree on. This is something that crops up from time to time and, if not managed properly, can end up putting a strain on us both." – Kerry Hanaphy
How do you overcome these challenges?  
"We always try to acknowledge any disagreements as soon as possible. What we've learned is that settling conflicts as soon as they arise stops any conflict from being brought home and interrupting that important home-time together. We've learned to communicate very well so that any spheres of conflict are left behind when we leave the clinic." – Dr Barry O'Driscoll
Any advice for couples who are just starting out or thinking of running a business together? 
"Find the balance of both your strengths and weaknesses so that you can help each other learn and grow.Try to maintain your own identity by factoring in time just for you. Barry sails and I travel regularly, so it never feels like we're spending too much time together. 
Define your roles from the outset so you have a clear understanding of each other and what is expected of you." – Kerry Hanaphy
Do you have any funny stories of your time working together?
"None really spring to mind, but earlier this year our clinic featured in a RTÉ One TV show that followed different sides of the beauty industry. After the show aired both myself and Barry had garnered a lot of attention from the public. When we've gone for dinner or drinks people have come up to introduce themselves to us, which is always an unusual experience, but always gives us a laugh!" – Kerry Hanaphy
What's something unexpected you've learned about each other?
"Something you don't expect to happen when you begin to work alongside your partner is how much respect and admiration that you develop for one another. When you witness your partner's skills put to use, you become each other's biggest cheerleaders, and that brings another level of desire to be successful." – Dr Barry O'Driscoll
---
The Kerry Hanaphy Clinic specialise in all things skin. Their trusted doctors, aesthetic nurses and skincare experts offer a range of the most innovative and non-invasive aesthetic treatments available – including: anti-wrinkle treatments, dermal and lip filler, profhilo, pdo threads, mesotherapy, PRP and IPL therapy. The clinic has two locations that are conveniently located, on trendy South William Street and also in Citywest Shopping Centre.