Sneak peek: Stylist Sarah Rickard on how to wear the Simone Rocha x H&M collection
---
Ahead of one of the most anticipated collaborations in years, stylist Sarah Rickard got the chance to check out the Simone Rocha x H&M collection and pulled together some dream-worthy looks for us.
"It is a monumental moment for Irish fashion and Irish fashion designers," says Sarah Rickard of H&M's decision to choose Irish designer Simone Rocha for their latest collaboration. For Sarah, getting the chance to style the designs felt like a no-brainer. "I'm in awe of everything Simone has achieved but not surprised. She is an exceptional talent and brings so much to each item of clothing she designs."
Sarah admits that the desire to work with the new collection also was also a personal one. "The first fashion show I was invited to at London Fashion Week in the early 2000s was John Rocha's… As a young stylist getting to go into John's studio on Ely Place and witness the inner workings of the brand was such a thrill."
The Collection
Made up of tulle dresses, puff sleeves, bubble cardigans, Broderie Anglaise detailing, ornate accessories and classic wardrobe staples, the Simone Rocha x H&M range is a collection that's been designed to wear together, combining the 60-piece womenswear edit to create infinite options, which is a veritable playground for a stylist.
"The collection is quite incredible in real life," admits Sarah. "Traditional yet so 'of the moment', from exaggerated shapes, puffed shoulders, intricate detailing, the use of tulle, embroidery, tweed, Aran knit. You could not mistake this collection for anyone else's – it is pure Simone." Sarah also notes that while the collection is very accessibly priced (ranging from €24.99 to €249), the quality is impeccable. " From what I can see she hasn't scrimped on anything."
Layering
Sarah worked with photographer Eoin Greally, Aidan D'arcy and Orlaith Shore on hair and make-up to create a series of looks on models Elsa and Masem from Not Another Agency.
"As a stylist layering is my signature move, I have always been fascinated with layering and how different textures and shapes work together so this was heaven for me," says Sarah. And it's clear this collection offers plenty of versatility. For one look, Sarah paired a black tulle blouse (€59.99) with a stunning sequinned bustier (€79.99) and a textured black skirt (€69.99). "Every time I added a layer onto another piece it just gave the outfit a totally fresh look."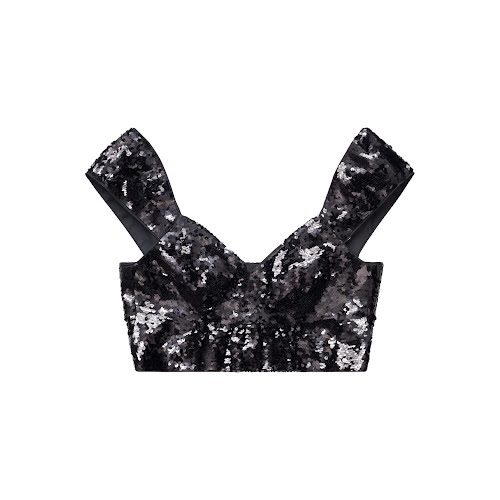 Sequinned bustier, €79.99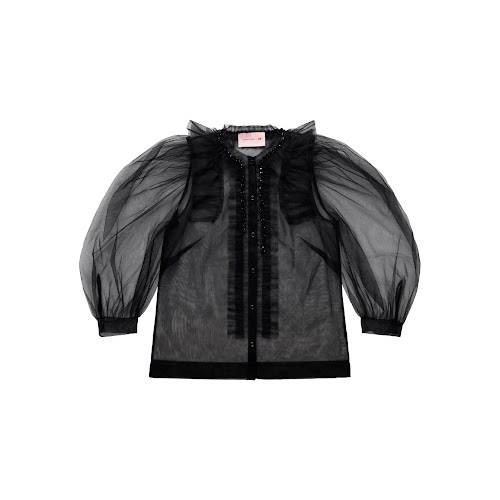 Tulle blouse, €59.99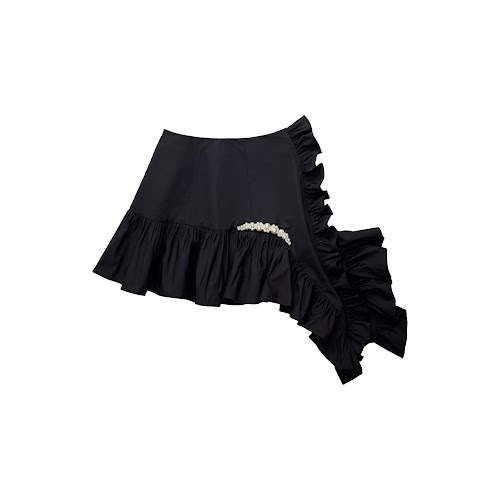 Skirt, €69.99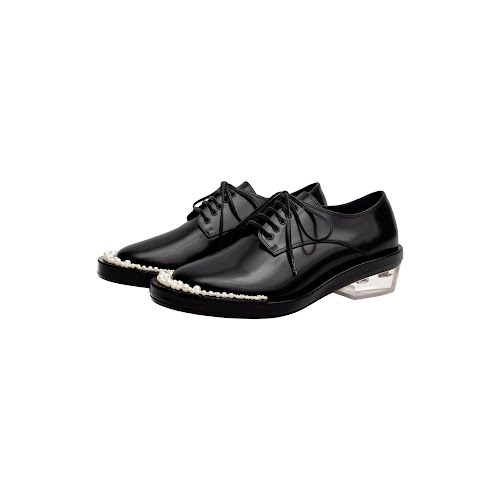 Pearl-encrusted brogues, €249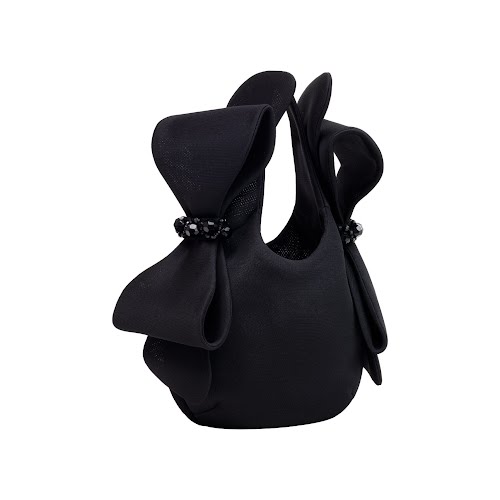 Black bag, €59.99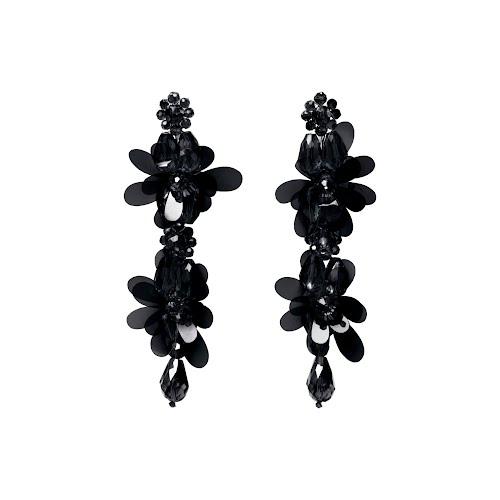 Sequinned black drop earrings, €39.99
Key to the success of this layering Sarah notes is the lightness and cut of the fabrics. "The airiness of the tulle blouses means they can be worn alone or under a sleeveless dress or knit vest beautifully. The tulle dresses could easily be worn over tees and straight-leg jeans with boots."
Set Your Alarm
Sarah admits she had to try on a few pieces herself (head to her Instagram Stories on Wednesday for a peek) and already has her eye on some pieces for Thursday's drop. "Honestly…I have a list," she grins. "The embellished Aran knit, the black floral print dress and sequin bustier, the pearl-encrusted brogues and the pearl collar white shirt."
However, Sarah knows she'll be lucky to get her hands on any piece for this collection – it's expected to sell-out in record time. 
So what should you do if there's something you absolutely have to have from Simone Rocha x H&M?
Make sure you've got you're up and have your card ready. The collection will drop at

8am on Thursday, March 11

so set those alarms.

It's best-practice to have a H&M account already and be logged in. It saves the kerfuffle of "do you want to sign in or create a new account". Remember, there will be a lot of people on the website and this will inevitably slow things down, so anything to speed up the process between the "add to basket" and "pay now" buttons will help.

If there's one item you really want and one you maybe want, order the one you want first, pay for it and then loop back. It's not yours until you get that confirmation email, so don't dawdle with it in your basket.

Have the site open on multiple devices and work simultaneously. Much like buying in-demand concert tickets, the more devices you have open, the better chance you have of getting what you want. Yes, this is what will cause that aforementioned slowness, but this is every person for themselves. Do what you need to do.
And finally, happy shopping! As Sarah says, it's really is an incredibly special collaboration so we hope you're feeling inspired and manage to get your mitts on something you love.