The Dyson Airwrap has had a redesign for easier, faster styling with new attachments and without extreme heat.
Three years ago, Dyson reinvented hairstyling with the Airwrap styler, revolutionising hair technology beyond the hot tools that made up the market, allowing us to effortlessly style our hair to a salon standard, from wet to dry, without relying on extreme heat or causing heat damage. The beauty industry and it's many worshippers got lucky the day that Dyson decided to shift its focus from vacuums and fans to hair tools, and the Supersonic and Airwrap have been cult heroes since they launched, with four Airwraps sold every minute last year.
Three years later, Dyson have revisited their technology to bring us the Airwrap multi-styler, for faster, easier, and superior styling and still without extreme heat. The redesigned Airwrap has new and re-engineered attachments, an enhanced airflow, new accessories and colours and an even more bespoke approach tailored to suit exactly your hair type.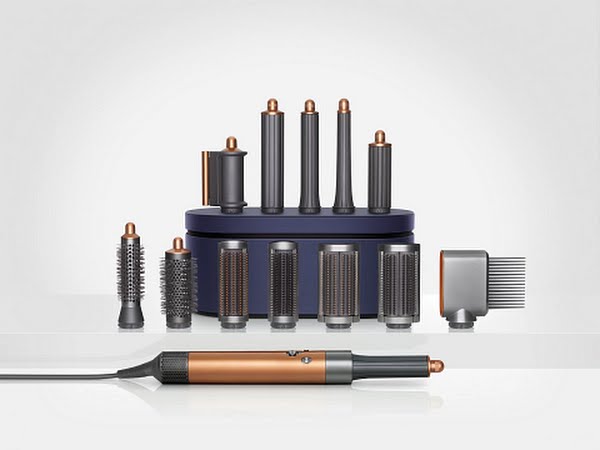 The first thing to know is that if you are already the lucky owner of a Dyson Airwrap, you can upgrade to the new attachments while keeping your original machine, as all the newness is happening inside the attachments.
First up in new attachments are the styling barrels. You no longer have to use two barrels, thanks to the new direction change barrels for faster and easier curling. It works by a rotating cool tip, that lets you style your full head with just one barrel that creates clockwise and anti-clockwise curls and waves, without the need to switch attachment.
The next new attachment of note is the Coanda smoothing dryer, which works as both a powerful dryer that takes your hair from wet to damp pre-styling, and also works like the Supersonic Flyaway Tool, hiding your flyaways in one swipe for an even smoother finish, just like when the hairdresser smooths your hair with a round brush and concentrated hairdryer attachment.
The brushes have had a revamp too, with more air vents to improve the Coanda effect for increased airflow and better control, meaning you can now dry your hair even faster and get a straighter style.
"The Dyson Airwrap is a styling revolution and unlike any other tool – back when it first launched and still today," says Jen Atkin, founder of Ouai, celebrity hairstylist and Dyson Global Styling Ambassador. "Now, the tool does even more, allowing owners to personalise to suit their styling preferences, personalised for their hair type. You can ensure every attachment in your box delivers your desired style, specific to your hair type. Something you thought couldn't get better, just did."
Last but certainly not least, the Airwrap multi-styler comes in four beautiful colourways – copper nicker, nickel copper, fuschia nickel and Prussian blue and rich copper.
The new Dyson Airwrap multi-styler is available from the end of March, priced at €549.
Photography by Dyson.