Supermodel Naomi Campbell shares a look inside her ten-minute beauty routine
---
Naomi Campbell has recently been named the face of Pat McGrath Labs, and just turned 50, so it was high time we got a look into her beauty routine on Vogue's Beauty Secrets YouTube series.
The model, charity founder and most recently, YouTube legend, gave us a peek into her Pat McGrath laden make-up favourites and her skincare routine, which you'll absolutely want to adopt once you see how good her skin looks at 50.
She starts off with a spritz of La Roche-Posay's Serozinc spray, €11, which is a zinc sulphate toning mist for blemish-prone, oily skin, followed by a professional-grade micro-needling roller she got from her doctor. "The needles are a little extra longer," she says, as she rolls her cheeks. "I have to be a bit careful cause it's very sharp and they're extra long. Don't go too close to under the eyes with this. I'm doing this because I'm going to put on a serum and I want it to go really into my skin."
GloPRO Microneedling Regeneration Tool, €229
Next step is a serum that we don't get to see ("I like the skin to be shiny and dewy, I don't like the skin to be matte and dry, I think it ages you") followed by another serum she hand mixes, made of vitamin E oil, hyaluronic acid and what, from a brief flash, appears to be Dr Sebagh's Pure Vitamin C Powder, €100.50, applying it to her face and neck while massaging upwards.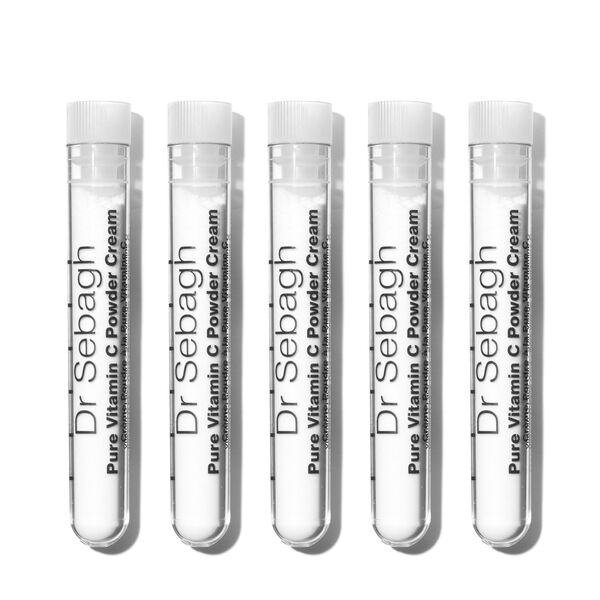 Dr Sebagh Pure Vitamin C Powder, €100.50
Beginning with concealer, she uses Pat McGrath Labs Sublime Perfection Concealer in MD23, 24, 25 and 26, €31, onto different sections of the face "because dark skin is that way – you can't use one colour all over," and blends it all in with Ulta Beauty's Wedges, €2.64 for 32. "I don't like too much powder because I don't like powder to look like a mask," she says, applying a tiny bit on a sponge around the nose and mouth and under the eyes.  She steers clear of brows: "I'm really bad at eyebrows. If you get it wrong it can be a disaster for your whole face," she says. "So I'm not going to touch my eyebrows today. I'm just going to brush them and leave them because I know I will make a mess!"
Nars Contour Blush Duo in Gienah, €40
Next up is Nars Contour Blush Duo in Gienah, €40, which she uses to contour her cheekbones, jawline, nose and as an eyeshadow base, followed by Pat McGrath Labs Skin Fetish Sublime Skin Highlighting Trio, €54.27, down the nose, on her cheekbones, on the centre of her forehead and chin. Finally, she adds some on the inner corner of her lower eyeliner: "take a small brush, this is a little trick that I learned for sometimes when you're really tired Go right in the corner, it gives you a little pop of looking like "oh! I'm awake!" To finish the eyes, she brushed on the burgundy eyeshadow from the Pat McGrath Labs Mothership VII Divine Rose Eyeshadow Palette, €133, with a shimmering spotlight in the centre of the eye and Pat McGrath Perma Precision liquid liner, €30.15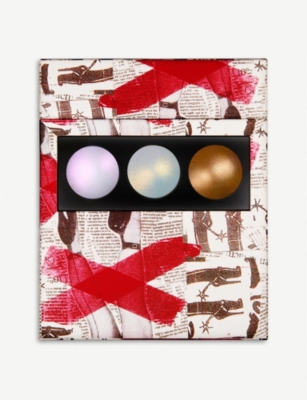 Pat McGrath Labs Skin Fetish Sublime Skin Highlighting Trio, €54.27
"When I was younger I had so much make-up on because I thought I needed all this make-up," she shares, "and that that was how a model should be. It was all in my mind. I was thinking I had to cover every inch of my skin. Things have changed."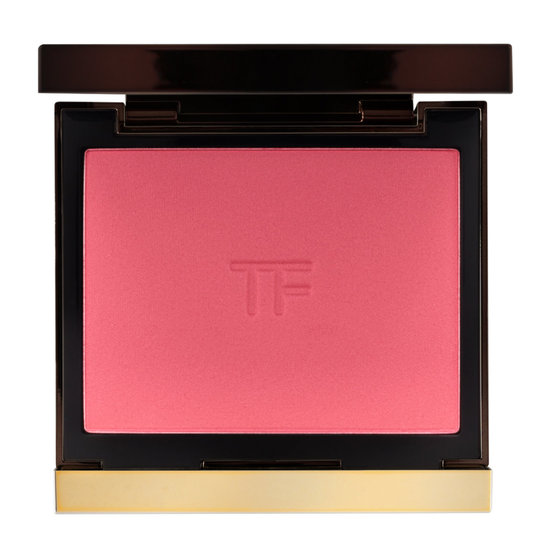 "One of my favourite blushers ever is by Tom Ford, it's called Zero Flush. It's very pink but it doesn't come out that way on the skin. It's very light but I love this colour," she says, brushing it high on the cheeks with a large fluffy make-up brush.
Related: Watch Rosie Huntington-Whiteley's step-by-step tutorial for beach waves
For lips she uses the Pat McGrath Labs Permagel Ultra Lip Pencil in Deep Void, €29, topped with Pat McGrath Labs MatteTrance Lipstick in Omi, €42.21, with gloss on top. Finally, a touch of Pat McGrath Labs Skin Fetish Highlighter and Balm Duo in Bronze, €53 on top of the cheekbones.
Pat McGrath Labs Skin Fetish Highlighter and Balm Duo in Bronze, €53
That's a grand total of €679.77, not including the price of the microneedling roller, four serums, make-up brushes and powder, the products we don't see or know the brands of. Watch the tutorial on YouTube below.
Photography by Vogue.
Read more: Naomi Campbell at 50 – 10 iconic moments in fashion
Read more: Inside Naomi Campbell's extra coronavirus care routine
Read more: Kate Moss shares a peek inside her beauty routine