Cork-born singer-songwriter Lyra knows she's destined for greatness, and is not afraid to put the hard work in to get there. She tells Tony Clayton-Lea about her dramatic style, and why her family will always come first.
It goes without saying that we are very impressed by Lyra's purple, pointy-nailed, long-arm gloves, which look for all the world as if they belong in Cruella de Vil's wardrobe.
It's a relief, however, to know that the wearer of said gloves isn't anywhere near as menacing. In fact, Lyra is what you might safely call a down-to-earth sweetheart. We know this because she is halfway through her IMAGE photo shoot and has deliberately divested herself of an extravagant designer configuration and slipped into a less restrictive sports top and sweatpants. For someone on the cusp of much bigger things, you might imagine a few airs and graces floating above her head, but the Cork woman (in the small town of Bandon, she is known by many as Laura McNamara) is fully aware that the only place fit for ego to shine is on stage.
While we're on the subject of shining, Lyra has been tiptoeing around the spotlight for several years, but it is only in the past few that her obvious talents as a singer and performer have been noticed. She released her debut single in 2016, and since then has embedded herself in the Irish music landscape as well as undertaking strategic endeavours internationally.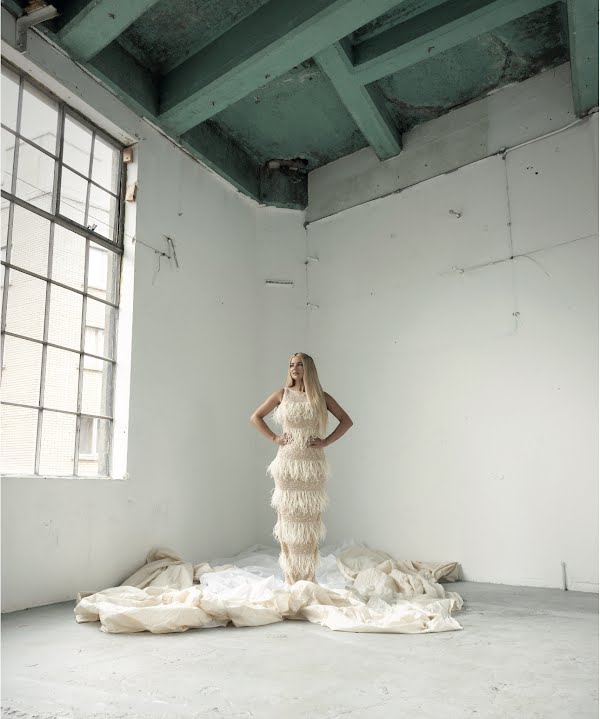 Now, after two years of you-know-what, Lyra is back with as much flair as her gloves. New songs are lined up, gigs are scheduled, and downtime has flipped to no time. For Lyra, it is presently all systems go, and you can sense that even sitting down between photography sessions can be viewed by her as taking a breather. "I'm not very good at the breathing bit," she admits. "I like to be busy all of the time and I feel guilty if I'm not doing something that's going to further my career, so I try and do extra." She looks around her, pointing to casually discarded designer outfits that she will later wear like a prom queen.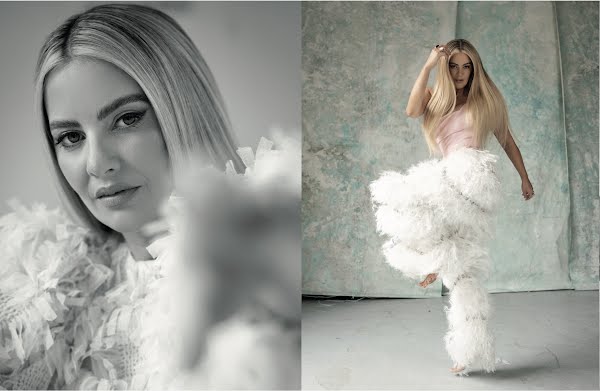 "Today, I could have been happy enough with four looks for the shoot, but no, I had to bring along 17!" That's the thing about Lyra – when it comes to stage wear, there is no understating. Where, we ask, did her fashion sense emerge from? Some performers dress down, but she tends to do the exact opposite. "Oh, we're very fashionable down in Bandon, you know – me and Graham Norton, classy dressers, like peas in a pod!"
When she was growing up, she remembers, she always wore matching hats and gloves with her dresses. She loved being extra creative, and "being a bit out there. As an artist, I think if I can't push the boundaries a little, then what's the point? I'm performing when I'm on stage, and I want to feel that I'm performing. The outfits I wear make me feel like I'm having an amazing out-of-body experience. I love that – it gives me confidence and represents me as a person. Sometimes you listen to the songs, the music, but you don't get to meet the person behind them. If I bring my fashion sensibility into the frame, then I feel they're getting more of the real me, more of who I really am." Fashion, she notes with some authority, is an endless cycle of creativity, design and personal statement. "I love fashion so much. I spend a lot of my time scrolling through the likes of Vogue Runway, checking out which designers around the world are emerging. It's definitely art on the body, and it opens my mind to how fashion can go so much further." She pauses for breath and lowers her eyes. "Says I, sitting here with fingernails stuck to my gloves!"
The impression one receives from Lyra and her passion for fashion is that she would trade many things in her life for the Holy Grail of modelling: complimentary designer clothes (or at the very least, temporary loans). Pragmatism kicks in at this stage in her career, she says, because it has to. "I'm not so well known at the moment," she reasons, "and some designers won't loan out their designs to me for certain things, so if I really want a piece, I'll save up for weeks and weeks and buy it. Some designers, however, especially up-and-coming ones, gladly loan pieces to me. That's just the way it goes, and my approach is that if I can't get some designers to work with me now, then when I'm a bigger name I'll get back to them. When I'm bigger, they'll be throwing stuff at me – bring it on, I say, and save me some money!"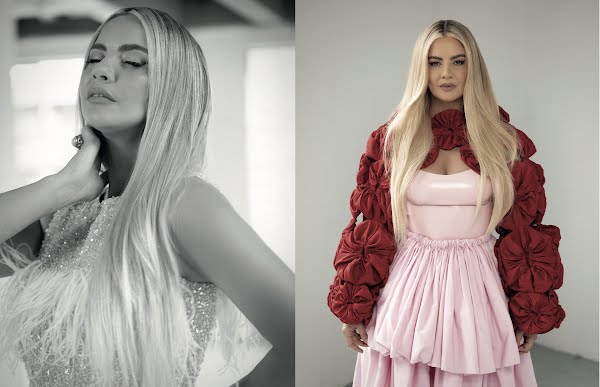 The irony isn't lost on her. "I have to save and save to buy pieces from great designers, yet when you're much better known and actually have money, designers give you clothes for free. How does that work?"
That's a tricky question to answer, but Lyra has the patience to wait until designers start to form an orderly queue. She is on top of her game right now and, as 2022 progresses, looks set to further consolidate her position not only as Ireland's most hotly tipped singer but also as a loyal and loving friend and family member. "As much as I can't be home as often as I'd like, and the fact that I miss a lot of my friends, my family, and the big moments in their lives, I will always try and make it up to them in some shape or form. Why? Because I feel they are my priorities. If I suddenly get famous, I won't begin to hang out with celebrities."
Lyra flaunts her fancy fingernails and shakes her head. "They won't be my new best friends, that's just not going to happen."
LYRA PERFORMS AT THE FOLLOWING OPEN-AIR FESTIVALS IN IRELAND THIS SUMMER: Kaleidoscope Festival, Russborough House, Co Wicklow, June 24-26. Indiependence, Mitchelstown, Co Cork, July 29-31. Electric Picnic, Stradbally, Co Laois, September 2-4. Lyra's new single, "Edge of Seventeen", with John Gibbons, is currently on release and is available on the usual streaming platforms.
Styling by Lyra. Lyra photographed by Evan Doherty in May 2022, in Dublin, for IMAGE. Hair by Katrina Kelly Make-up by Sandra Gillen. Shot on location at The Chocolate Factory, Dublin. This article originally appeared in the Summer issue of IMAGE Magazine.