Real Weddings: Sophie and Darragh's at-home garden party Dublin wedding
---
When the pandemic scuppered all their premarital plans, Sophie and Darragh decided to take matters into their own hands, with an at-home garden party and personal, creative touches thanks to a few talented friends.
THE COUPLE
Sophie Teyssier, former Senior Social Media Manager at IMAGE and Darragh Coyle, Artist.
THEY LIVE
in Dublin.
THE VENUE
Radisson Blu St. Helen's Hotel, Dublin.
PHOTOGRAPHY
Katie Farrell Photography.
THEY MET
At NCAD where they both studied.
THE PROPOSAL
We booked a few European holidays during the summer of 2019, which looking back now, worked out in our favour considering what the following two years would bring. We spent a long weekend in Paris meeting up with friends and family, they would later tell me that Darragh had been trying to propose the whole time we were there but couldn't find the right moment!
Then the following month, we went to Paxos, a beautiful Greek island and again, Darragh tried to propose in a couple of locations but I supposedly kept ruining the moment with my usual frantic chatter. One morning we were lazing by the pool in our Airbnb and he got down on one knee next to my sunlounger and proceeded to read out a long love letter he had been keeping for the 'right moment'. He proposed with a little pearl ring which he bought on the island, it came in a small velvet pink box. We spent the rest of the day on an absolute high video-calling everyone at home and celebrating over G&T's!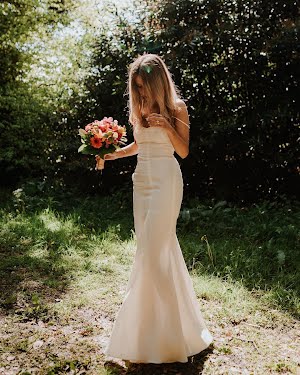 THE DRESS AND THE SUIT
We were due to get married the summer of 2020 but with Covid on the horizon, our plans ended up changing. I had intended on designing my own wedding dress and getting it made specifically in a 60s' style. I had met with a number of dressmakers but in the end, it became too complicated with restrictions to have fittings.
I decided I'd wait and find a dress closer to the wedding day (which was still TBC!) I am a huge Jacquemus fan and when I watched his 'L'Amour' Summer 2021 show online, I knew immediately I wanted the light beige linen La Robe Camargue dress. Once it became available, I bought it directly from his website. Darragh really wanted to wear colour on the day and he was lucky enough to find the most gorgeous blue Marco Capelli suit in Best Menswear. The team at the Dundrum store were extremely helpful during lockdown.
THE CEREMONY
We moved our wedding from 2020 to 2021, naively thinking that perhaps things would ease a little by then. With all of our plans up in the air and with rising restrictions, we were changing details up until the last moment. In our original plan, we were going to stay at the Radisson Blu in Stillorgan and have our wedding in a separate Dublin venue. That spring, the venue told us that they were no longer able to cater for such a small wedding, so we decided, why not actually get married in the Radisson and have a small garden party afterwards at home in Dun Laoghaire instead. It was the best decision we ever made, the team at the Radisson were unbelievable throughout and we had the most beautiful ceremony surrounded by our closest friends and family.
THE RECEPTION
Our reception took place in Darragh's family home in Dun Laoghaire. We stayed up decorating the house the night before praying the weather would cooperate because we were seriously relying on the garden as our reception come party space!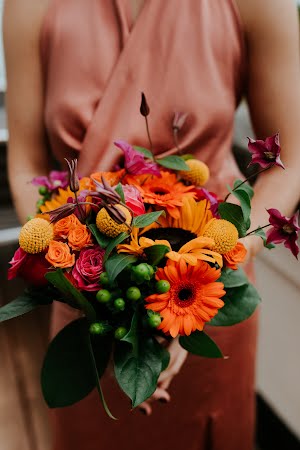 It was truly a DIY job but honestly, it worked out so well, I wouldn't change a thing. We bought new flower pots and set up a marquee in the garden. I went on an Etsy spree and we hung glittered balloons and white linen/ paper decorations throughout the home and patio area.
THE ENTERTAINMENT
Our wonderful friend Alex took over as the entertainment for the ceremony and party! He happens to be an incredible musician and performed my favourite song 'River' by Leon Bridges as I walked down the aisle. (His cover is better than the original and I stand by that!) He then took over as our party DJ and truly was phenomenal. (Thank you Alex!)
THE DECOR
We really didn't have control over a lot of things because of the time we got married in. So I really kept a close eye on all of the details, hoping that with some curated elements, the wedding would have that special flair despite not having a lot of things that pre-covid/ traditional weddings might have. We wanted the overall theme to feel really joyous and summery and I wanted a lot of colour, as did Darragh. Everything from the flowers to the bridesmaid dresses to the groomsmen's suits were deeply considered. Our friend Rose, a talented pastry chef, helped us design the wedding cake of our dreams; lemon, mascarpone and elderflower buttercream. Decorated with edible flowers, not only was it delicious but it also acted as a beautiful centrepiece throughout the day.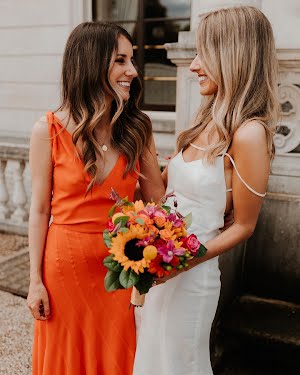 I asked all of my best friends to be bridesmaids on the day and thought the more girls the merrier! It really felt so special having them all by my side. I told them the bridesmaid dress theme was going to be 'Aperol Spritz' and I asked them to find a shade or patterned outfit within that theme.
We had a WhatsApp group where we brainstormed all the different looks to make sure everyone balanced each other but in truth, they're all super creative women with amazing taste, so it fell together without any effort on my part!
My sister-in-law and talented friend Keelin designed our wedding invitations and rosé wine labels. Darragh illustrated a little image of him and I which Keelin incorporated into her final designs. The wine was supplied in clear bottles from Frank's Wine Bar on Camden Street. These extra little details really helped tie everything in together.
THEIR TOP TIPS
Enjoy every moment and make sure to take time to catch up together at some point during the day because it really does go by in an instant!
THEY WISH THEY HAD
Stressed less ahead of the wedding! Everything always comes together in the end.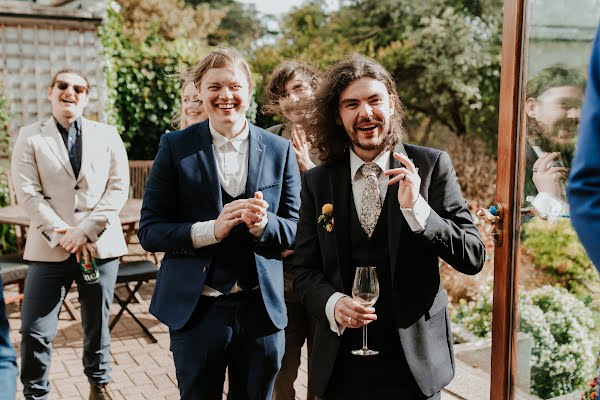 THEIR BEST MOMENTS
The whole day was magical!
FIRST DANCE SONG
God Only Knows by The Beach Boys.
THE CREW
Bride's Dress: Jacquemus. Bridesmaids' Dresses: Each their own. Bride's Shoes: Jimmy Choo. Groom's & Groomsmen's Suits: Marco Capelli suit in Best Menswear, Dundrum. Cake: Rose Ponsonby, Pastry Chef, Tiller & Grain. Graphic Design Features: Keelin Coyle. Flowers: Adonis Flowers. 
See more photographs from Sophie and Darragh's wedding in the gallery below.
Photography by Katie Farrell Photography.
Want to see your Real Wedding on IMAGE.ie? Email [email protected] with the subject line 'Real Wedding'.
This article was originally published in August 2022.