Real Weddings: Chris and Kathryn's at-home wedding in Belfast
---
When Chris and Kathryn's wedding venue caught fire just days before their big day, they had to move everything to their living room in South Belfast. But, they wouldn't have had it any other way.
THE COUPLE
Chris Blunt, enterprise security architect, and Kathryn Lynas-Blunt, cloud security software engineer.
THEY LIVE
in Belfast.
THE VENUE
our living room in South Belfast.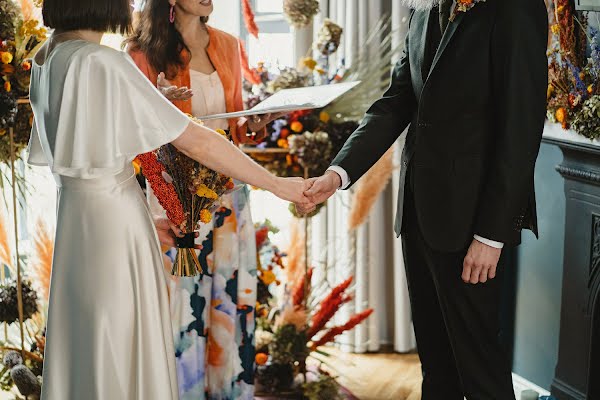 PHOTOGRAPHY
Deci Gallen, Simple Tapestry.
THEY MET
at a security conference in Melbourne, Australia.
THE PROPOSAL
Before the pandemic, we were still doing long-distance with me [Kathryn] in Belfast and Chris in Wellington, New Zealand. I flew out to visit Chris and landed three days before the country went into lockdown. We ended up spending six weeks there before moving back to Northern Ireland together.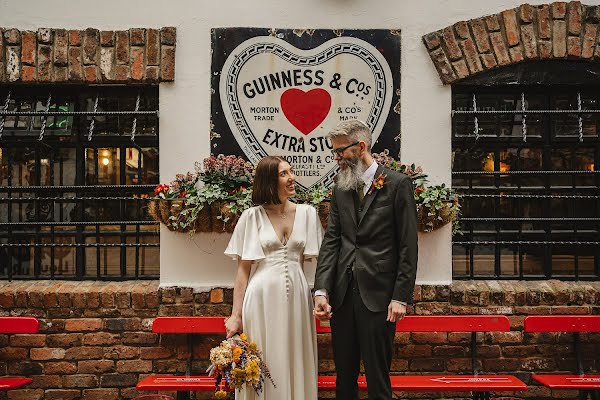 Since we were only allowed out of the house to go food shopping or for exercise, we watched a lot of 90 Day Fiancé to keep ourselves amused. One night, Chris very casually said: "We could do that you know", and that was us.
We didn't have the opportunity to go ring shopping at the time, so Chris fashioned a ring from some green wool we had in our apartment. This was left over from my failed attempt at learning how to knit during lockdown. The green tie lasted until its replacement arrived three months later.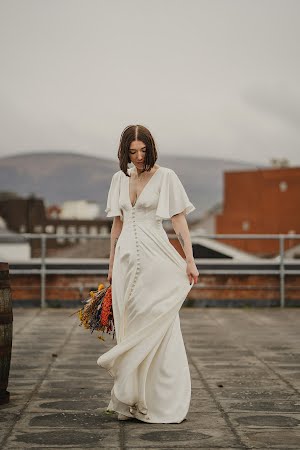 THE DRESS AND THE SUIT
After scrolling through Pinterest for inspiration and not finding anything that spoke to me, I eventually googled: "Is it socially acceptable to get married in your Doc Martens?" and stumbled upon E&W Couture, based in Cardiff. Their focus on breaking bridal stereotypes and sustainability fit perfectly.
After a couple of appointments were postponed due to Covid, Chris and I went shopping together and I bought Edith, the very first dress I tried on. As everything in their studio is made to measure, we went back for fittings over the course of the year, seeing the dress evolve from a calico pattern into a wood pulp satin.
Chris always wanted a bespoke dark green suit, and we visited The Cut tailoring in Belfast. When we arrived for our appointment, Patricia had already found the perfect fabric. She guided us through picking every tiny detail from the shape of the collar and pockets to the lime green lining of the waistcoat and jacket. Both of us wore custom Doc Martens on the day, painted by our close friend and artist Leanne McWilliams.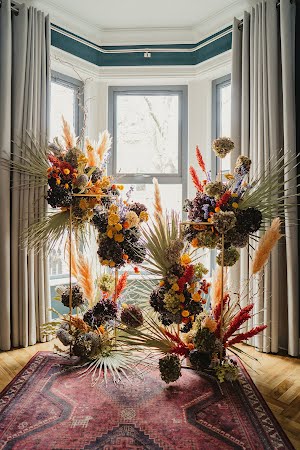 THE CEREMONY
We were lucky enough that we didn't have to reschedule our wedding due to Covid and had initially planned a micro wedding at the Babel rooftop bar in the Bullitt Hotel. What we hadn't prepared for was this venue catching fire three days before our ceremony.
Between our friends and family and our amazing suppliers, we managed to replan everything in 48 hours. Our living/dining room became the ceremony venue, the kitchen became the bar, and we walked down our stairs together instead of up the aisle. It turned out perfectly, and we wouldn't change a thing.
THE RECEPTION
After our ceremony, we went for Mediterranean tapas at one of our favourite restaurants, Buba Belfast. To this day, everyone still raves about the food. We've gone back twice since for more sweetcorn wings.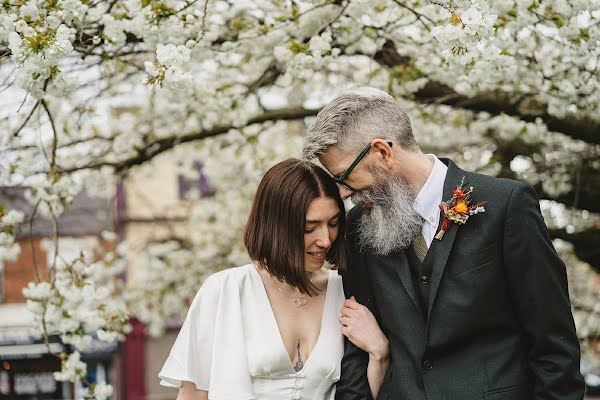 We booked Mr Toms in Lavery's at the very last minute for our evening reception. There was some great music and serious dancing. I got to pour a pint of Guinness in my wedding dress too.
THE ENTERTAINMENT
The very lovely and insanely talented Rachel Toman soundtracked our day. Tucked in the corner in our living room, she played as our guests arrived and we could hear her as we got ready in our bedroom upstairs. She kept our spirits up while we walked around the Cathedral Quarter getting our photos taken afterwards.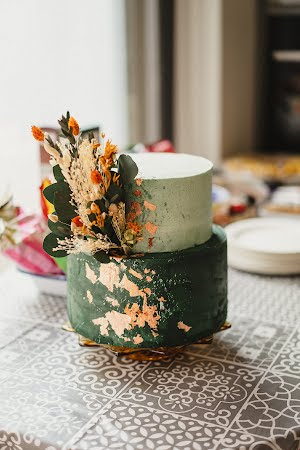 THE DECOR
We were lucky enough to have just finished renovating our home in the months leading up to the wedding. We moved all our furniture into the office upstairs except for our Zareen Oxblood Red rug from Ruggable.
The colours for our wedding came from our favourite Wes Anderson film, The Darjeeling Limited. Its colour palette has a lot of vibrant blues, greens, yellows and oranges.
Floral Earth came to the house for a second consultation the day before the wedding to rejig our flowers to fit the living room. They added so many extra touches that really made the space feel special, from the arrangements on the fireplace to the dried oranges they'd placed on our front gate.
THEIR TOP TIPS
All our flowers were dried which meant that Floral Earth could come back the next day and make our arrangements into bouquets for our guests. Taking time for just the two of you throughout the day is so important. It all happens very quickly. We went back to the house between dinner and the reception and had a breather with a cup of tea.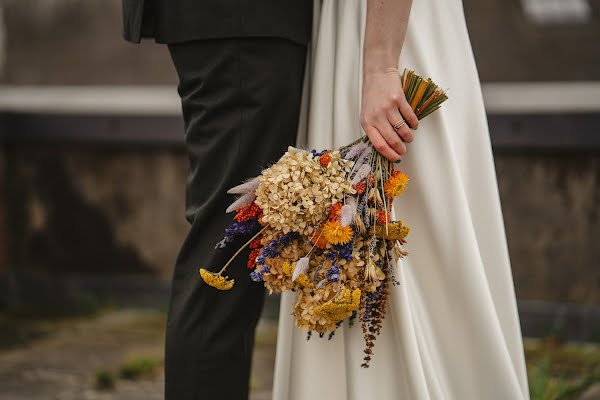 THEY WISH THEY HAD
We wish that we had planned to have the wedding in our house from the get-go. It just felt right.
THEIR BEST MOMENTS
The whole day was incredible, but our ceremony itself was perfect. Our celebrant Fleur Mellor had got to know us and our story so well, and there wasn't a dry eye in the house. Deci (our photographer) also surprised us and took us to the Oh Yeah Centre's rooftop for some photos. We got part of our rooftop wedding after all!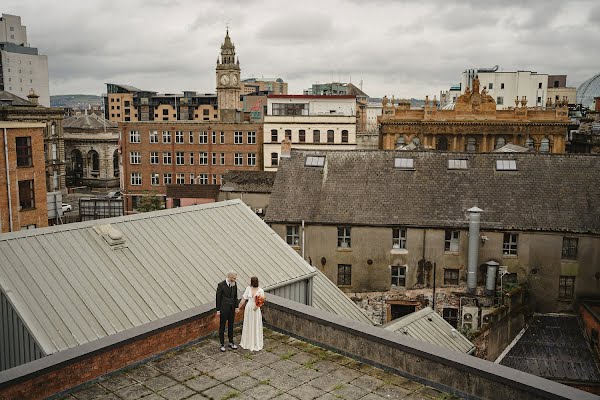 THE FIRST DANCE SONG
We didn't have an official first dance, but we walked up the aisle to Crow Song by Haley Heynderickx and Max Garcia Conover, and while we signed the register, Rachel played Kiss by Prince. We couldn't help but dance during that though.
THE CREW
Bride's Dress: E&W Couture. Bride's Necklace: Lines and Current. Groom's Suit: The Cut. Bride & Groom's Shoes: Doc Martens painted by Leanne McWilliams Illustration. Florist: Floral Earth. Cake: GMG Creative. Food: Buba Belfast. Wedding Invites & Poster: Leanne McWilliams Illustration. Ceremony Music: Rachel Toman.
See more photographs from Chris and Kathryn's wedding in the gallery below.
Photography by Deci Gallen, Simple Tapestry.
Want to see your Real Wedding on IMAGE.ie? Email [email protected] with the subject line 'Real Wedding'.