---
Sick of your roots and wincing at them in the mirror? We're still awaiting word on when we can get back to the hairdressers. So it's time to get crafty. First, you can hide your dodgy roots or moppy head in need of a cut underneath a baseball cap, now that they're cool again. Or, like a stroppy teenager being kept from the life they want to lead, you could try something reckless, a bit different, that signifies that you are not what your circumstances have forced upon you, and do what you've been threatening to do for about a year now. Yes, I mean dyeing your hair a temporary, vibrant pastel. I have been spending a lot of time thinking about the bottle of semi-permanent dirty rose pink hair dye in my cabinet. I bought it on a whim then left it gathering dust for a moment of deeply deranged ennui and lately, I have been thinking… It Is Time.
It is time to engage in the transformative power of marshmallow pink hair. You have not reached true tedium until you have considered redesigning your entire self around My Little Pony. The best thing about pastel hair dye is that it looks better with a bit of a root, think Kate Moss photographed by Juergen Teller.
Thank you Shakira, Dua Lipa, Elle Fanning, Ricky Martin, Jennifer Love Hewitt, Ireland Baldwin and more for your validation in this.
Let me play devil's advocate for you. Why bother? On the one hand, no one except your family, partner, supermarket staff and the cat is going to see you. We all have bad hair at the moment. Stick a hair mask in and wait for the day when your hairdresser will be awaiting you with open arms and the professional tools and skill required to give you your great hair back.
On the other hand though… isn't now a really good to experiment? If it's really bad… it's only semi-permanent. You can wear your new baseball cap on your video calls. No one except your family, partner, supermarket staff and the cat is going to see you.
Have you thought about it? Are we doing this? Here's a picture of the pastel Bridgeton hair of your dreams at Moschino's AW20 to give you another push. Okay, let's do this.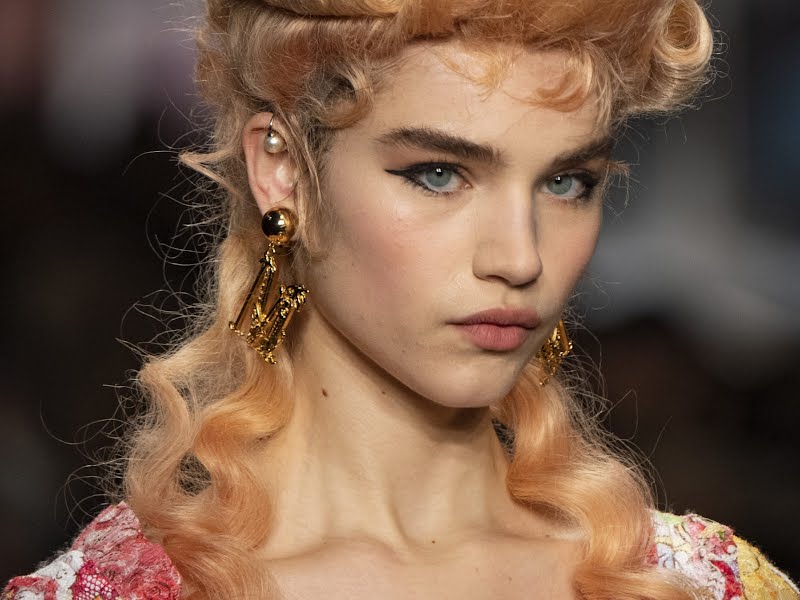 The most important thing to know is that the darker your hair, the less likely it is to look like the colour on the box. There are some brands, like Overtone, with colours especially made to show up on darker hair.  It's best to have bleached hair, but let's not do that at home.
Not sure what colour will suit you best? There are a million Snapchat and Instagram filters that can help you decide. Purple and oranges are gorgeous on darker hair, pinks are hard to get wrong and suit everyone and peach makes your skin look glowy and healthy. Green is considered the most uncertain and tricky shade as it might appear more yellow.
Shop our edit of the best temporary hair dyes below.
Photography by Jason Lloyd Evans.