Want to make a statement on your big day? These gorgeous bridal collections feature alternative bridal wear, swapping white princess gowns for bold colours, sleek jumpsuits and two-piece heroes.
Purple Peach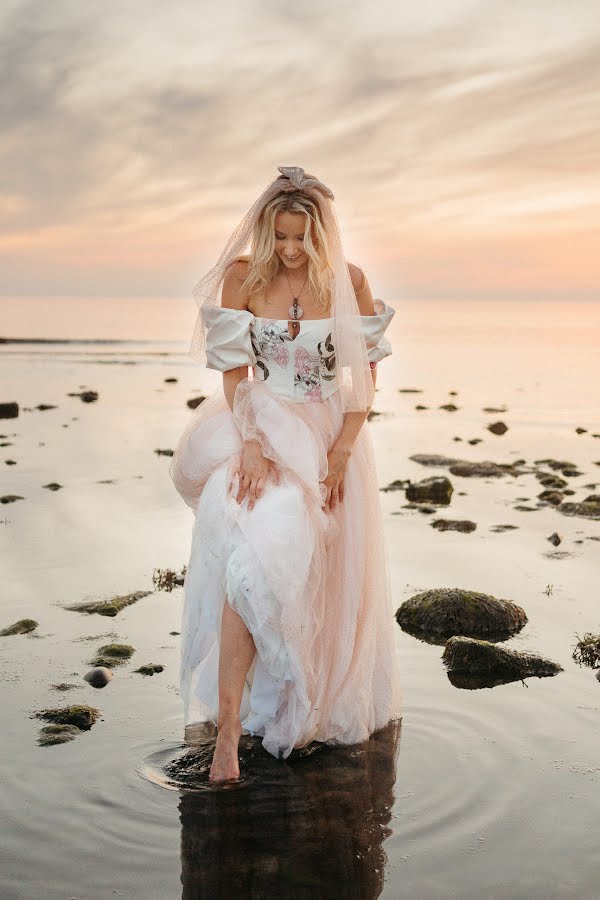 The Designer
The woman behind Purple Peach, Jacinta Caraher has been designing beautiful bridal wear in her Monaghan studio for over 20 years. Fashion has always been a calling for her from a young age. In university, she studied textiles in Galway and fashion design in Limerick, and, shortly after, she designed both her sister's and her own wedding gowns. Her stunning dress won her designer of the year and alternative designer of the year the following two years.
Sustainability
In Jacinta's latest collection, she offers a more sustainable option for Irish brides. "The biggest carbon impact of my business is the fabric, so I have challenged myself to only use recycled fibres, new technology fibres (such as Rose Silk made from waste rose petals), organic threads and recycled polyester (rPET) for all the lining. 
"Using recycled fabric is hugely beneficial to the planet, with rPET estimated to save between 70-80% emissions compared to virgin polyester and to save around 50% of energy in the production process. Its other benefit is the diversion of plastic waste from landfills and oceans with post-consumer bottles used to produce the fabric after being melted down and spun – 1kg of rPET uses around 60 plastic bottles."
Style
Jacinta describes her alternative bridal wear collection as "feminine, ethereal and contemporary." The award-winning designer draws inspiration from nature, flowers, birds and natural blends of colour. And, everything she creates is bespoke. "Every dress becomes a one-off piece, created uniquely for each individual bride. What makes it so individual is that we sit down with each bride and discuss their style and what they dream their wedding day will be like. A woman's personality and experience have to be taken into account as part of the overall design. 
"For example, I had a bride who had lost her father and was very upset about the fact that he wouldn't be with her on her wedding day. I believed there was a way of incorporating him into the design. One of the things she mentioned about her beloved dad was that he was from Scotland – and so inspiration struck, and I asked her if she would like me to incorporate the Scottish thistle into her dress. We hand-painted thistles onto the hemline of her dress and then she incorporated those colours through her best men and bridesmaids. She was so happy that on her special day she could have a piece of her dad with her."
The Collection
Jacinta currently has three bridal collections: Tapestry, Oyster and Honeysuckle Earth. "The Tapestry collection was inspired by a beautiful printed floral silk. The quality and fall of the fabric were amazing and my creative brain went into overdrive when I first saw it. As soon as I started designing, I wanted to create a collection where the collars, pockets and cuffs were allowed to dictate everything else. It was an exhilarating challenge.
"For my Oyster collection, beautiful gowns and alternative pieces are inspired by the rugged Irish coast. Using natural fabrics, relying on drape and fall on the female form to achieve bridal beauty, the collection allows the beauty of the female form to shine bright. And my newest collection, Honeysuckle Earth, was inspired by the desire to achieve an Irish couture bridal collection without compromise. Using new technology fibres such as Rose Petal fabric which looks and falls like silk, our goal was definitely achieved."
Not Another White Dress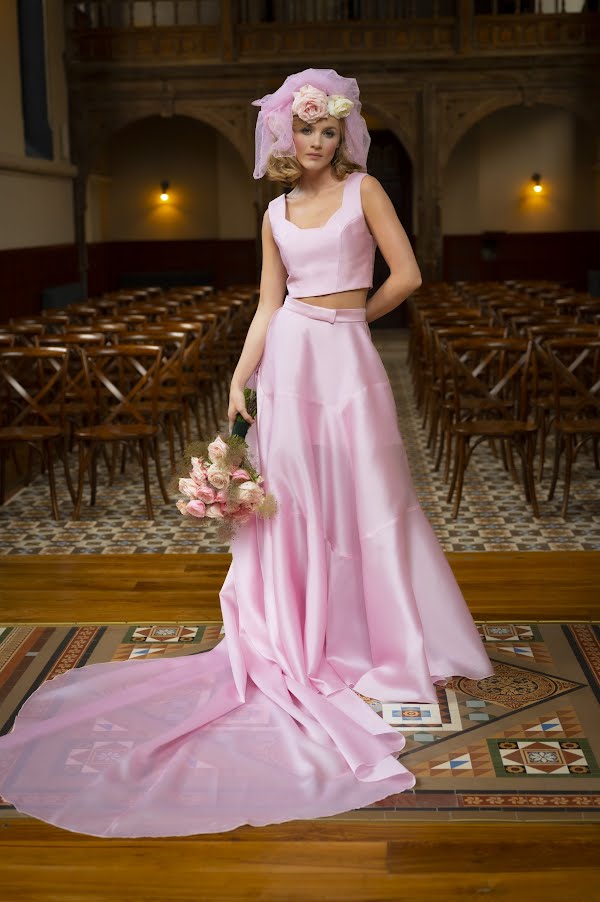 The Designer
Not Another White Dress was created by Ennis-born designer Carolyn O'Sullivan. After studying fashion design at Limerick School of Art and Design, she began working as a womenswear patternmaker in Dublin. Then she moved to Australia, where she ended up staying and working for 11 years in the fashion industry in Melbourne before returning home in 2020, where she now resides in her Co Waterford home.
Inspiration
Carolyn always had an eye for bright colours and breaking the fashion mould, a desire that shines through beautifully in her bridal wear. "I knew if I ever tried bridal I would do it differently than what is seen as the norm. In 2019, I was bridal shopping with a friend in Melbourne and noticed a complete lack of colour. 
"I had looked into non-traditional bridal wear in other countries, but I couldn't see many options here in Ireland. Although Ireland does have a lot of designers, I knew I would need to create my own business to create work for myself."
Style
"I think it is important to be creative, but to have a successful business it is really important to create work that serves a purpose, and to me, this is an under-served niche market. My goal is to inspire people with options they didn't even know existed and to show that colourful can be really beautiful. 
"I think the most important thing is to wear something special in your own personal style for your wedding, whatever that may look like. So, I also create custom designs so my collections can be used as inspiration for a one-of-a-kind look. Some of the fabrics I use are made to order in tiny quantities too, meaning the pieces I make can be very unique."
The Collection
"My newest collection, 'Not Just One Day', is named to show that pieces don't have to be boxed up forever after the wedding day. Some of my favourite pieces are my 'Sparkle' minidress in iridescent French sequins. This could be perfect for an unconventional bride with a long veil and flowers or as a reception dress or Day 2 look. I also think in terms of re-wearing it would make a great New Year's Eve dress or party look; it is stretch fabric too so is very comfortable to wear. 
"I also have a metallic gold French tweed suit and a floral jacquard tuxedo suit. Bridal suits are trending, but they don't have to be white either. I have also created a three-piece pink silk organza look, featuring a top, skirt and detachable train. The train allows for lots of drama for the aisle and photographs, but comes off very easily meaning dancing without tripping is easy."
Sister Jane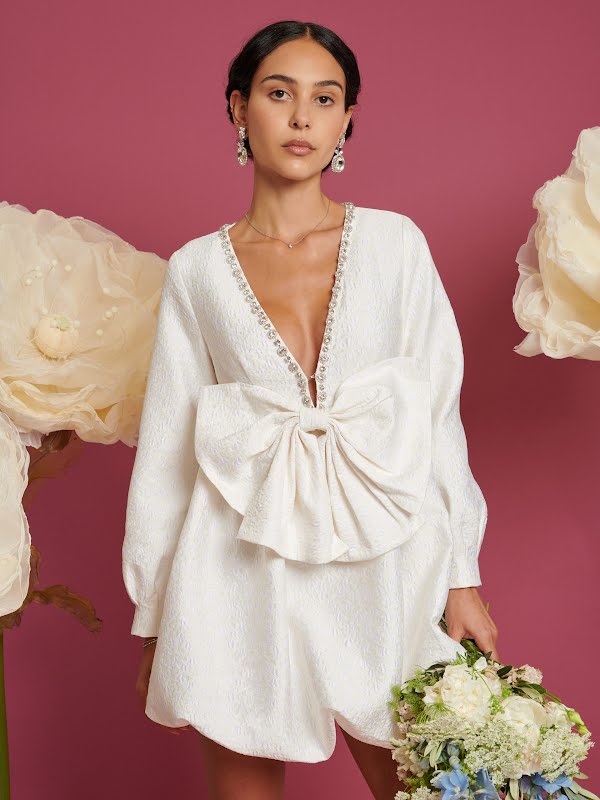 The Brand
Sister Jane is a London-based fashion brand that boasts a distinctive retro-style signature. Their pieces emphasise whimsical eccentricity via unexpected details that are colourful, fresh and trendy. The brand's PR manager, Charlotte Hughes, helps ensure the uniqueness of each collection. "I do love being involved in a brand closely and seeing the whole journey our products take from conception to trying it in our beautiful Notting Hill store."
Accessibility
While many designer collections can be out of reach for the average bride, Sister Jane helps bring equally, top-tier bridal wear at a more affordable price. 
"The core of Sister Jane is beautiful dresses, with all the details and quality you would expect from a higher price point but more accessible to the general consumer. Bridal was the perfect opportunity to create alluring pieces that people could wear on their special day but not spend a fortune on. The collection allows options in a variety of exciting styles to suit a range of tastes."
The Collection
Charlotte highlights her favourite pieces in Sister Jane's newest bridal collection. "I love the two-piece Evie suit set; it is so elegant and I always love a non-traditional bridal outfit. With this set, it is perfect to be able to wear again after the big day or to wear the blazer and trousers separately. 
"This is great for people looking for items they will get cost-per-wear rather than just purchasing a one-wear item. Also, our gorgeous headbands make any look more polished and are the perfect added element."
Mizz Rio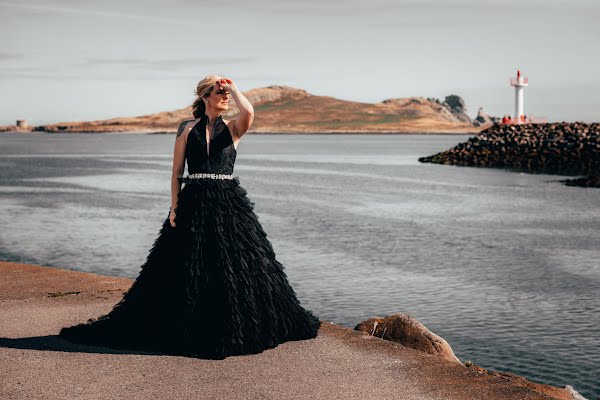 The Designer
Recently crowned Most Stylish Bridal Designer 2022, Mags Morgan is the creative mind behind Mizz Rio, a Dublin bridal boutique known for quirky, beautiful designs. "My brand was borne from wanting to see something different in the bridal space and to create a revolution and give brides absolute freedom with their wedding look." 
Getting started
Surprisingly, Mags didn't start out in bridal wear. She worked on alternative bridesmaid styles until a flurry of bridal requests changed her course. "I felt if I ventured down the path of bridal I would do it very differently. Examining the bridal market at that time, there was a real lack of anything alternative or colourful, so I decided to just go for it."
Mags started the business in 2015 and ran it while simultaneously working full-time, starting a family, and getting married herself. "Like any time in business, there's never a right time you follow your gut and just do it. It wasn't an easy road at the time but you just have to get up and keep putting in the work and it will pay off."
The Collection
Mags newest collection features gorgeous, non-traditional wedding wear, from two-piece jumpsuits and separates to gowns in bold colours. Her favourite piece is a stunning black halter dress.
 "Morrigan – she has to be my absolute favourite at the moment. She's a black wedding dress with a powerful halter neckline and cascading tulle ruffles. Anyone that meets her falls for her instantly! I think she'll always be a favourite in my heart."
Jenny Ashe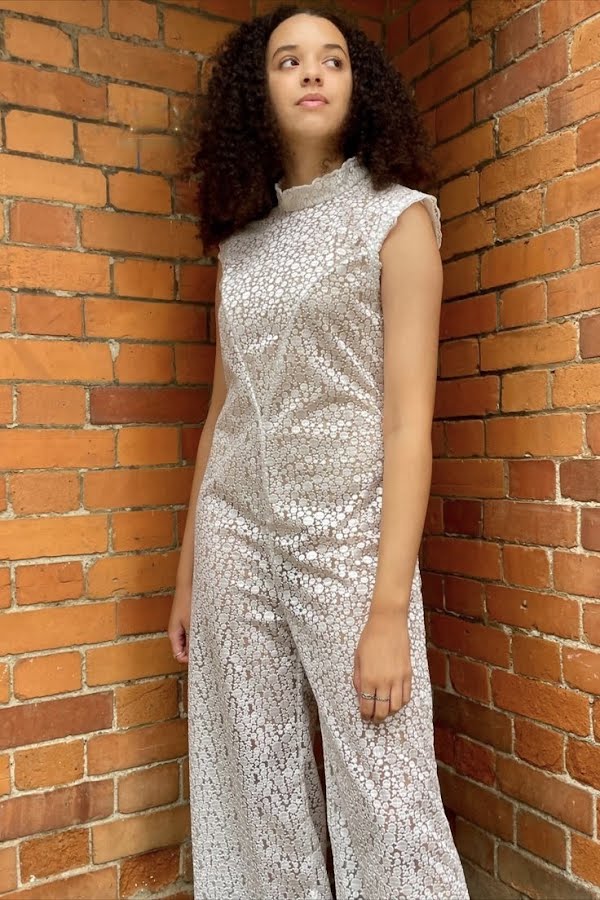 The Designer
Dublin-born designer Jenny Ashe comes from a family background of fashion and costume design. She studied pattern drafting and fashion design at the Grafton Academy, so it's no surprise that fabric composition and textures play a major role in her design process.
"Colours and prints also feature heavily in my work as I see, in a post-pandemic world, people are using colour to lift their mood, and they feel freer to dress how they want, expressing themselves in more prints – whether that be pinstripe wool suiting or peacock print silks." 
Fresh perspective
An up-and-comer in the bridal fashion world, Jenny Ashe recently released her first wedding collection, and with her gorgeous, innovative designs, she has quickly become one to watch.
"Since Covid, wedding dressing has developed; my brides want pieces that can be used throughout their wedding events, whether it's for the ceremony, evening reception or a Day 2 event. They want pieces that can be mixed with different outfits and can be re-worn on honeymoon or at other day and evening events. My brides feel these are far more special as they are part of their wardrobe and have many memories – not just a single memory attached to them.
The Collection
"This collection mixes classic, elegant pieces with exaggerated details and textured fabrics. From buttery velvets to smooth silks, it's made with the softest organzas, silks, taffeta, tulle and jacquards in ivory, soft pinks and a hint of metallic. I will always want to wrap myself in the velvet opera coat (who wouldn't want to be wrapped in velvet, especially on your wedding day!). 
The tulle jacket is the epitome of elegance to me – it gives a nod to a traditional wedding dress with the tulle but appeals to the modern, city bride with a more high-fashion take on a wedding outfit. It can be worn with or without the tulle, and we can make different coloured tulle bands so that you can re-wear or change it up for a totally different feel. 
"A jumpsuit is always a great idea, especially for brides who want to have an edgier look or make a statement or impact in a large venue but also want the ease of trousers, rather than a heavy, cumbersome dress. This wedding collection is available on a made-to-order basis and we also create bespoke pieces for anyone who would like a completely unique garment."