Why are Irish oysters so special? We visit Carlingford Lough to find out
---
Amanda Kavanagh heads to Co Down to sample the fresh cucumber and apple flavours of Rooney Fish's Millbay Oysters.
Covid wasn't a twinkle in our eyes when we first headed to Rooney Fish for a tour around their 6,000-square-metre oyster sorting facility. Arriving at midday under a pebble grey sky, many staff had already clocked off from 6am starts.
At a conveyor belt, Millbay Oysters were sorted by staffers who hand-picked the heaviest, chunkiest ones that were ready for market. Those remaining were catalogued into mesh bags by weight, ready to go back to the farm on the north side of Carlingford Lough to grow bigger. So much has changed since then. And not just for the Rooney family but for the entire Irish oyster industry too. 
Catching up over the phone and reflecting back Andrew Rooney tells me, "From December 2019, I could see that something happened overnight." Some 40% of Millbay Oyster's export market was to China, while the other 60% was to France, and things weren't rosy across the water either. 
"Before Covid, France had a disease in their oysters, and all their sales stopped. I think it was blown out of proportion by the media. This didn't help us. A lot of French companies buy Irish oysters, from north and south, and sell them as French oysters. Now we're in a position where the French have built up their stocks, and we have built up our stock. Oysters are now selling for a lot cheaper."
The oysters in question are sizable. "A 'special' oyster needs to be 16 per cent meat and that's a French term," explains Andrew. "90 per cent of Millbay Oysters are 'special' and average around 20 per cent meat."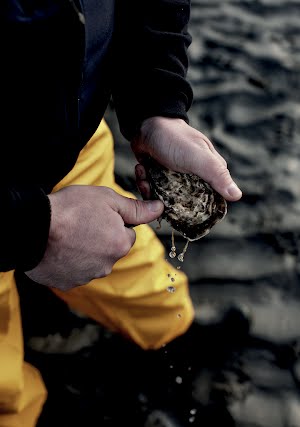 There was no ceremony as Andrew prised one open, drained the juice and flipped it so the creamy part was to the top; plump, sweet and juicy with a distinct palette of cucumber and apple, it tasted like no other oyster any of our tour group had tasted before.
It was in 2015 that Andrew first began oyster farming so Rooney Fish, who export prawns, whelks and Irish brown crab, could have a reliable farmed product. Twenty minutes away at the lough, Millbay Oysters work with the tide, alongside their neighbours Carlingford and Cooley Oysters. 
Andrew appreciates the kinship of the industry. "When I started the oysters I couldn't believe how helpful people in the oyster business are. They just want to help you." In fact, he only began farming oysters after meeting at a trade fair with oyster farmers Christophe Callewaert and Corinne Raguenel, who invited him to their Brittany farm. "It's a lovely industry."
In 2018, Millbay Oysters won Blas na hÉireann, which came as something of a surprise. "I was doing a trade show in Spain so I was only home the day of the judging, so I joked that I said I'd just send my mam and dad [Rosemary and John, founders of Rooney Fish] because I didn't think we'd get anything," Andrew recalls. 
"I was delighted, and my parents were too. It is a massive accolade. Art [Clifford, chairperson and founder of the awards] knew my dad years and he said to him that oysters used to be a poor man's food, so for an oyster to have won is unbelievable."
When I started the oysters I couldn't believe how helpful people in the oyster business are.
Sadly, in early 2020, John Rooney passed away. "It was just before Covid, so we did give a good send-off. Between my father dying and Covid hitting, it's been a tough one," says Andrew. "But we're keeping our heads above water, doing all we can to keep our staff employed, and still trying to keep our boats going." Thankfully, things are beginning to pick up in the business. "In April, we sold about 90 tonnes of oysters, so it's good to get rid of that amount. So now we are at a manageable level." 
Andrew believes there are a number of things that make Irish oysters special. "It's probably the cleanliness of the water and the nutrients in it, but also everyone has a passion for what they do. Not just ourselves at Rooney Fish, but every family business in the north or the south of Ireland. We've a passion for what we do, we're not companies run by accountants."